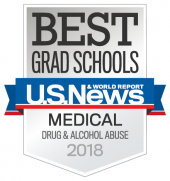 This National Institute of Drug Abuse (NIDA)-funded postdoctoral program is offered by the University of California, San Francisco (UCSF). Our program is one of the few that trains scientists in treatment and service research. Scholars work with a preceptor to design and implement studies on treatment of drug dependence, including nicotine dependence. Scholars also select a specific area of focus for independent research.
Current research interests of faculty include trials of efficacy and effectiveness of psychosocial and pharmacologic treatment of drug abuse, including:
Tobacco dependence
Innovative methodology including internet based studies
Treatment of complex patients in innovative settings
Diagnostic techniques and research on treatment tailored for HIV-positive drug abusers and drug abusers with psychiatric and medical disorders
Research on provision of services to drug abusing populations
Instrument development in drug abuse
 
A variety of university-affiliated and community substance abuse programs are available as research sites. These include inpatient and outpatient setting programs that treat a range of problems related to drugs of abuse, including dependence on cocaine, nicotine, alcohol, and opiates. Our program encourages close research involvement with your preceptor, and involvement in selected classes, seminars, and grant preparation.
The training program is supported in part by a center grant, the San Francisco Treatment Research Center. Resources from other significant extramural funding and R01-level grants are also routinely available to scholars.
Our philosophy
Our unifying philosophy is:
Drug abuse treatment and services research must be methodologically excellent and clinically relevant.
Problems related to drug abuse are best attacked from a multidisciplinary perspective.
Integration of knowledge of various intellectual domains is essential to the development of effective treatment.
 
Because our philosophy implies that the quality of the postdoctoral program depends on the quality of the scholars, faculty, and environment, rather than on any particular class or activity, we energetically recruit to obtain high-quality applicants into a research environment where they will work under the guidance of research-sophisticated investigators.
Program faculty
Our postdoctoral program is directed by a four-member executive committee and has thirteen core faculty, representing psychiatry, public health and policy, the behavioral sciences, medicine, and biostatistics. They represent a diverse, but overlapping, range of research interests.
Program faculty are:
Postdoctoral training program
Each year, scholars participate in a Core Research Seminar and the Writers' Task Force—a group that facilitates, supports, and encourages the publication of manuscripts.
As part of their research training, scholars interact daily with investigators who guide them in responsible conduct of research and in solving the special ethical dilemmas of treatment and clinical research. Most scholars also take one of the several advanced statistics courses offered by the UCSF Department of Epidemiology & Biostatistics. Scholars' research projects and those of their mentors are closely tied. As scholars move from Year 1 to Year 2, they progress from a project designed by their mentor to a more independently conceived project, which they lead.
Goals for postdoctoral scholars
At the end of our postdoctoral program, we expect scholars to have acquired the following competencies and completed the following tasks:
gained knowledge of drugs of abuse and their treatment
advanced their knowledge of statistical and methodological techniques needed for clinical and services research
understand drug abuse treatment systems and drug research projects
conducted at least two research projects in a clinical setting (one designed by their preceptor; and one of their own design, for which they have primary responsibility)
made multiple internal presentations
made at least two presentations of their work at national meetings
published one to three journal articles
submitted a small grant application to local funding sources
published additional publications from the work completed as a scholar during the two years following enrollment in our program
 
Support for postdoctoral scholars
Scholars are funded by two sources. Stipend levels are set by the National Institutes of Health (NIH), based on years of related experience. They range from $35,568 to 51,036. Preceptors are expected to supplement these stipends from non-NIH sources. Scholars are provided with other research support, including travel to at least one annual professional meeting and other support required for a useful training experience, including statistical consulting, some administrative and clerical support, and access to computers for writing and data analyses.
Background of former postdoctoral scholars
Our postdoctoral scholars have come from a variety of fields, including clinical psychology, counseling psychology, developmental psychology, neuroscience, political science, psychiatry, pharmacology, and social psychology. Their studies have included vocational issues among methadone outpatients, social identities and treatment outcomes among alcohol and cocaine abusers in private treatment, the effects of acute nicotine use on cue-induced cocaine craving, mood management intervention for injection drug users, childhood trauma and PTSD in inpatient substance abusers, studies of effective educational method in drug abuse education, studies of the relationship of readiness to change and depression to nicotine dependence, studies of service utilization and outcome among elderly substance users, and studies of drug abuse treatment and services within health maintenance organizations.
Success of our postdoctoral graduates
We admit two to four scholars each year. Graduates of our postdoctoral program have been placed at numerous high-caliber institutions where research is valued.
Application process
For consideration into the postdoctoral program, please send an application packet consisting of your curriculum vitae, statement of research interests, and representative work. Two letters of reference should be sent directly from the recommenders to the address below. Research statement should include the following items:
history of research projects
current interests
what you would like to learn and accomplish during your postdoctoral traineeship at UCSF
a list of program faculty with whom you would like to work
 
Representative work can include dissertation chapters if no publications are available. Electronic submission of materials (except reference letters) is strongly encouraged. The application period is open until filled.
All applicants must have completed their doctorate at the time of entry into the program and be a U.S. citizen or have Lawful Permanent Residency (Green Card) status at the time of appointment.
Please direct information requests, application packets, and letters of recommendation submissions to:
James L. Sorensen, PhD
c/o Ms. Rebecca Cook
UCSF Postdoctoral Program in Drug Abuse Treatment and Services Research
tel: (415) 206-3051
email: rebecca.cook@ucsf.edu
1001 Potrero Avenue, Box 0852
SFGH Building 20, Rm 2127
San Francisco, CA 94110-3510