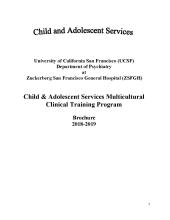 The Child and Adolescent Services Multicultural Clinical Training Program offers one-year training opportunities for doctoral interns, postdoctoral fellows and advanced practicum students, as well as rotations for medical students (through community medicine), third-year psychiatry residents, and psychiatry child fellows. The program is designed to train clinicians who are committed to serving low-income and diverse ethnic and cultural minority populations.
Requirements
Applicants interested in psychology training should be aware that this is a very competitive program, and consider the following selection criteria:
Letter of interest
Curriculum vitae
Three letters of recommendation
 
Required Criteria

APA-accredited graduate program in clinical psychology
Strong undergraduate and graduate academic record
In good academic standing
Demonstrated interest and experience with children, youth, and families
Demonstrated interest and experience working with underserved communities
Essays that reflect a thoughtful, insightful, mature candidate
Essays that reflect strong writing skills
Essays that reflect someone with clear theoretical foundations
 

Preferred Criteria

Dissertation proposal defended
Relevant research experience or interest
Experience or interest in trauma
Bilingual (Spanish)
Significant psychological testing experience
 
How to Apply
Our deadline for receipt of applications is November 1, 2017.
The UCSF Child and Adolescent Services Multicultural Clinical Training Program follows the Association of Psychology Postdoctoral and Internship Centers (APPIC) match policies. As part of the APPIC Match, applicants must submit the APPIC Application for Psychology Internship (which requires official transcripts as part of the application process).
Please note: The APPIC program code for the Child and Adolescent Services doctoral internship application is 1902.
 
Internship admissions, support and initial placement data
Contacts
Barbara Krishna Stuart, PhD, Director of Clinical Training
Edgar Micua, Training Analyst
Child & Adolescent Services
Department of Psychiatry
Zuckerberg San Francisco General Hospital and Trauma Center
1001 Potrero Avenue, 7M-CAS, Box 0852
San Francisco, CA 94110
Telephone: (415) 206-4306
Related Links
UCSF is an Equal Opportunity/Affirmative Action Employer. The University undertakes affirmative action to assure equal employment opportunity for underutilized minorities and women, for persons with disabilities and for Vietnam-era veterans and special disabled veterans. 12/04 Employer University of California, San Francisco (UCSF)