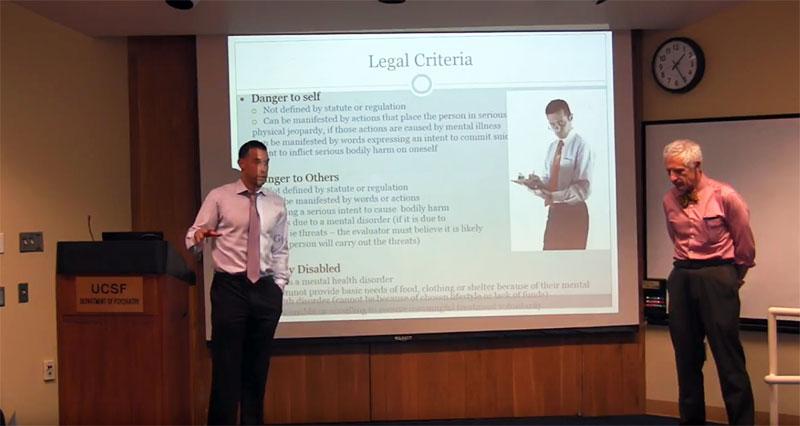 The UCSF Department of Psychiatry and Behavioral Sciences Intensive Services Grand Rounds series (course number MGR21066) seeks to promote excellence and quality in clinical care, introduce clinicians to recent advances in medical care, provide updates on scientific advances that affect the practice of medicine, and provide a forum for discussion of topics that strengthen the relationship of intensive services psychiatry to the broader community.
Events are usually held at 1:00 p.m. on the fourth Monday of each month. All events will be held online via Zoom for the foreseeable future in accordance with the UCSF Interim Policy on Large Events and Gatherings. Click on a date below for speaker details, learning objectives, and more information.
These events are intended for medical professional audience members only and advance registration is required to receive the necessary Zoom connection information.
2020-2021 Intensive Services Grand Rounds

 

Date

Speaker(s)

Topic

Location/Archive

07/27/20
Lisa Kroon, PharmD
Pharmacologic Therapy for Tobacco Use: How to Choose Which Treatment?
Archived video
08/24/20
Tammy Duong, MD
Sirisha Narayana, MD
The Ethics Committee & Consultants and Psychiatry: What the Clinician, Patient, and Family Should Know
Archived video
09/28/20
Josiah Stickels, LMFT, RDT/BCT
An Overview of Mental Health Partial Hospitalization and Intensive Outpatient Programs in the Continuum of Care
Archived video
11/23/20
Kari Rogenski, LMFT, RDT
Josiah Stickels, LMFT, RDT/BCT
Drama Therapy in Acute Psychiatry: Introduction to Theory and Practice
Archived video
01/25/21
Lisa Pascual, MD
Physical Rehabilitation Considerations for Patients in the Inpatient Psychiatry Setting
Archived video
02/22/21
Brian Dentoni-Lasofsky, MSN, MSW, PMHNP-BC
Overview of the Assessment of Transgender/Gender-Diverse Patients in Mental Health Settings
Archived video
03/22/21
Tova Fuller, MD
Adrienne van Nieuwenhuizen, MD
Extreme Heat, Climate Change, and Mental Health: What Clinicians Need to Know
Online via Zoom
(register to attend)
05/24/21
Melissa Craven, LMFT
Cynthia Diwan, LMFT
The Therapeutic Value of the Expressive Arts
Online via Zoom
(register to attend)