Resilience and Emotional Well-Being Video Series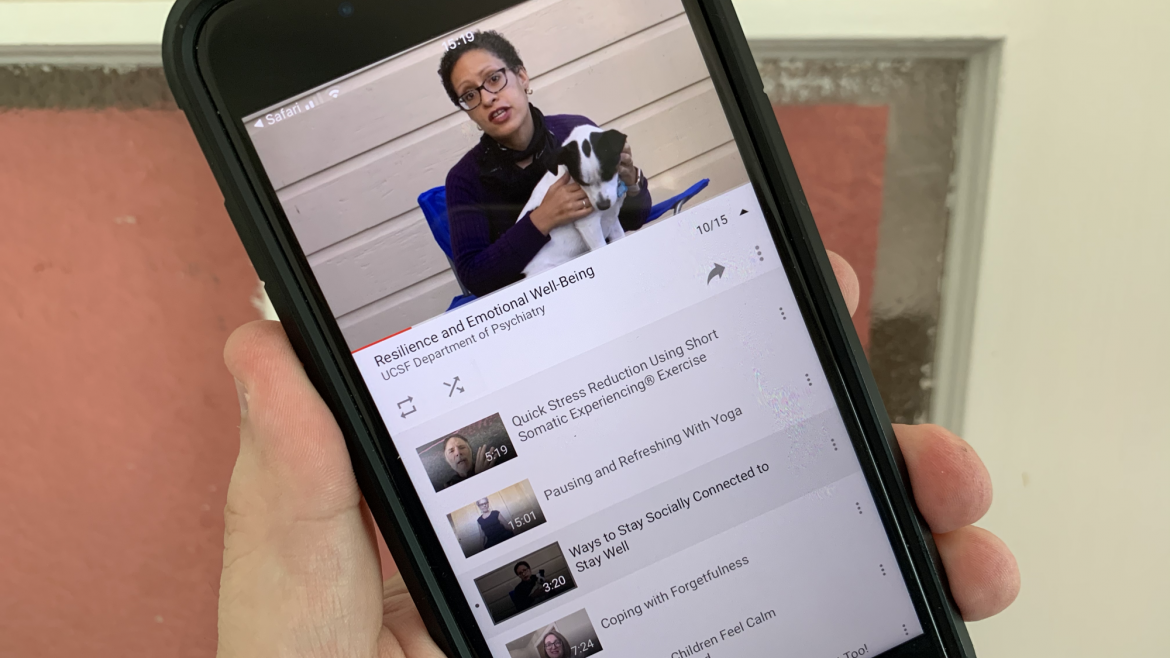 To help you navigate the unique mental health and wellness challenges presented by the COVID-19 pandemic, the UCSF Department of Psychiatry has put together a collection of short videos focused on ways we can protect and enhance our own emotional well-being. The videos, which are available for free on YouTube [1], feature strategies and techniques shared by mental health experts at UCSF, as well as some of our colleagues from around the nation.
If you are interested in contributing a video to our library, please contact us at [email protected] [2].
Psychological first-aid strategies

[3]

with Sarah Metz, PsyD

[4]

with Margo Pumar, MD

[5]

with Margo Pumar, MD

[6]

with Jason M. Satterfield, PhD

[8]

with Jason M. Satterfield, PhD

[10]

with David Bullard, PhD

[12]

with Jo Ellen Brainin-Rodriguez, MD, CYT

[14]

with Christiane Wolf, MD, PhD

[15]

with Christiane Wolf, MD, PhD

[16]

with Esme Shaller, PhD
 
 

General emotional well-being strategies and special topics

[17]

with Lisa Fortuna, MD, MPH, MDiv

[19]

with Christina Mangurian, MD, MAS

[20]

with Candy Katoa, PsyD

[21]

with Christina Weyer Jamora, RN, PhD

[23]

con Christina Weyer Jamora, RN, PhD

[25]

with Whitney Ence, PhD, BCBA-D

[27]

with Lauren M. Haack, PhD

[29]

with Jennifer Felder, PhD

[31]

with Michael W. Rabow, MD

[32]

with Thu T. Nguyen, ScD, MSPH

[33]

with Jason M. Satterfield, PhD

[34]

with Aric A. Prather, PhD

[35]

with Alicia Lieberman, PhD, and Edward Machtinger, MD

[36]

with Alicia Lieberman, PhD, and Edward Machtinger, MD

[37]

with Alicia Lieberman, PhD, and Edward Machtinger, MD

[38]

with Margo Pumar, MD

[39]

con Jacqueline Berrios, MSW, LCSW

[40]

with Margo Pumar, MD

[41]

with Lauren M. Haack, PhD

[42]

with Anna Swan, PhD

[43]

with E'leyna Garcia, MS