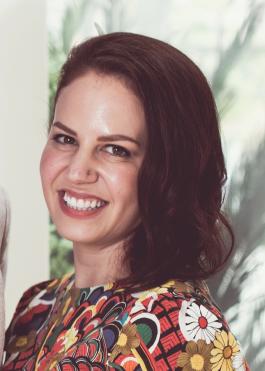 Postdoctoral research fellow Samantha Abram, PhD, has been named as one of four promising medical researchers selected to participate in the Grunfeld Scholars Research Development Initiative by the San Francisco VA Health Care System (SFVAHCS). This initiative, currently in its second year, invests in early-career clinician-scientists to grow the pipeline of future leaders in medical research related to the health of Veterans, and preserve SFVAHCS' legacy as a preeminent medical research institution.
Abram is a research fellow in the Brain Imaging and EEG Laboratory and a clinical psychologist based at the San Francisco VA Medical Center whose research focuses on why people with severe mental illness struggle to initiate or sustain goal-directed behaviors. She integrates multiple neuroscientific tools to characterize decision behaviors, with a keen interest in mechanisms that track across species, in hopes of identifying such mechanisms and developing ways to improve goal pursuit and functioning among those with psychotic-spectrum disorders.
The Grunfeld Scholars Research Development Initiative is named for Carl Grunfeld, MD, PhD, SFVAHCS's associate chief of staff for research and development, and a renowned clinician-scientist who has contributed over four decades of research excellence to the SFVAHCS.
"I am exceedingly proud of this second class of Grunfeld Scholars," said Grunfeld. "Their commitment to improving the lives of veteran patients through research shows a true dedication to the profession of healing."
The scholarship program was open to clinician-scientists who have completed, or will soon complete, a research fellowship with at least three first-author original publications in peer review journals and are currently eligible to apply for VA or National Institutes of Health (NIH) Career Development Awards, VA Merit Review, the NIH Research Project Grant Program, or other comparable funding. Applicants were subject to a competitive selection process that included a review of their application by two SFVAHCS research committees.
The selected Grunfeld Scholars will receive dedicated, protected time outside of their existing clinical work to pursue their research goals. They will receive this protected time for a duration of two years as they apply for grants, with the possibility of an extension. The program does not provide monetary funding for research. Of last year's four selected Grunfeld Scholars, three have already received a Career Development Award, and one received a permanent research position.
The four 2021 Grunfeld Scholars will also be giving web-based presentations of their ongoing research work on June 28. For information about the presentations and the program in general, visit the SFVAHCS website.
 
---
About UCSF Psychiatry and Behavioral Sciences
The UCSF Department of Psychiatry and Behavioral Sciences and the Langley Porter Psychiatric Institute are among the nation's foremost resources in the fields of child, adolescent, adult, and geriatric mental health. Together they constitute one of the largest departments in the UCSF School of Medicine and the UCSF Weill Institute for Neurosciences, with a mission focused on research (basic, translational, clinical), teaching, patient care, and public service.
UCSF Psychiatry and Behavioral Sciences conducts its clinical, educational, and research efforts at a variety of locations in Northern California, including Langley Porter Psychiatric Hospital; UCSF Medical Centers at Parnassus Heights, Mission Bay, and Mount Zion; UCSF Benioff Children's Hospitals in San Francisco and Oakland; Zuckerberg San Francisco General Hospital and Trauma Center; the San Francisco VA Health Care System; UCSF Fresno; and numerous community-based sites around the San Francisco Bay Area.
About the UCSF Weill Institute for Neurosciences
The UCSF Weill Institute for Neurosciences, established by the extraordinary generosity of Joan and Sanford I. "Sandy" Weill, brings together world-class researchers with top-ranked physicians to solve some of the most complex challenges in the human brain.
The UCSF Weill Institute leverages UCSF's unrivaled bench-to-bedside excellence in the neurosciences. It unites three UCSF departments—Neurology, Psychiatry, and Neurological Surgery—that are highly esteemed for both patient care and research, as well as the Neuroscience Graduate Program, a cross-disciplinary alliance of nearly 100 UCSF faculty members from 15 basic-science departments, as well as the UCSF Institute for Neurodegenerative Diseases, a multidisciplinary research center focused on finding effective treatments for Alzheimer's disease, frontotemporal dementia, Parkinson's disease, and other neurodegenerative disorders.
About UCSF
The University of California, San Francisco (UCSF) is exclusively focused on the health sciences and is dedicated to promoting health worldwide through advanced biomedical research, graduate-level education in the life sciences and health professions, and excellence in patient care. UCSF Health, which serves as UCSF's primary academic medical center, includes top-ranked specialty hospitals and other clinical programs, and has affiliations throughout the Bay Area.