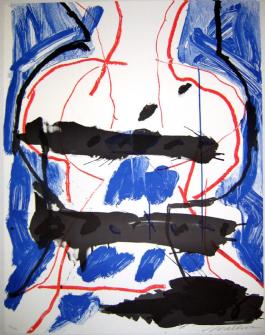 The UCSF Alliance Health Project (AHP), one of San Francisco's leading LGBTQ and HIV mental health organizations, invites the community to join them in a celebration with a purpose. Art for AIDS is AHP's primary fundraiser and one of the city's most cherished events. The funds raised each year ensure that AHP, through its programs, can continue to resist oppression and exclusion, and insist on community and coalition building.
Join AHP staff and volunteers on Friday, October 20 for the 21st annual Art for AIDS, starting at 6:00 pm at the City View at Metreon. Energetic bidding ensures that HIV and LGBTQ community members, particularly those at greatest risk, can benefit from AHP's behavioral and mental health care. Visit artforaids.org – where you can already buy some amazing art – to learn why Art for AIDS is famous not only for the significance of its cause, but also for the excellence of its art.
Over the years, Art for AIDS has attracted donations of works by important artists such as Hung Liu, Silvia Poloto, Carolyn Meyer, Gustavo Ramos Rivera, Lucky Rapp, and Ryan Reynolds, along with works from prominent Bay Area galleries and collectors. This year, live and silent auctions include 198 works of art, painting, photography, mixed media, and sculpture created by artists such as Catherine Mackey, Fernando Reyes, Heather Wilcoxon, and Tim Yankosky.
Art for AIDS is about more than HIV/LGBTQ mental health and art, though – guests also experience tasty bites, cocktails charged with El Rio flair, magnificent wines, and a beautiful view of the city and Yerba Buena gardens in the company of more than 800 supporters, art patrons, and community philanthropists.
Since 1984, AHP has served the community with free HIV testing, education, counseling, and mental health and behavioral health services. During that time AHP has reached more than 250,000 LGBTQ and HIV-affected clients and trained more than 80,000 health professionals, educators, and students to achieve the goals consistent with their mission: to support the mental health and wellness of the LGBTQ and HIV-affected communities in constructing healthy and meaningful lives.
---
About UCSF Psychiatry
The UCSF Department of Psychiatry and the Langley Porter Psychiatric Institute are among the nation's foremost resources in the fields of child, adolescent, adult, and geriatric mental health. Together they constitute one of the largest departments in the UCSF School of Medicine and the UCSF Weill Institute for Neurosciences, with a mission focused on research (basic, translational, clinical), teaching, patient care, and public service.
UCSF Psychiatry conducts its clinical, educational and research efforts at a variety of locations in Northern California, including UCSF campuses at Parnassus Heights, Mission Bay and Laurel Heights, UCSF Medical Center, UCSF Benioff Children's Hospitals, Zuckerberg San Francisco General Hospital and Trauma Center, the San Francisco VA Health Care System, and UCSF Fresno.
About the UCSF Weill Institute for Neurosciences
The UCSF Weill Institute for Neurosciences, established by the extraordinary generosity of Joan and Sanford I. "Sandy" Weill, brings together world-class researchers with top-ranked physicians to solve some of the most complex challenges in the human brain.
The UCSF Weill Institute leverages UCSF's unrivaled bench-to-bedside excellence in the neurosciences. It unites three UCSF departments—Neurology, Psychiatry, and Neurological Surgery—that are highly esteemed for both patient care and research, as well as the Neuroscience Graduate Program, a cross-disciplinary alliance of nearly 100 UCSF faculty members from 15 basic-science departments, as well as the UCSF Institute for Neurodegenerative Diseases, a multidisciplinary research center focused on finding effective treatments for Alzheimer's disease, frontotemporal dementia, Parkinson's disease, and other neurodegenerative disorders.
About UCSF
UC San Francisco (UCSF) is a leading university dedicated to promoting health worldwide through advanced biomedical research, graduate-level education in the life sciences and health professions, and excellence in patient care. It includes top-ranked graduate schools of dentistry, medicine, nursing and pharmacy; a graduate division with nationally renowned programs in basic, biomedical, translational and population sciences; and a preeminent biomedical research enterprise. It also includes UCSF Health, which comprises top-ranked hospitals – UCSF Medical Center and UCSF Benioff Children's Hospitals in San Francisco and Oakland – and other partner and affiliated hospitals and healthcare providers throughout the Bay Area.