Based on an article originally published on APA Newsroom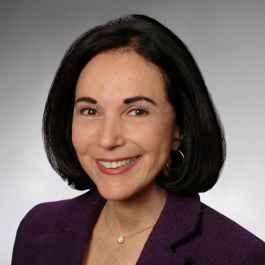 Renée Binder, MD
, began her one-year term as President of the American Psychiatric Association (APA) at the conclusion of the 168
th
APA Annual Meeting in Toronto on May 20.
She is the second UCSF faculty member (following
Karl M. Bowman, MD
, 1944-1946), and the sixth woman in history to serve as president of the organization. The APA was founded in 1844 and is the world's largest psychiatry organization with more than 36,000 members.
At the APA Annual Meeting Opening Ceremony, Binder said that the theme of her presidency will be 'Claiming Our Future.' "As psychiatrists, we are the experts in mental health," Binder said. "We have the responsibility to ensure that psychiatrists of the future continue to deliver high quality care to our patients and have professionally satisfying lives."
She continued: "What type of practice will the psychiatrist of the future have? How will we fit into the new models of care? How will we integrate new research findings into our clinical practices? We must claim our future roles in all of this progress; otherwise, others will define our roles for us."
Binder is the Associate Dean of Academic Affairs for the UCSF School of Medicine, Professor of Psychiatry and director of the UCSF Forensic Psychiatry Fellowship. Her leadership positions in APA have included Board of Trustees (Trustee-at-Large), Committee on Judicial Action, chair of the Committee on Advocacy and Litigation Funding, and chair of the Council on Psychiatry and the Law.
Looking to her year as president, Binder outlined five areas of focus:
Psychiatric care in the general health care system, including continued efforts to make fair and equal insurance coverage of mental health a reality
Improving availability and quality of services for people with serious mental illness, working to end disparities in mental health care and meet the needs of diverse, underserved populations
Leadership in advocacy and ethics, including examining our code of ethics and ensuring that it is continuing to serve as the standard for practicing psychiatrists
Determining quality standards and serving as a source of reliable information about mental health for the public
Research and diagnosis, including continuing work on treatment guidelines, determining the most effective treatments and guiding the practice of psychiatry
 
Binder concluded: "It is clear that we have our work cut out for us. … Let us look to the future and claim our roles in the care of our patients and in enhancing the mental health care of our society."
About the APA
The American Psychiatric Association is a national medical specialty society whose more than 36,000 physician members specialize in the diagnosis, treatment, prevention, and research of mental illnesses, including substance use disorders. Visit the APA at psychiatry.org.