By Dana Korsen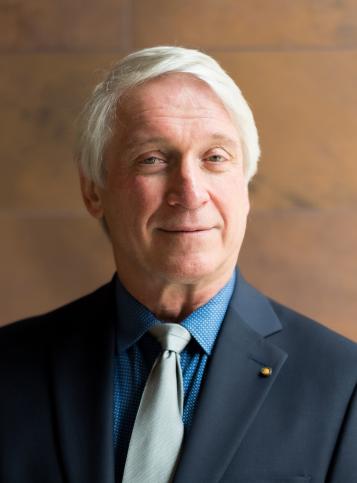 The National Academy of Medicine today announced Stephen P. Hinshaw, PhD, as the recipient of the 2020 Rhoda and Bernard Sarnat International Prize in Mental Health, for basic and applied research on individuals with externalizing disorders, and for efforts to reduce mental illness stigma through youth-based programs and the promotion of humanization. The award, which recognizes Hinshaw's achievements with a medal and $20,000, will be presented at the National Academy of Medicine's virtual annual meeting on October 19, 2020. Hinshaw is a professor of psychology at UC Berkeley, and a professor and vice chair for child and adolescent psychology in the Department of Psychiatry and Behavioral Sciences at the UCSF Weill Institute for Neurosciences.
Hinshaw's work spans developmental psychopathology, clinical interventions with children and adolescents, and program development related to reducing the pervasive stigmatization of mental illness. He has led research programs and conducted studies investigating inattention and impulse-control problems in children, including the largest prospective investigation in existence of girls with attention deficit hyperactivity disorder (ADHD), now more than 20 years post-baseline. These studies have countered the contention that ADHD is an exclusively male condition and have galvanized the field regarding the confluence of heritable and contextual mechanisms.
Hinshaw has been principal investigator of the Berkeley site for the Multimodal Treatment Study of Children with ADHD since 1992, and his core work with this study revealed the mediation of behavior change at school by enhanced parenting practices. The overall impact of his work has been far-reaching, spurring revisions of national and international guidelines for ADHD assessment/treatment by organizations such as the American Academy of Pediatrics and the U.K.'s National Institute for Health and Care Excellence. Additional research conducted in collaboration with health economist Richard Scheffler, PhD, revealed that in states enacting consequential accountability legislation to boost achievement test scores, rates of ADHD diagnosis quickly increased for youth at or near the poverty level. This work has received international acclaim, integrating the psychobiological underpinnings of ADHD with the reality of school-based policies that may spuriously increase rates of diagnosed prevalence.
Hinshaw's teaching and mentoring have also had major impact. He has mentored new generations of innovative investigators in child/adolescent mental health, having taught thousands of undergraduates (many of whom have gone on to leadership roles in clinical, research, and policy-related efforts) and hundreds of doctoral students.
Before attending graduate school, Hinshaw directed residential summer camps and alternative schools for youth with mental and developmental disabilities. He has continued to direct summer treatment and research programs for youth with ADHD, as well as longitudinal investigations into adulthood. Linking efforts with foundations and nonprofit organizations, Hinshaw has developed models of action- and contact-based high-school clubs to overcome mental illness stigma and formally evaluated such efforts, in addition to publication of narrative works on his family's experiences with serious mental illness.
In addition, Hinshaw has spurred the development of innovations in multidisciplinary research and training initiatives across UC campuses and beyond. Hinshaw is co-director of the UCSF-UC Berkeley Schwab Dyslexia and Cognitive Diversity Center, and he directs the UCLA-UC Berkeley Awareness and Hope (stigma reduction) component of the UCLA Depression Grand Challenge.
"Dr. Hinshaw's work on ADHD has truly changed the field in many ways, impacting the treatment for millions of youth with ADHD in the U.S., let alone others internationally," said National Academy of Medicine President Victor J. Dzau, MD. "His rigorous, multilevel research on child and adolescent mental health, deep engagement in treatment-related efforts, and his essential work regarding mental-health stigma and related policy — in addition to remarkable leadership and mentorship of young scientists — make him most deserving of this important recognition."
Hinshaw has also received top international awards for his work in clinical psychology, applied psychology, child development, basic research in psychology, and child/adolescent psychiatry.
Since 1992, the Sarnat Prize has been presented to individuals, groups, or organizations that have demonstrated outstanding achievement in improving mental health. The prize recognizes — without regard for professional discipline or nationality — achievements in basic science, clinical application, and public policy that lead to progress in the understanding, etiology, prevention, treatment, or cure of mental disorders, or to the promotion of mental health. As defined by the nominating criteria, the field of mental health encompasses neuroscience, psychology, social work, nursing, psychiatry, and advocacy.
The award is supported by an endowment created by Rhoda and Bernard Sarnat of Los Angeles. Rhoda Sarnat was a licensed clinical social worker, and Bernard Sarnat was a plastic and reconstructive surgeon and researcher. The Sarnats' concern about the destructive effects of mental illness inspired them to establish the award. This year's selection committee was chaired by Gary L. Gottlieb, MD, MBA, professor of psychiatry at Harvard Medical School.
---
About the National Academy of Medicine
The National Academy of Medicine (NAM), established in 1970 as the Institute of Medicine, is an independent organization of eminent professionals from diverse fields including health and medicine; the natural, social, and behavioral sciences; and beyond. It serves alongside the National Academy of Sciences and the National Academy of Engineering as an adviser to the nation and the international community. Through its domestic and global initiatives, the NAM works to address critical issues in health, medicine, and related policy and inspire positive action across sectors. The NAM collaborates closely with its peer academies and other divisions within the National Academies of Sciences, Engineering, and Medicine.
About UCSF Psychiatry and Behavioral Sciences
The UCSF Department of Psychiatry and Behavioral Sciences and the Langley Porter Psychiatric Institute are among the nation's foremost resources in the fields of child, adolescent, adult, and geriatric mental health. Together they constitute one of the largest departments in the UCSF School of Medicine and the UCSF Weill Institute for Neurosciences, with a mission focused on research (basic, translational, clinical), teaching, patient care, and public service.
UCSF Psychiatry and Behavioral Sciences conducts its clinical, educational, and research efforts at a variety of locations in Northern California, including Langley Porter Psychiatric Hospital; UCSF Medical Centers at Parnassus Heights, Mission Bay, and Mount Zion; UCSF Benioff Children's Hospitals in San Francisco and Oakland; Zuckerberg San Francisco General Hospital and Trauma Center; the San Francisco VA Health Care System; UCSF Fresno; and numerous community-based sites around the San Francisco Bay Area.
About the UCSF Weill Institute for Neurosciences
The UCSF Weill Institute for Neurosciences, established by the extraordinary generosity of Joan and Sanford I. "Sandy" Weill, brings together world-class researchers with top-ranked physicians to solve some of the most complex challenges in the human brain.
The UCSF Weill Institute leverages UCSF's unrivaled bench-to-bedside excellence in the neurosciences. It unites three UCSF departments—Neurology, Psychiatry, and Neurological Surgery—that are highly esteemed for both patient care and research, as well as the Neuroscience Graduate Program, a cross-disciplinary alliance of nearly 100 UCSF faculty members from 15 basic-science departments, as well as the UCSF Institute for Neurodegenerative Diseases, a multidisciplinary research center focused on finding effective treatments for Alzheimer's disease, frontotemporal dementia, Parkinson's disease, and other neurodegenerative disorders.
About UCSF
The University of California, San Francisco (UCSF) is exclusively focused on the health sciences and is dedicated to promoting health worldwide through advanced biomedical research, graduate-level education in the life sciences and health professions, and excellence in patient care. UCSF Health, which serves as UCSF's primary academic medical center, includes top-ranked specialty hospitals and other clinical programs, and has affiliations throughout the Bay Area.