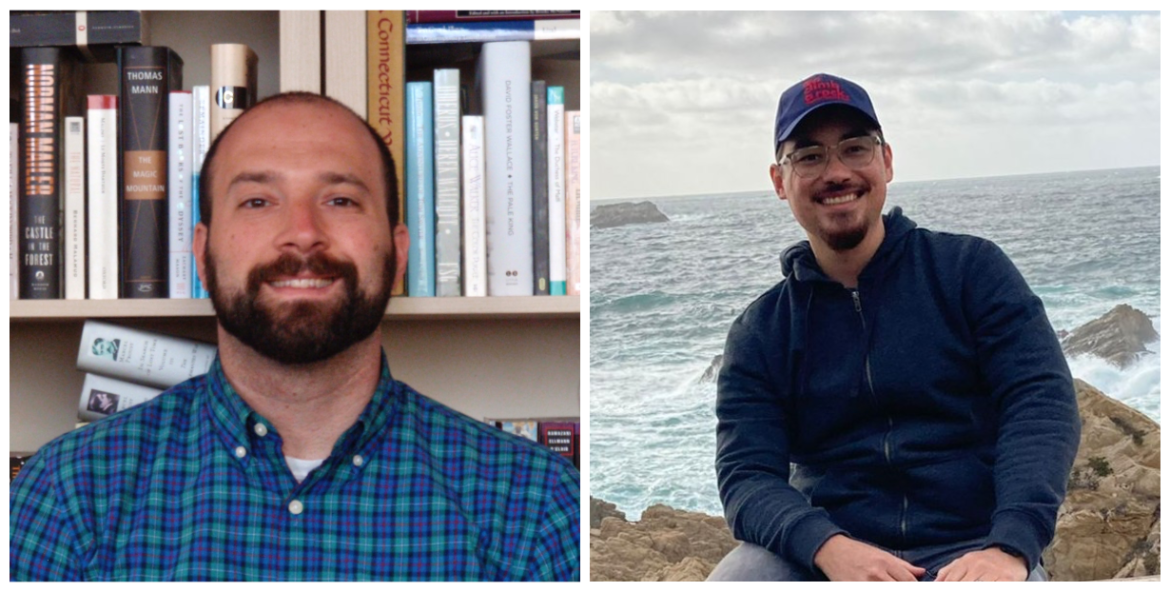 Two UCSF Department of Psychiatry and Behavioral Sciences researchers — David B. Kastner, MD, PhD, and Aarron J. Phensy, PhD — have been awarded 2022 Young Investigator Grants by the Brain & Behavior Research Foundation (BBRF) in recognition of their work as promising young scientists conducting innovative, cutting-edge neurobiological and psychiatric research. The pair are among the three researchers at UCSF (joined by Neurology's Joline Fan, MD, MS) and 150 from around the world selected to receive a combined $10.2 million in grants to further their research.
The two-year awards will provide them each with up to $70,000 for the purposes of extending their research fellowship training or fostering a career as an independent research faculty member. In addition, they will be eligible for consideration to present at the foundation's annual scientific symposium.
"BBRF Young Investigators represent a new generation of scientists who will pioneer breakthroughs in mental health research," said BBRF President and CEO Jeffrey Borenstein, MD. "We are excited to support the work of these young scientists who will apply powerful new technologies and insights to finding better treatments, cures, and methods of prevention for mental illness."
Funding to support pair of basic science research projects involving schizophrenia
Kastner, an adjunct instructor and postdoctoral researcher, studies prepulse inhibition (PPI) of the acoustic startle response, a commonly used behavioral paradigm to validate animal models of schizophrenia. PPI measures the way the startle reflex in response to a loud sound decreases when that loud sound is preceded by a softer sound, or "prepulse," which attenuates the subsequent startle response.
He has developed a novel method for measuring PPI which models the full range of the startle response function across startle pulse intensities and determines how this startle response function changes with a prepulse. Kastner will apply the method to two different rat models of schizophrenia and measure PPI in human subjects and adapt the methodology to provide equivalent information for humans. His project also seeks to determine how antipsychotic medications change PPI in rat models of schizophrenia, which could shed light on how they help to change behavior.
Aarron J. Phensy, PhD, a postdoctoral researcher in the Sohal Lab at UCSF, notes that disruptions to communication between the prefrontal cortex (PFC) and mediodorsal nucleus of the thalamus (MD) are believed to contribute to cognitive deficits in schizophrenia. The reciprocal connections between these regions require precisely tuned neuronal activity to coordinate appropriate behavior. One way these networks achieve this precision is through synchronization of neurons into rhythmic activity known as neural oscillations. 
His work has previously shown that in the PFC, cross-hemispheric synchronization of neural oscillations in the gamma frequency (Xh-γSynchrony) is necessary for mice to shift between goal-oriented strategies. His Young Investigator Grant-funded project, following findings that Xh-γSynchrony peaks in neurons that project from the PFC to the MD (PFC-MD neurons) as mice shift strategies, seeks to determine if synchrony in PFC-MD neurons has a causal role in strategy shifts or arises consequentially.
Supporting the careers of promising young scientists
BBRF Young Investigator Grants are designed to help researchers launch their careers in neuroscience and psychiatric research and gather pilot data to apply for larger federal and university grants on research relevant to the understanding, treatment, and prevention of serious brain and behavior disorders such as schizophrenia, mood disorders, anxiety disorders, or child and adolescent mental illnesses. Since the program's founding in 1987, it has awarded more than 6,400 grants to over 5,300 scientists in 37 countries totaling $440 million in funding.
"BBRF Young Investigator Grants have led to groundbreaking and important new research that has improved the lives of people living with mental illness," added BBRF Scientific Council President Herbert Pardes, MD. "These early-career scientists are making significant strides in basic research, early intervention, and diagnostic tools, new technologies, and next-generation therapies that will offer the best hope for advances in treatments for psychiatric illness."
This year, BBRF received 632 grant applications, and the selected recipients represent 95 institutions in 15 countries. Grant awardees were selected by the BBRF's Scientific Council, comprised of 181 leading experts across disciplines in brain and behavior research, including one Nobel Prize winner, two former directors of the National Institute of Mental Health, three recipients of the National Medal of Science, seven members of the National Academy of Sciences, 16 National Institute of Health chiefs and directors, 42 chairs of psychiatry and neuroscience departments at leading medical institutions, 50 members of the National Academy of Medicine, and ten UCSF Psychiatry and Behavioral Sciences faculty members. The 2022 Young Investigator Grant Selection Committee was co-chaired by the University of Rochester's Suzanne N. Haber, PhD, and UCSF's Judith M. Ford, PhD.
More than 40 Department of Psychiatry and Behavioral Sciences researchers have received BBRF Young Investigator Grants since 1987, including recent recipients Lauren Asarnow, PhD (2019); Jeremy Biane, PhD (2018); Holly Hamilton, PhD (2021); A. Moses Lee, MD, PhD (2020); Ruchi Malik, PhD (2018); Devanand Manoli, MD, PhD (2019); Tomasz Nowakowski, PhD (2018); Ryan Rampersaud, MD, PhD (2021); Katherine Scangos, MD, PhD (2018); Karuna Subramaniam, PhD (2019); Shuyu Wang, MD, PhD (2020); and Frances Xia, PhD (2021).
---
About UCSF Psychiatry and Behavioral Sciences
The UCSF Department of Psychiatry and Behavioral Sciences and the Langley Porter Psychiatric Institute are among the nation's foremost resources in the fields of child, adolescent, adult, and geriatric mental health. Together they constitute one of the largest departments in the UCSF School of Medicine and the UCSF Weill Institute for Neurosciences, with a mission focused on research (basic, translational, clinical), teaching, patient care, and public service.
UCSF Psychiatry and Behavioral Sciences conducts its clinical, educational, and research efforts at a variety of locations in Northern California, including the UCSF Nancy Friend Pritzker Psychiatry Building; UCSF Langley Porter Psychiatric Hospital; UCSF Medical Centers at Parnassus Heights, Mission Bay, and Mount Zion; UCSF Benioff Children's Hospitals in San Francisco and Oakland; Zuckerberg San Francisco General Hospital and Trauma Center; the San Francisco VA Health Care System; UCSF Fresno; and numerous community-based sites around the San Francisco Bay Area.
About the UCSF Weill Institute for Neurosciences
The UCSF Weill Institute for Neurosciences, established by the extraordinary generosity of Joan and Sanford I. "Sandy" Weill, brings together world-class researchers with top-ranked physicians to solve some of the most complex challenges in the human brain.
The UCSF Weill Institute leverages UCSF's unrivaled bench-to-bedside excellence in the neurosciences. It unites three UCSF departments—Psychiatry and Behavioral Sciences, Neurology, and Neurological Surgery—that are highly esteemed for both patient care and research, as well as the Neuroscience Graduate Program, a cross-disciplinary alliance of nearly 100 UCSF faculty members from 15 basic-science departments, as well as the UCSF Institute for Neurodegenerative Diseases, a multidisciplinary research center focused on finding effective treatments for Alzheimer's disease, frontotemporal dementia, Parkinson's disease, and other neurodegenerative disorders.
About UCSF
The University of California, San Francisco (UCSF) is exclusively focused on the health sciences and is dedicated to promoting health worldwide through advanced biomedical research, graduate-level education in the life sciences and health professions, and excellence in patient care. UCSF Health, which serves as UCSF's primary academic medical center, includes top-ranked specialty hospitals and other clinical programs, and has affiliations throughout the Bay Area.