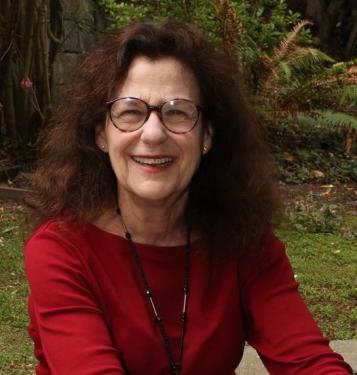 Longtime UC San Francisco professor and child trauma researcher Alicia Lieberman, PhD, has been named one of this year's recipients of the Holly Smith Award for Exceptional Service to the UCSF School of Medicine.
The award, which recognizes exceptional service to the School of Medicine, is the school's most prestigious honor, and provides an opportunity to celebrate colleagues who embody the qualities and contributions exemplified by Holly Smith, MD, professor emeritus and former associate dean. Smith, who passed away in June 2018, joined UCSF as the chair of the Department of Medicine in 1964 and was well known for his dedication to the School of Medicine, diversity in roles played, commitment to sustaining UCSF's position as a world-class institution, and accomplishing those goals with humor and grace.
Lieberman is the Irving B. Harris Endowed Chair of Infant Mental Health, a professor and vice chair in the Department of Psychiatry and Behavioral Sciences, and director of the UCSF Child Trauma Research Program. Recognized internationally as a pioneer in the area of trauma-informed clinical care for young children, she has dedicated her life and career to improving the well-being of underserved youth and minority and low-income families.
She is the developer of child-parent psychotherapy, an evidence-based treatment for traumatized children from birth to five-years-old, and has made major contributions to the field's understanding of attachment, toddler development, and cross-cultural perspectives on early development through her research, writing, training, and consultation. She is the recipient of numerous awards, including the ZERO TO THREE Lifetime Achievement Award (2020), World Association of Infant Mental Health Rene Spitz Award for Lifetime Achievement (2016), San Francisco DPH Public Health Hero Award (2016), Simms-Mann Institute Whole Child Award (2017), Global Alliance for Behavioral Health and Social Justice Blanche Ittleson Award (2018) , and Weill Cornell Institute Paulina Kernberg Award (2019).
"As the director of the Child Trauma Research Program, she has created a legacy that will positively impact the child mental health care field for generations to come," said UCSF School of Medicine Dean Talmadge E. King, Jr., MD. "Dr. Lieberman's trailblazing efforts have placed a spotlight on the importance of early childhood mental health on a global scale through her service, prolific writing, research, teaching, and advocacy."
 
---
About UCSF Psychiatry and Behavioral Sciences
The UCSF Department of Psychiatry and Behavioral Sciences and the Langley Porter Psychiatric Institute are among the nation's foremost resources in the fields of child, adolescent, adult, and geriatric mental health. Together they constitute one of the largest departments in the UCSF School of Medicine and the UCSF Weill Institute for Neurosciences, with a mission focused on research (basic, translational, clinical), teaching, patient care, and public service.
UCSF Psychiatry and Behavioral Sciences conducts its clinical, educational, and research efforts at a variety of locations in Northern California, including the UCSF Nancy Friend Pritzker Psychiatry Building; UCSF Langley Porter Psychiatric Hospital; UCSF Medical Centers at Parnassus Heights, Mission Bay, and Mount Zion; UCSF Benioff Children's Hospitals in San Francisco and Oakland; Zuckerberg San Francisco General Hospital and Trauma Center; the San Francisco VA Health Care System; UCSF Fresno; and numerous community-based sites around the San Francisco Bay Area.
About the UCSF Weill Institute for Neurosciences
The UCSF Weill Institute for Neurosciences, established by the extraordinary generosity of Joan and Sanford I. "Sandy" Weill, brings together world-class researchers with top-ranked physicians to solve some of the most complex challenges in the human brain.
The UCSF Weill Institute leverages UCSF's unrivaled bench-to-bedside excellence in the neurosciences. It unites three UCSF departments—Psychiatry and Behavioral Sciences, Neurology, and Neurological Surgery—that are highly esteemed for both patient care and research, as well as the Neuroscience Graduate Program, a cross-disciplinary alliance of nearly 100 UCSF faculty members from 15 basic-science departments, as well as the UCSF Institute for Neurodegenerative Diseases, a multidisciplinary research center focused on finding effective treatments for Alzheimer's disease, frontotemporal dementia, Parkinson's disease, and other neurodegenerative disorders.
About UCSF
The University of California, San Francisco (UCSF) is exclusively focused on the health sciences and is dedicated to promoting health worldwide through advanced biomedical research, graduate-level education in the life sciences and health professions, and excellence in patient care. UCSF Health, which serves as UCSF's primary academic medical center, includes top-ranked specialty hospitals and other clinical programs, and has affiliations throughout the Bay Area.