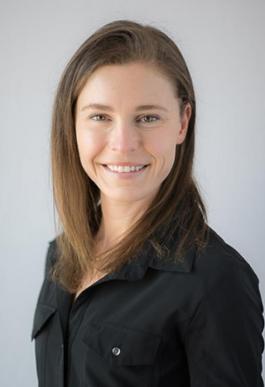 UC San Francisco researcher and clinician Ashley E. Mason, PhD, has been selected by the Academy of Behavioral Medicine Research (ABMR) as this year's recipient of its Neal E. Miller New Investigator Award. She will formally receive her award and deliver a talk on her work, "Warming Up to a New Treatment Model: Whole-Body Hyperthermia for Depression," during the group's annual meeting in October.
Mason is an associate professor in the UCSF Department of Psychiatry and Behavioral Sciences, as well as a core research faculty member at the UCSF Osher Center for Integrative Medicine and a provider in the UCSF Osher Center Clinic. She is also the co-director of the UCSF Center for Obesity Assessment, Study, and Treatment (COAST) and director of the UCSF Sleep, Affect, and Eating (SEA) Lab. In addition to her work on thermogregulatory processes among individuals with depression, her research interests also include non-pharmacologic interventions for mental health disorders, food cravings and overeating, the effects of sugar on body and brain, and the impact of stress on metabolic health and biological aging.

ABMR was organized in 1978 at a meeting hosted by the Institute of Medicine of the U.S. National Academy of Sciences. Its continuing mission is to provide a forum for established scientists and thought leaders working in the field of behavioral medicine, where cutting-edge ideas can be exchanged in an informal, yet scientifically charged atmosphere. AMBR's Neal E. Miller New Investigator Award was established in 1989 to recognize outstanding imaginatively conceived and carefully conducted research in the fields of psychology, neuroscience and behavioral medicine.

Mason will become the third current UCSF faculty member to receive the honor, joining her colleagues Elissa Epel, PhD (2005) and Aoife O'Donovan, PhD (2012).
---
About UCSF Psychiatry and Behavioral Sciences
The UCSF Department of Psychiatry and Behavioral Sciences and the Langley Porter Psychiatric Institute are among the nation's foremost resources in the fields of child, adolescent, adult, and geriatric mental health. Together they constitute one of the largest departments in the UCSF School of Medicine and the UCSF Weill Institute for Neurosciences, with a mission focused on research (basic, translational, clinical), teaching, patient care, and public service.
UCSF Psychiatry and Behavioral Sciences conducts its clinical, educational, and research efforts at a variety of locations in Northern California, including Langley Porter Psychiatric Hospital; UCSF Medical Centers at Parnassus Heights, Mission Bay, and Mount Zion; UCSF Benioff Children's Hospitals in San Francisco and Oakland; Zuckerberg San Francisco General Hospital and Trauma Center; the San Francisco VA Health Care System; UCSF Fresno; and numerous community-based sites around the San Francisco Bay Area.
About the UCSF Weill Institute for Neurosciences
The UCSF Weill Institute for Neurosciences, established by the extraordinary generosity of Joan and Sanford I. "Sandy" Weill, brings together world-class researchers with top-ranked physicians to solve some of the most complex challenges in the human brain.
The UCSF Weill Institute leverages UCSF's unrivaled bench-to-bedside excellence in the neurosciences. It unites three UCSF departments—Psychiatry and Behavioral Sciences, Neurology, and Neurological Surgery—that are highly esteemed for both patient care and research, as well as the Neuroscience Graduate Program, a cross-disciplinary alliance of nearly 100 UCSF faculty members from 15 basic-science departments, as well as the UCSF Institute for Neurodegenerative Diseases, a multidisciplinary research center focused on finding effective treatments for Alzheimer's disease, frontotemporal dementia, Parkinson's disease, and other neurodegenerative disorders.
About UCSF
The University of California, San Francisco (UCSF) is exclusively focused on the health sciences and is dedicated to promoting health worldwide through advanced biomedical research, graduate-level education in the life sciences and health professions, and excellence in patient care. UCSF Health, which serves as UCSF's primary academic medical center, includes top-ranked specialty hospitals and other clinical programs, and has affiliations throughout the Bay Area.