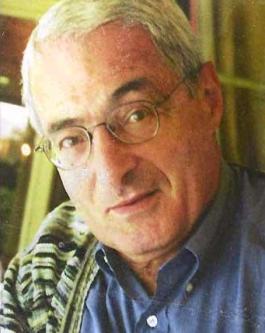 Longtime UC San Francisco clinical professor David R. Kessler, MD, died on November 24, 2022, following a long illness at the age of 92. In addition to his numerous clinical and academic contributions over the course of his career, David was also the first openly gay faculty member at UCSF and a tireless advocate for the LGBTQI+ community throughout and beyond his 24 years at the university.
He was born on April 1, 1930, in Brooklyn, New York. David's parents – his father was a clothing manufacturer and his mother worked for the New York Board of Education – were Polish Jews who emigrated to the United States shortly after World War I. After completing his undergraduate work at Brooklyn College, he received his medical degree from Yale Medical School in 1955. Following three years with the U.S. Public Health Service, he returned to Yale for psychiatric training and helped open one of the nation's first psychiatric hospitals in an American general hospital.
David moved to San Francisco in 1962, where he became a full-time staff member at the then-Langley Porter Neuropsychiatric Institute and UCSF Department of Psychiatry. Over the course of his career, he helped train numerous psychiatrists who would go on to practice in the Bay Area, authored several clinical papers and co-wrote an early textbook on marital and family therapy. For over 50 years, he also conducted a part-time psychiatric practice and was a consultant to the San Francisco Superior Court.
in 1978, he was elected president of the nation's first gay doctors' group, the Bay Area Physicians for Human Rights, and as the first president of the national Gay Caucus of Members of the American Psychiatric Association in 1980. He was also an active participant on many boards, including the National Gay Task Force (now the National LGBTQ Task Force) and the NAMES Project, which oversaw the creation of the AIDS Memorial Quilt. He retired from UCSF in 1986 as a clinical professor of psychiatry.
For more information about David's life and career, please see his obituary online.
A memorial service will be held Saturday, March 11, 2023, in San Francisco. For further details, please email [email protected] and provide your name and phone number.
In lieu of flowers, David asked that people send contributions to PFLAG or to their favorite LGBTQ charity.
 
---
About UCSF Psychiatry and Behavioral Sciences
The UCSF Department of Psychiatry and Behavioral Sciences and the Langley Porter Psychiatric Institute are among the nation's foremost resources in the fields of child, adolescent, adult, and geriatric mental health. Together they constitute one of the largest departments in the UCSF School of Medicine and the UCSF Weill Institute for Neurosciences, with a mission focused on research (basic, translational, clinical), teaching, patient care, and public service.
UCSF Psychiatry and Behavioral Sciences conducts its clinical, educational, and research efforts at a variety of locations in Northern California, including the UCSF Nancy Friend Pritzker Psychiatry Building; UCSF Langley Porter Psychiatric Hospital; UCSF Medical Centers at Parnassus Heights, Mission Bay, and Mount Zion; UCSF Benioff Children's Hospitals in San Francisco and Oakland; Zuckerberg San Francisco General Hospital and Trauma Center; the San Francisco VA Health Care System; UCSF Fresno; and numerous community-based sites around the San Francisco Bay Area.
About the UCSF Weill Institute for Neurosciences
The UCSF Weill Institute for Neurosciences, established by the extraordinary generosity of Joan and Sanford I. "Sandy" Weill, brings together world-class researchers with top-ranked physicians to solve some of the most complex challenges in the human brain.
The UCSF Weill Institute leverages UCSF's unrivaled bench-to-bedside excellence in the neurosciences. It unites three UCSF departments—Psychiatry and Behavioral Sciences, Neurology, and Neurological Surgery—that are highly esteemed for both patient care and research, as well as the Neuroscience Graduate Program, a cross-disciplinary alliance of nearly 100 UCSF faculty members from 15 basic-science departments, as well as the UCSF Institute for Neurodegenerative Diseases, a multidisciplinary research center focused on finding effective treatments for Alzheimer's disease, frontotemporal dementia, Parkinson's disease, and other neurodegenerative disorders.
About UCSF
The University of California, San Francisco (UCSF) is exclusively focused on the health sciences and is dedicated to promoting health worldwide through advanced biomedical research, graduate-level education in the life sciences and health professions, and excellence in patient care. UCSF Health, which serves as UCSF's primary academic medical center, includes top-ranked specialty hospitals and other clinical programs, and has affiliations throughout the Bay Area.