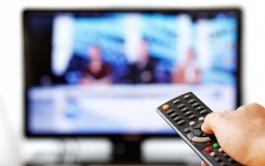 Watching a lot of TV and having a low physical activity level as a young adult were associated with worse cognitive function 25 years later in midlife, according to a new study led by
Tina Hoang, MSPH
, and
Kristine Yaffe, MD
,
published online
and in the January print issue of
JAMA Psychiatry
.
The study of 3,247 adults (ages 18 to 30) used a questionnaire to assess television viewing and physical activity during repeated visits over 25 years. High television viewing was defined as watching TV for more than three hours per day for more than two-thirds of the visits and exercise was measured as units based on time and intensity. Cognitive function was evaluated using three tests that assessed processing speed, executive function, and verbal memory.
Participants with high television viewing during the 25 years (11 percent) were more likely to have poor cognitive performance on some of the tests. Low physical activity during the 25-year period (16 percent of the participants) was associated with poor performance on one of the tests. The odds of poor cognitive performance were almost two times higher for adults with both high television viewing and low physical activity (3 percent of participants), according to the results.
Few studies have investigated the association between physical activity in early adulthood and cognitive function later in life. Coupled with the increasing prevalence of sedentary or screen-based activities, such as watching television, these trends are of concern for upcoming generations of young people.  
Read the paper
Further coverage
About UCSF Psychiatry
The UCSF Department of Psychiatry and the Langley Porter Psychiatric Institute are among the nation's foremost resources in the fields of child, adolescent, adult and geriatric mental health. Together they constitute one of the largest departments in the UCSF School of Medicine, with a mission focused on research (basic, translational, clinical), teaching, patient care, and public service. UCSF Psychiatry has an organizational structure that crosses all major UCSF sites - Parnassus, Mission Bay, Laurel Heights, Mt. Zion, Zuckerberg San Francisco General Hospital and Trauma Center, the San Francisco VA Medical Center, and UCSF Fresno.
About UCSF
UC San Francisco (UCSF) is a leading university dedicated to promoting health worldwide through advanced biomedical research, graduate-level education in the life sciences and health professions, and excellence in patient care. It includes top-ranked graduate schools of dentistry, medicine, nursing and pharmacy, a graduate division with nationally renowned programs in basic, biomedical, translational and population sciences, as well as a preeminent biomedical research enterprise and two top-ranked hospitals, UCSF Medical Center and UCSF Benioff Children's Hospital San Francisco.