UC San Francisco Assistant Professor of Psychiatry Aoife O'Donovan, PhD, has been selected as a 2017 UCSF Hellman Fellow for a project involving the potential use of mobile telephone applications to reduce symptoms in individuals with post-traumatic stress disorder (PTSD). She is one of nine UCSF faculty members who will receive funding to further their research from the Hellman Fellows Program.
Established by Warren and Chris Hellman and their children in 1994, the Hellman Fellows Fund supports the research of promising assistant professors who show capacity for great distinction in their chosen fields of endeavor. The Hellman Fellows Fund has established programs at fourteen institutions, including the 10 UC campuses.
The impetus for the program came when Hellman family members, who were junior faculty themselves, observed that promising young faculty were well-funded when first hired, but faced challenges after start-up funding is exhausted and before their research qualified for other external support. The result was the development of the Hellman Fellows Program. By granting funds to research institutions like UCSF, the Hellman Fellows Fund supports junior faculty whose research area or career face special challenges at this critical point in their research career.
The awarded fellowship funds are intended to contribute substantially to the execution of each recipient's research, and can be used for items such as  travel, equipment, and research staff. In addition, fellows meet with the trustees of the Hellman Fellows Program at an annual lunch to recap how their awards are spent.
Exploring the connection between stress and aging
O'Donovan's research is focused on uncovering the mechanisms by which psychological experiences influence the development of age-related diseases, with a particular interest in how psychosocial stress influences the biological aging process. She is the principal investigator for the UCSF Trauma and Health Research on Immunity, Vitality and Emotions (THIRVE) Laboratory based at the San Francisco VA Medical Center.
Her lab concentrates on uncovering how stress exposure increases the risk for illness in individuals, and on developing and testing interventions to reduce the negative effects of stress. O'Donovan's previous work has indicated that psychological stress has profound effects on the immune system, increasing levels of inflammatory activity and accelerating biological aging. In turn, these immune system alterations increase the risk for multiple chronic diseases of aging, and can impact brain structure and function, potentially creating psychiatric symptoms. Additional research conducted by the lab points to stress promoting exaggerated threat sensitivity, which may be a key psychological factor contributing to the immune system changes observed in stressed individuals.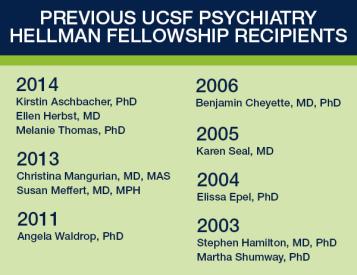 The THRIVE Lab's current work is centered on PTSD, a chronic and disabling disorder that develops in some people after experiencing or witnessing a life-threatening event, such as combat, a natural disaster, a car accident, or sexual assault. Exaggerated threat sensitivity — the ability to perceive and respond to environmental threats — forms the basis of several symptoms of PTSD and may also contribute to the high risk for physical illness seen in those diagnosed with the disorder.
O'Donovan and her colleagues are currently exploring the feasibility of using a mobile telephone application (or "app") to help lessen threat sensitivity in individuals with PTSD. Her team has developed their own app aimed to doing just that, and now plan on testing it to see if daily use by subjects can reduce their levels of threat sensitivity and post-traumatic stress symptoms. An earlier pilot study of the app suggested that patients with PTSD were willing and able to engage with the app and complete a training module every day. 
"We are very excited about the potential of the app to improve health in people exposed to trauma," said O'Donovan, "and are so grateful for the support of the Hellman Fellows Fund to move this project forward."
The project was also selected to receive a Spring 2017 Department of Psychiatry Digital Mental Health Track grant award last week. 
---
About UCSF Psychiatry
The UCSF Department of Psychiatry and the Langley Porter Psychiatric Institute are among the nation's foremost resources in the fields of child, adolescent, adult, and geriatric mental health. Together they constitute one of the largest departments in the UCSF School of Medicine and the UCSF Weill Institute for Neurosciences, with a mission focused on research (basic, translational, clinical), teaching, patient care and public service.
UCSF Psychiatry conducts its clinical, educational and research efforts at a variety of locations in Northern California, including UCSF campuses at Parnassus Heights, Mission Bay and Laurel Heights, UCSF Medical Center, UCSF Benioff Children's Hospitals, Zuckerberg San Francisco General Hospital and Trauma Center, the San Francisco VA Health Care System and UCSF Fresno.
About the UCSF Weill Institute for Neurosciences
The UCSF Weill Institute for Neurosciences, established by the extraordinary generosity of Joan and Sanford I. "Sandy" Weill, brings together world-class researchers with top-ranked physicians to solve some of the most complex challenges in the human brain.
The UCSF Weill Institute leverages UCSF's unrivaled bench-to-bedside excellence in the neurosciences. It unites three UCSF departments—Neurology, Psychiatry, and Neurological Surgery—that are highly esteemed for both patient care and research, as well as the Neuroscience Graduate Program, a cross-disciplinary alliance of nearly 100 UCSF faculty members from 15 basic-science departments, as well as the UCSF Institute for Neurodegenerative Diseases, a multidisciplinary research center focused on finding effective treatments for Alzheimer's disease, frontotemporal dementia, Parkinson's disease, and other neurodegenerative disorders.
About UCSF
UC San Francisco (UCSF) is a leading university dedicated to promoting health worldwide through advanced biomedical research, graduate-level education in the life sciences and health professions, and excellence in patient care. It includes top-ranked graduate schools of dentistry, medicine, nursing and pharmacy; a graduate division with nationally renowned programs in basic, biomedical, translational and population sciences; and a preeminent biomedical research enterprise. It also includes UCSF Health, which comprises top-ranked hospitals – UCSF Medical Center and UCSF Benioff Children's Hospitals in San Francisco and Oakland – and other partner and affiliated hospitals and healthcare providers throughout the Bay Area.