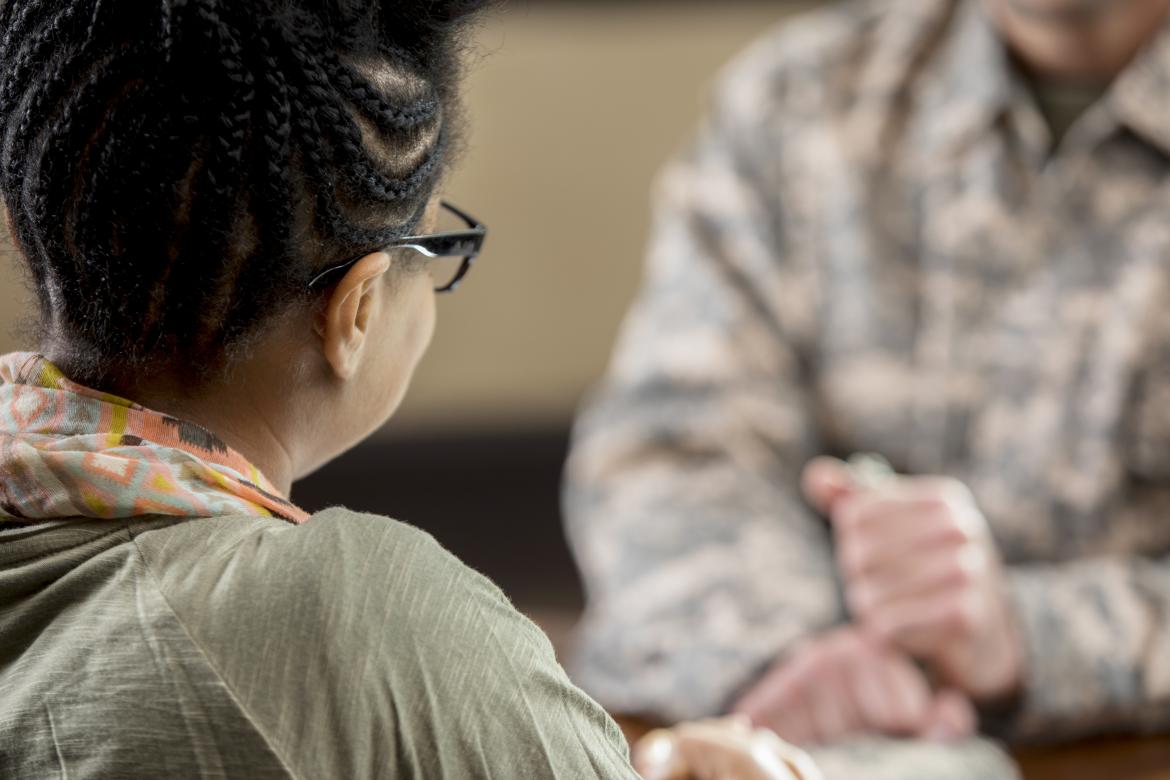 Veterans who have killed in combat and suffer from nightmares, hyper-vigilance to perceived threats, and numbness to people and activities that once made them happy, may be helped by a six-to-eight week talk therapy program, a UC San Francisco study has found.
In the study, 33 veterans with post-traumatic stress disorder (PTSD) were enrolled in six-to-eight one-on-one sessions with a licensed psychologist. The veterans had either "endorsed killing" or were "responsible for the death of another in a war zone," said first author Shira Maguen, PhD, associate professor in the UCSF Department of Psychiatry and mental health director of the San Francisco VA Health Care System Integrated Care Clinic.
The study follows earlier work by Maguen that found veterans with killing experiences were twice as likely to think about suicide as those who had not killed.
In the current study, published Aug. 17, 2017, in the Journal of Clinical Psychology, Maguen and her co-investigators assessed the mental health of 17 veterans who had completed the program, and compared the results with 16 counterparts who were waitlisted for the same treatment. While both groups of veterans suffered from PTSD and had killed in combat, the group that had completed the program experienced a 63 percent drop in depression symptoms, 43 percent improvement in anxiety and a 37 percent dip in general psychiatric symptoms.
Difficulties with closeness, intimacy
The participants were all male, with an average age of 61, and 14 of the 17 had served in Vietnam.
"Many of the veterans struggled with difficulties getting close to people, intimacy with partners and a belief that they were no longer lovable," said Maguen. "Others were unable to trust their anger after killing, or felt that they deserved to suffer."
Components of the program included identifying the barriers to feeling better, such as numbing feelings with drugs or alcohol, living in an unhealthy environment or sabotaging personal relationships. Participants worked with psychologists to challenge "killing cognitions," those beliefs that the deaths had made them unworthy of affection, trust or respect.
A latter phase of the program involved self-forgiveness – "a key ingredient in healing," according to Maguen.
Practicing compassion for self and others
"Self-forgiveness might involve volunteering, reconnecting with friends and family who were cut off, tutoring children, or even going back to the country where the killing occurred and trying to make amends there," she said.
Finally, participants were encouraged to express "guilt and remorse for those harmed, and sadness and compassion for self and others," the authors noted in the study.
Currently veterans can receive PTSD evaluation and treatment without ever being asked about killing and its impact, said senior author Thomas Neylan, MD, professor in the UCSF Department of Psychiatry and director of the PTSD clinic at the San Francisco VA Medical Center.
"Veterans have disclosed that although they have spoken in depth about other traumas, they felt that killing should be kept secret," said Neylan, who is also affiliated with the U.S. Department of Veterans Affairs. "It should be recognized that killing happens in war and is an expected and important part of the veteran's experience. Creating a culture in which killing is asked about allows for non-stigmatizing discussions about how veterans may be impacted by their killing experiences."
PTSD is characterized by reliving a terrifying event, avoiding situations that prompt memories of that event, a surge in negative feelings and beliefs, and being hyper-aware of potential dangers. The U.S. Department of Veterans Affairs says that an estimated 30 percent of Vietnam veterans have had PTSD in their lifetime, versus 12 percent of those serving in the Gulf War, and between 11 and 20 percent of those in Iraq and Afghanistan.
The study's co-authors are Kristine Burkman, PhD; Jessica Keyser, PhD; and Martha Schmitz PhD, of San Francisco VA Medical Center and UCSF; and Erin Madden, MPH, Julie Dinh and Jeane Bosch, MPH, of San Francisco VA Medical Center.
The study was funded by the U.S. Department of Veterans Affairs and UCSF.
---
About UCSF Psychiatry
The UCSF Department of Psychiatry and the Langley Porter Psychiatric Institute are among the nation's foremost resources in the fields of child, adolescent, adult, and geriatric mental health. Together they constitute one of the largest departments in the UCSF School of Medicine and the UCSF Weill Institute for Neurosciences, with a mission focused on research (basic, translational, clinical), teaching, patient care and public service.
UCSF Psychiatry conducts its clinical, educational and research efforts at a variety of locations in Northern California, including UCSF campuses at Parnassus Heights, Mission Bay and Laurel Heights, UCSF Medical Center, UCSF Benioff Children's Hospitals, Zuckerberg San Francisco General Hospital and Trauma Center, the San Francisco VA Health Care System and UCSF Fresno.
About the UCSF Weill Institute for Neurosciences
The UCSF Weill Institute for Neurosciences, established by the extraordinary generosity of Joan and Sanford I. "Sandy" Weill, brings together world-class researchers with top-ranked physicians to solve some of the most complex challenges in the human brain.
The UCSF Weill Institute leverages UCSF's unrivaled bench-to-bedside excellence in the neurosciences. It unites three UCSF departments—Neurology, Psychiatry, and Neurological Surgery—that are highly esteemed for both patient care and research, as well as the Neuroscience Graduate Program, a cross-disciplinary alliance of nearly 100 UCSF faculty members from 15 basic-science departments, as well as the UCSF Institute for Neurodegenerative Diseases, a multidisciplinary research center focused on finding effective treatments for Alzheimer's disease, frontotemporal dementia, Parkinson's disease, and other neurodegenerative disorders.
About UCSF
UC San Francisco (UCSF) is a leading university dedicated to promoting health worldwide through advanced biomedical research, graduate-level education in the life sciences and health professions, and excellence in patient care. It includes top-ranked graduate schools of dentistry, medicine, nursing and pharmacy; a graduate division with nationally renowned programs in basic, biomedical, translational and population sciences; and a preeminent biomedical research enterprise. It also includes UCSF Health, which comprises top-ranked hospitals – UCSF Medical Center and UCSF Benioff Children's Hospitals in San Francisco and Oakland – and other partner and affiliated hospitals and healthcare providers throughout the Bay Area.