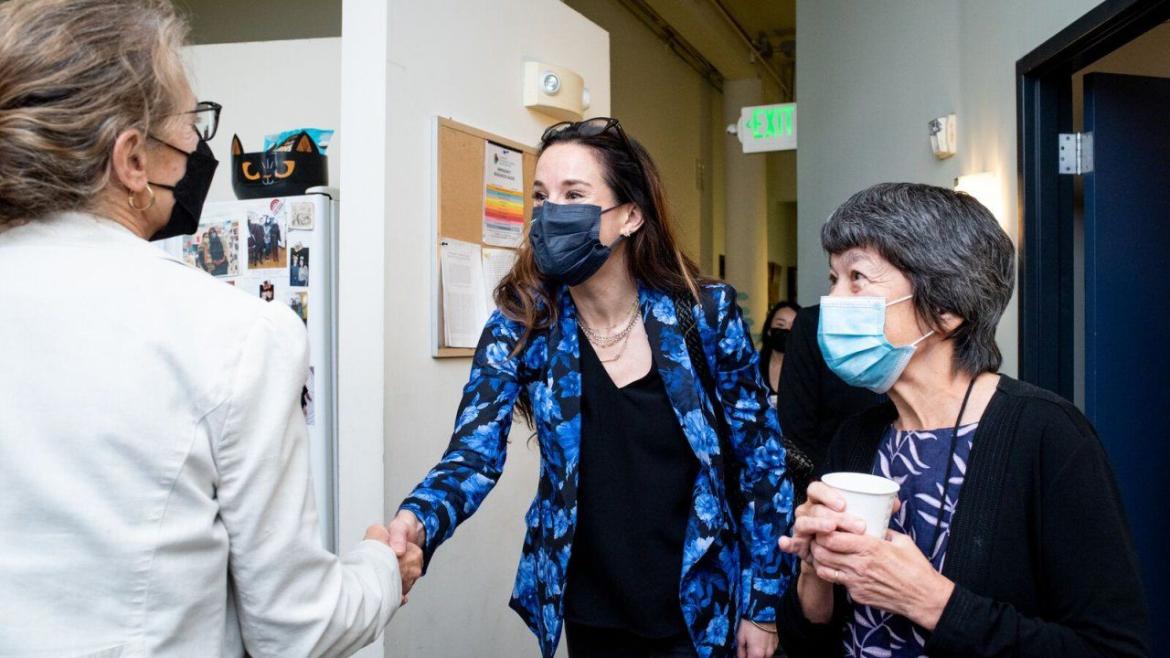 Ashley Biden, MSW, social worker and justice reform advocate, was welcomed to UC San Francisco by colleagues and representatives from the Department of Psychiatry and Behavioral Sciences and allied community organizations supporting victims of violent crime.
Biden, a consultant to the National Alliance of Trauma Recovery Centers, which was pioneered at UCSF, participated in a roundtable on the role of trauma recovery centers at the Nancy Friend Pritzker Psychiatry Building. She told the audience that people who were victimized by violent crime were themselves at risk of becoming perpetrators of crime.
Trauma recovery centers may assist victims in applying for compensation, moving to a safer neighborhood or upgrading home security, acquiring job training, and getting therapy in their own homes if they are too traumatized to leave home or even get out of bed, said Biden, whose work also includes leading a trauma support group for 20 women who have been released from prison, and consulting for the Boys and Girls Clubs of America.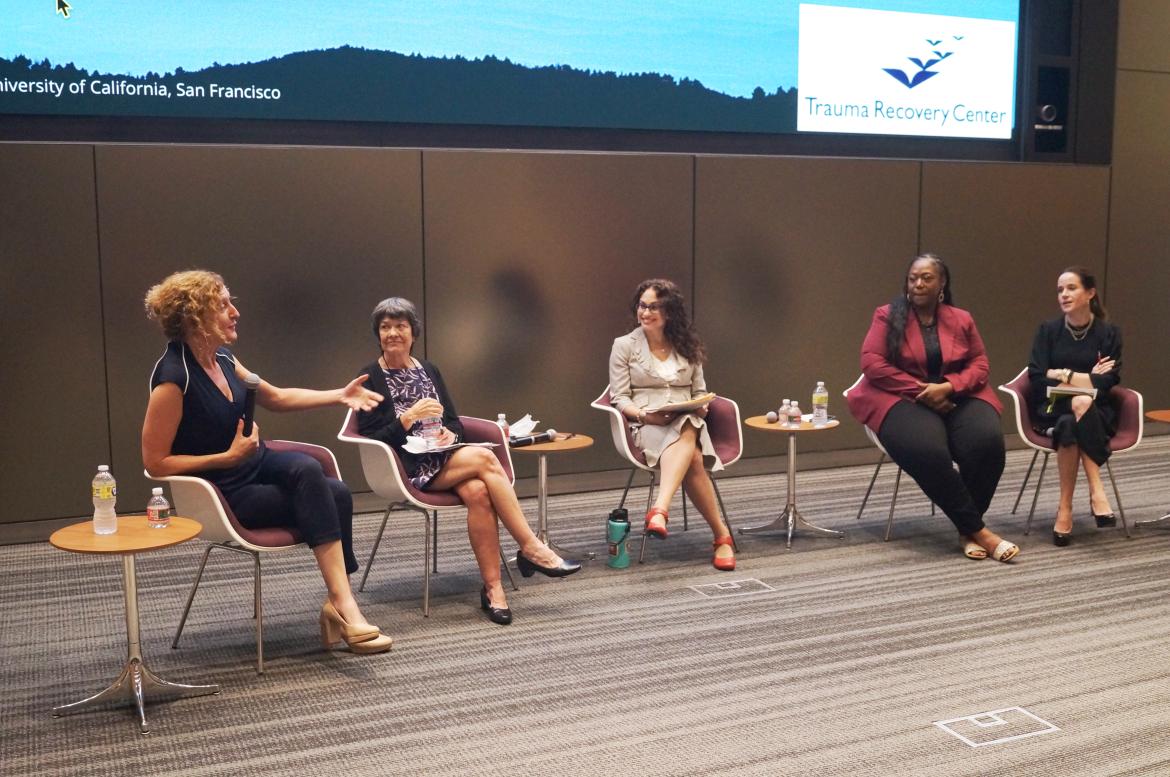 Supporting victims of violence leads to safer communities, says justice reform champion
"It's known that hurt people hurt people," she said. "Disproportionately high numbers of victims of violent crime are low-income, have lower levels of education, face systemic racism and deal with untreated mental health conditions. The most harmed are frequently the least helped."
"When they get restitution and support to handle their anger and triggers, and receive treatment for depression, they heal. We create a network in which everyone has the resources to heal, at no cost to them, using evidence-based treatments," she said, noting that her first taste of societal inequities came from campaigning for re-election with "my dad" when he served in the United States Senate, and noticing that some residents "lived in nice homes and others did not."
The flagship trauma recovery center at UCSF was founded in 2001 by roundtable co-participant Alicia Boccellari, PhD, professor emeritus at the UCSF Department of Psychiatry and Behavioral Sciences, and director of the National Alliance of Trauma Recovery Centers. The program has subsequently evolved from a small state-funded program to a national model with 39 branches in eight states and growing.
Data shows that the impact of trauma recovery centers has resulted in 71% of sexual assault survivors receiving mental health care, versus 6% for usual care. Access to mental health service has jumped from 38% to 72%, co-operation with police has improved with a 69% increase in the number of police reports filed, and there has been a 41% drop in homelessness. Other data shows a decrease in symptoms of post-traumatic stress disorder and depression, a drop in alcohol use and improvements in both mental and physical health.
Biden and Boccellari were joined at the roundtable by Lenore Anderson, JD, president of the Alliance for Safety and Justice, and Tinisch Hollins, executive director of Californians for Safety and Justice. The event was moderated by Sarah Metz, PsyD, health sciences associate clinical professor in the UCSF Department of Psychiatry and Behavioral Sciences, and director of the Division of Trauma Recovery Services.
"Everyone has faced trauma in their lives, but many marginalized people do not have access to the mental health services that would best serve their needs," said Biden. "The trauma recovery center model just makes sense. It's a one-stop shop that offers survivor-centered care."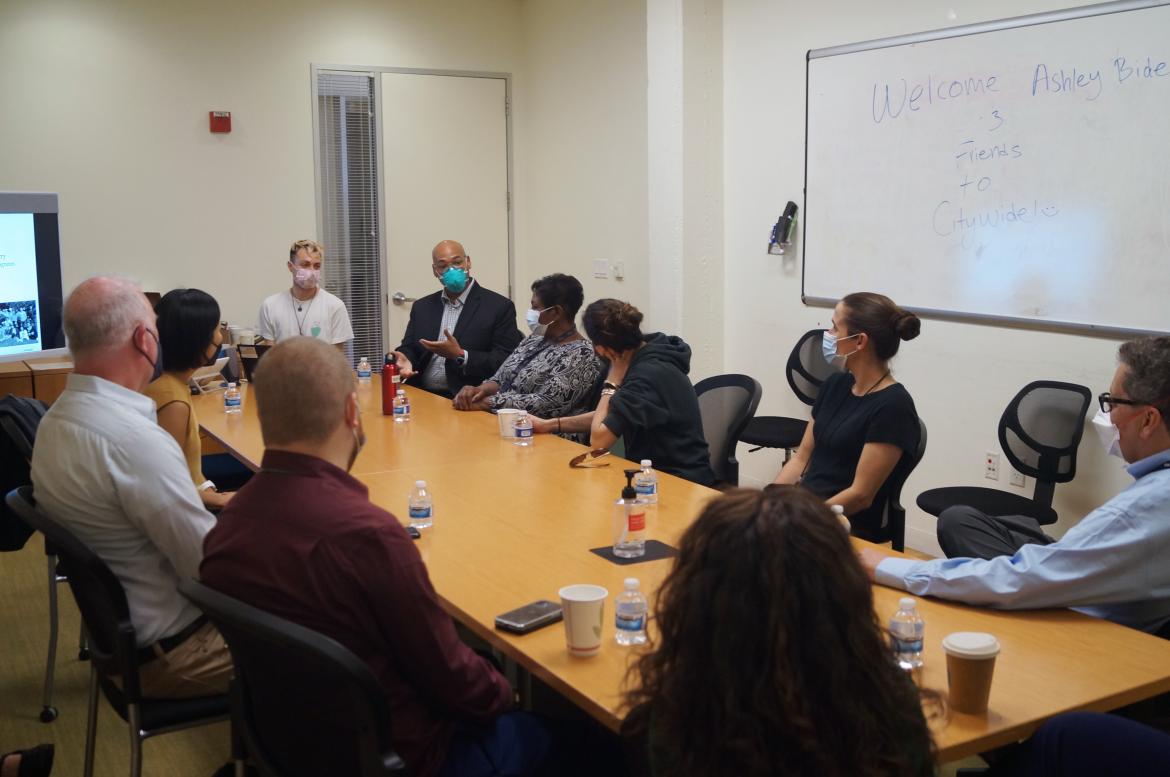 Visit also includes stops at clinical and social support services centers across the city
In addition to participating in the roundtable, Biden also visited several of UCSF's care centers around San Francisco, including the Trauma Recovery Center, Citywide Case Management Programs, the Child and Adolescent Support Advocacy and Resource Center (CASARC), and the Psychiatric Emergency Services unit at Zuckerberg San Francisco General Hospital and Trauma Center. During her stops, she was able to meet with dozens of UCSF faculty and staff members to discuss the work they do to support victims of violence and many of San Francisco's highest risk mentally ill individuals.
Biden also toured the Nancy Friend Pritzker Psychiatry Building, UCSF's one-of-a-kind treatment center that opened earlier this year. The 150,000-square foot, five-story building combines outpatient mental health care for people of all ages with UCSF's top-ranking programs in psychiatry and psychology training. It includes a center for pediatric, adolescent, and family health care, and promotes collaborative research across psychiatry, psychology, neurology, neurosurgery, radiology, pediatrics, anesthesiology, and obstetrics/gynecology – all under one roof.
Further coverage
---
About UCSF Psychiatry and Behavioral Sciences
The UCSF Department of Psychiatry and Behavioral Sciences and the Langley Porter Psychiatric Institute are among the nation's foremost resources in the fields of child, adolescent, adult, and geriatric mental health. Together they constitute one of the largest departments in the UCSF School of Medicine and the UCSF Weill Institute for Neurosciences, with a mission focused on research (basic, translational, clinical), teaching, patient care, and public service.
UCSF Psychiatry and Behavioral Sciences conducts its clinical, educational, and research efforts at a variety of locations in Northern California, including the UCSF Nancy Friend Pritzker Psychiatry Building; UCSF Langley Porter Psychiatric Hospital; UCSF Medical Centers at Parnassus Heights, Mission Bay, and Mount Zion; UCSF Benioff Children's Hospitals in San Francisco and Oakland; Zuckerberg San Francisco General Hospital and Trauma Center; the San Francisco VA Health Care System; UCSF Fresno; and numerous community-based sites around the San Francisco Bay Area.
About the UCSF Weill Institute for Neurosciences
The UCSF Weill Institute for Neurosciences, established by the extraordinary generosity of Joan and Sanford I. "Sandy" Weill, brings together world-class researchers with top-ranked physicians to solve some of the most complex challenges in the human brain.
The UCSF Weill Institute leverages UCSF's unrivaled bench-to-bedside excellence in the neurosciences. It unites three UCSF departments—Psychiatry and Behavioral Sciences, Neurology, and Neurological Surgery—that are highly esteemed for both patient care and research, as well as the Neuroscience Graduate Program, a cross-disciplinary alliance of nearly 100 UCSF faculty members from 15 basic-science departments, as well as the UCSF Institute for Neurodegenerative Diseases, a multidisciplinary research center focused on finding effective treatments for Alzheimer's disease, frontotemporal dementia, Parkinson's disease, and other neurodegenerative disorders.
About UCSF
The University of California, San Francisco (UCSF) is exclusively focused on the health sciences and is dedicated to promoting health worldwide through advanced biomedical research, graduate-level education in the life sciences and health professions, and excellence in patient care. UCSF Health, which serves as UCSF's primary academic medical center, includes top-ranked specialty hospitals and other clinical programs, and has affiliations throughout the Bay Area.