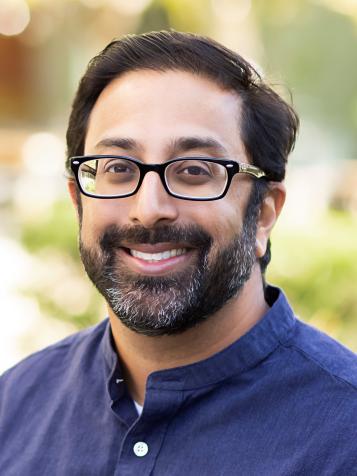 The American College of Neuropsychopharmacology (ACNP) has named Vikaas S. Sohal, MD, PhD, as a winner of its 2023 Daniel H. Efron Research Award for outstanding basic research contributions to neuropsychopharmacology for his groundbreaking discoveries on the role of rhythmic patterns of brain activity in cognition and emotion that have overturned established ideas, revealed previously inaccessible phenomenon, and uncovered potential targets for new therapies.
Sohal is a professor and deputy vice chair for research in the UC San Francisco Department of Psychiatry and Behavioral Sciences, where he established his independent laboratory in 2010. He has pioneered new ways to study complex patterns of cortical and limbic circuit activity then applied them to pressing research questions relevant to neuropsychiatric disorders. His outstanding scientific contributions have been recognized by many foundations and research societies, including receipt of a Memory and Cognitive Disorders Award from the McKnight Foundation in 2018 and the A.E. Bennett Basic Science Research Award from the Society of Biological Psychiatry in 2020. Sohal has been a member of the American College of Neuropsychopharmacology since 2011 and was named a Brain and Behavior Research Foundation Scientific council member in 2017.
Drawing on his background in mathematics and electrophysiology, Sohal's work combines computational, electrophysiological, and optogenetic approaches to contribute fundamental insights into emergent patterns of limbic circuit activity and their role in normal and pathological aspects of cognition and emotion. Using new technologies based on genetically encoded voltage indicators, his lab resolved a major controversy about the functional significance of gamma oscillations by establishing that that the synchronization of gamma-frequency activity across brain regions, not just locally, contributes to normal cognition. They also established that these gamma oscillations may be targeted to remediate cognitive deficits that are associated with schizophrenia. The Sohal Lab further discovered long-range inhibitory projection neurons originating from the prefrontal cortex that powerfully regulate downstream regions like hippocampus, as well as novel mechanism of dopamine 2 receptor signaling that are specific to the prefrontal cortex, both of which have broad implications for neuropsychopharmacology. In collaboration with UCSF neurosurgeon Edward Chang, MD, Sohal also uncovered a previously unseen mood network within intracranial EEG recordings that may serve as a biological substrate linking memory and emotion and could potentially inform novel brain stimulation therapies for depression.
The Daniel H. Efron Research Award presented at the 62nd Annual Meeting of the ACNP is in recognition of outstanding basic research contributions to neuropsychopharmacology. The selection of the awardee is based on the quality of the contribution and its impact in advancing neuropsychopharmacology.
---
About ACNP
The American College of Neuropsychopharmacology (ACNP), founded in 1961, is a professional organization of more than 1100 leading scientists, including four Nobel Laureates. The mission of ACNP is to further research and education in neuropsychopharmacology and related fields in the following ways: promoting the interaction of a broad range of scientific disciplines of brain and behavior in order to advance the understanding of prevention and treatment of disease of the nervous system including psychiatric, neurological, behavioral and addictive disorders; encouraging scientists to enter research careers in fields related to these disorders and their treatment; and ensuring the dissemination of relevant scientific advances.
About UCSF Psychiatry and Behavioral Sciences
The UCSF Department of Psychiatry and Behavioral Sciences and the Langley Porter Psychiatric Institute are among the nation's foremost resources in the fields of child, adolescent, adult, and geriatric mental health. Together they constitute one of the largest departments in the UCSF School of Medicine and the UCSF Weill Institute for Neurosciences, with a mission focused on research (basic, translational, clinical), teaching, patient care, and public service.
UCSF Psychiatry and Behavioral Sciences conducts its clinical, educational, and research efforts at a variety of locations in Northern California, including the UCSF Nancy Friend Pritzker Psychiatry Building; UCSF Langley Porter Psychiatric Hospital; UCSF Medical Centers at Parnassus Heights, Mission Bay, and Mount Zion; UCSF Benioff Children's Hospitals in San Francisco and Oakland; Zuckerberg San Francisco General Hospital and Trauma Center; the San Francisco VA Health Care System; UCSF Fresno; and numerous community-based sites around the San Francisco Bay Area.
About the UCSF Weill Institute for Neurosciences
The UCSF Weill Institute for Neurosciences, established by the extraordinary generosity of Joan and Sanford I. "Sandy" Weill, brings together world-class researchers with top-ranked physicians to solve some of the most complex challenges in the human brain.
The UCSF Weill Institute leverages UCSF's unrivaled bench-to-bedside excellence in the neurosciences. It unites three UCSF departments—Psychiatry and Behavioral Sciences, Neurology, and Neurological Surgery—that are highly esteemed for both patient care and research, as well as the Neuroscience Graduate Program, a cross-disciplinary alliance of nearly 100 UCSF faculty members from 15 basic-science departments, as well as the UCSF Institute for Neurodegenerative Diseases, a multidisciplinary research center focused on finding effective treatments for Alzheimer's disease, frontotemporal dementia, Parkinson's disease, and other neurodegenerative disorders.
About UCSF
The University of California, San Francisco (UCSF) is exclusively focused on the health sciences and is dedicated to promoting health worldwide through advanced biomedical research, graduate-level education in the life sciences and health professions, and excellence in patient care. UCSF Health, which serves as UCSF's primary academic medical center, includes top-ranked specialty hospitals and other clinical programs, and has affiliations throughout the Bay Area.