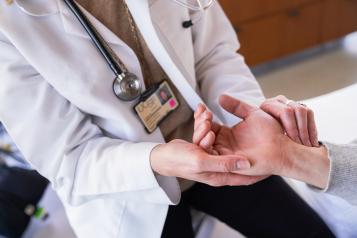 We know these are difficult times for everyone, especially those of you who are serving patients. We hope you will enjoy the videos from our 10-week webinar series featuring mental health and emotional wellness experts showing how health care providers can reduce personal stress during the COVID-19 outbreak, as well as coping with other disasters. In addition to these hour-long webinars, we have made a series of mini-videos on related topics.
We will host another monthly webinar series in the winter, most likely on the first Thursday of the month at noon. In the meantime, we welcome your ideas for speakers and topics. Please email them to [email protected]. You can hear about more well-being events via @Dr_Epel on Twitter.
This webinar series is co-sponsored by the UCSF Department of Psychiatry, UCSF Office of Alumni Relations, Greater Good Science Center at UC Berkeley, Mindsight Institute, and the John W. Brick Mental Health Foundation.
Download: Insights From Webinar Participants
UPCOMING AND PREVIOUS WEBINARS

 
DATE
SPEAKER(S)
TOPIC
REGISTRATION/ARCHIVE
April 2
Eve Ekman, PhD, MSW
Elissa Epel, PhD
Daniel J. Siegel, MD
Psychological Strategies for Acute Stress
Archived video
April 9
Lisa Fortuna, MD, MPH, MDiv
Bruce Perry, MD
Robert Rodriguez, MD
Psychological First Aid Strategies to Deal With Acute Stress
Archived video
April 16
Roshi Joan Halifax, PhD
Jennifer Doerhn, PhD, RN
Healing Moral Distress, Moral Outrage, and Reducing Burnout
Archived video
April 23
Daniel J. Siegel, MD
Margo Pumar, MD
Supporting Our Youth: How to Survive and Thrive
Archived video
April 30
Brené Brown, PhD, LMSW
Collective Vulnerability and Courage
Postponed (new date TBD)
May 7
Wim Hof
Ashley Mason, PhD
Making Stress Work for You: Restoration Through Hormetic Stressors and Wim Hof Breathing
Archived video
May 14
Eve Ekman, PhD, MSW
Thupten Jinpa, PhD
Sanjay Reddy, MD
On the Front Lines: Compassion-Based Strategies
Archived video
May 21
Bessel van der Kolk, MD
David Bullard, PhD
Douglas Ziedonis, MD, MPH
Resilience to Traumatic Stress: When the Body Keeps the Score
May 28
Esther Perel, MA
Ethan Weiss, MD
Relationships Under Shelter: Transforming Conflict to Harmony
Archived video
June 4
Elizabeth Blackburn, PhD
Eve Ekman, PhD, MSW
Elissa Epel, PhD
Jack Kornfield, PhD
Daniel J. Siegel, MD
Resilience and Regeneration
Archived video
 
 
 
 
Resources

Week 1 (Ekman/Epel/Siegel)
Week 3 (Halifax/Doerhn)
Week 4 (Siegel)
Week 6 (Hof/Mason)
Week 7 (Jinpa/Ekman/Reddy)
Week 8 (van der Kolk/Bullard/Ziedonis)
Week 9 (Perel/Weiss)
Week 10 (Blackburn/Ekman/Epel/Kornfield/Siegel)