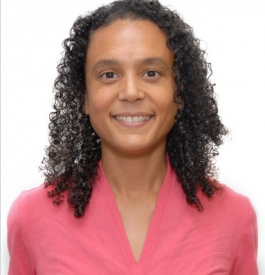 New York Assistant Professor of Psychiatry and Anthropology
Helena Hansen, MD, PhD
, will deliver the
2015 Dr. Evelyn Lee Visiting Scholar Lecture in Cultural Competency and Diversity
tomorrow morning at 8 a.m. as part of the Department of Psychiatry's Grand Rounds series. Her presentation, "Structural Competency: New Medicine for the Inequalities That Are Making Us Sick," will take a look at the primacy of social determinants of mental health in explaining health disparities, and why clinicians should integrate those social determinants into their practice and patient advocacy efforts. The presentation, which will take place in N-225 on the Parnassus campus, will be streamed live online at
psych.ucsf.edu/lee2015
.
Following her Grand Rounds talk, Hansen will travel to SFGH to take part in
a conversation about diversity and culture in psychiatry
, moderated by
Emily Lee, MD
, and
David Elkin, MD
. The event will begin at 10:30 a.m. with a meet-and-greet reception, followed by the panel discussion from 11 a.m. to noon. Both the reception and discussion will take place in SFGH 7M30 and all faculty, trainees, students and staff are invited to attend.
Hansen earned an MD and a PhD in cultural anthropology as part of Yale University's NIH-funded Medical Scientist Training Program. She is a joint-appointed assistant professor of anthropology and psychiatry at New York University, and a research psychiatrist at the New York State Office of Mental Health's Nathan Kline Institute. During graduate school, she completed fieldwork in Havana on Cuban AIDS policy, in urban Connecticut on harm reduction and needle exchange, and in Puerto Rico on faith healing in evangelical Christian addiction ministries founded and run by self-identified ex-addicts. She is the recipient of the Robert Wood Johnson Health Policy Investigator Award, Kaiser Permanente Burche Minority Leadership Award, a NIDA K01 Award, a Mellon Sawyer Seminar grant, and the American Association of Directors of Psychiatry Residency Training Model Curriculum Award.
The annual Dr. Evelyn Lee Visiting Scholar Lecture in Cultural Competency and Diversity is sponsored by the
UCSF Department of Psychiatry Diversity Committee
in remembrance of
Evelyn Lee, EdD
, who served as a clinical faculty member for more than twenty years before her passing in 2003. In addition to her work at UCSF and SFGH, Lee served as executive director of San Francisco-area mental health agency Richmond Area Multi-Services and authored more than 30 publications fostering cultural competence and cross-cultural communication in mental health.