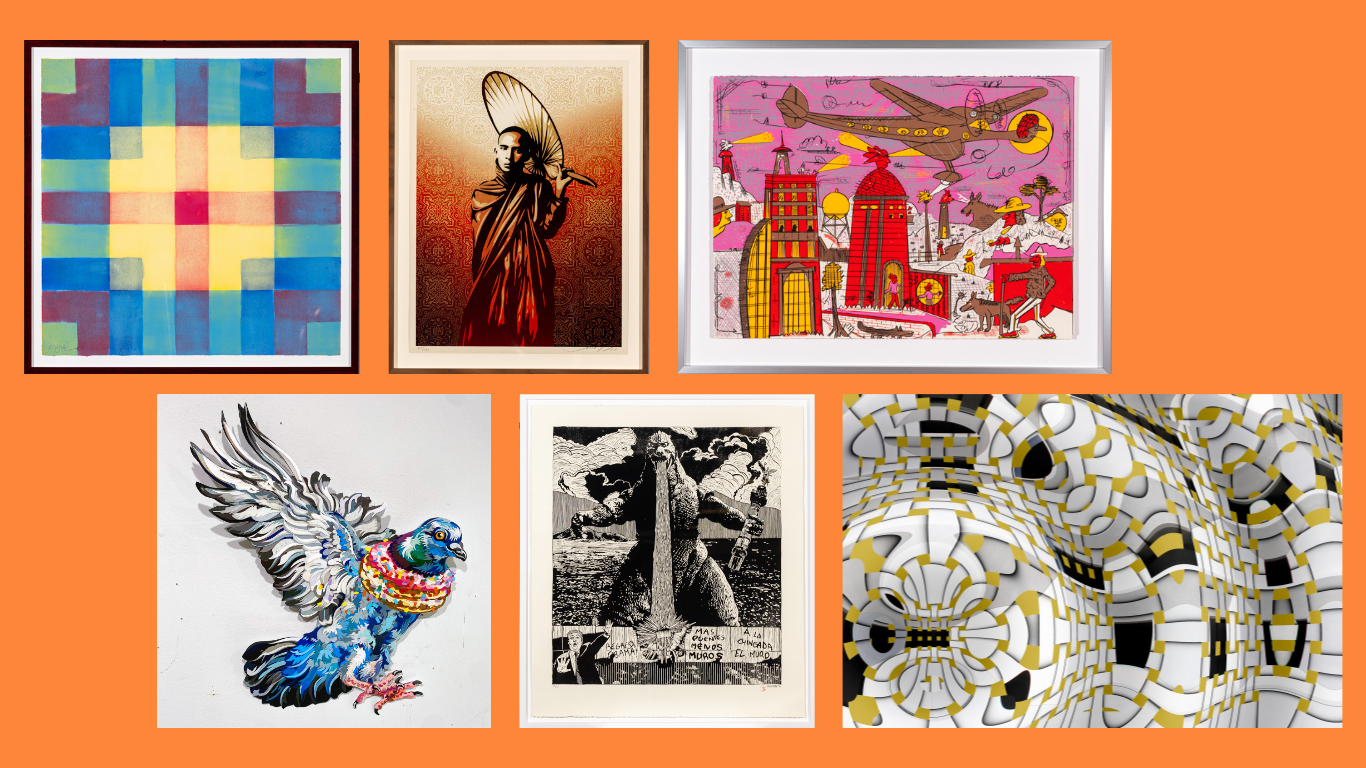 Art for AIDS is returning to a new, light-filled, fantastic venue in the Dogpatch—the area dubbed "San Francisco's coolest neighborhood" by Time Out. Join artists, community partners, corporations, and foundations to support nearly 40 years of pioneering mental health care, HIV prevention and substance use services at the UCSF Alliance Health Project (AHP).
This year's Art for AIDS live auction gala will be held at the Nancy Friend Pritzker Psychiatry Building, located adjacent to the UCSF Mission Bay campus. The Pritzker Building's soaring five-story atrium, large windows, and white-oak floors house the Department of Psychiatry and Behavioral Sciences and will welcome Art for AIDS guests into an open, airy, beautifully designed space to celebrate great art and raise money to benefit AHP, a community-based organization offering mental health, substance use, and sexual health services to the LGBTQ+ and HIV-affected communities.
Over the years, AHP has expanded its focus to include those who typically do not have access to quality mental health care, including poor and uninsured LGBTQ+, Black and Latinx, trans women and men, those who are homeless, and those with substance use disorders. Often, they are people with severe mental illness who have been deemed "too hard to treat," but at AHP, they find compassion and care. The mission of the Alliance Health Project is to support the mental health and wellness of the LGBTQ and HIV-affected communities in constructing healthy and meaningful lives.
The open, inclusive spirit of the Nancy Friend Pritzker Building echoes AHP's approach to client care since its inception during the early days of the HIV/AIDS epidemic. The 2023 partnership is a way of honoring the life of Nancy Friend Pritzker and her family, the UCSF Department of Psychiatry and Behavioral Sciences, the UCSF Alliance Health Project, and their shared message of hope for clients facing social injustices like discrimination, HIV stigma, racism, homophobia, and transphobia.
Art for AIDS is one of San Francisco's premiere art events with 180 modern and contemporary works donated by artists, private collectors, and prominent galleries; and featuring a jazz trio, fine wine, specialty cocktails, catering by Blue Heron and valet parking. In addition to the live auction event on October 21, an online silent auction will open on October 12.
For more information and to purchase tickets, visit the UCSF Alliance Health Project website.
 
---
About UCSF Psychiatry and Behavioral Sciences
The UCSF Department of Psychiatry and Behavioral Sciences and the Langley Porter Psychiatric Institute are among the nation's foremost resources in the fields of child, adolescent, adult, and geriatric mental health. Together they constitute one of the largest departments in the UCSF School of Medicine and the UCSF Weill Institute for Neurosciences, with a mission focused on research (basic, translational, clinical), teaching, patient care, and public service.
UCSF Psychiatry and Behavioral Sciences conducts its clinical, educational, and research efforts at a variety of locations in Northern California, including the UCSF Nancy Friend Pritzker Psychiatry Building; UCSF Langley Porter Psychiatric Hospital; UCSF Medical Centers at Parnassus Heights, Mission Bay, and Mount Zion; UCSF Benioff Children's Hospitals in San Francisco and Oakland; Zuckerberg San Francisco General Hospital and Trauma Center; the San Francisco VA Health Care System; UCSF Fresno; and numerous community-based sites around the San Francisco Bay Area.
About the UCSF Weill Institute for Neurosciences
The UCSF Weill Institute for Neurosciences, established by the extraordinary generosity of Joan and Sanford I. "Sandy" Weill, brings together world-class researchers with top-ranked physicians to solve some of the most complex challenges in the human brain.
The UCSF Weill Institute leverages UCSF's unrivaled bench-to-bedside excellence in the neurosciences. It unites three UCSF departments—Psychiatry and Behavioral Sciences, Neurology, and Neurological Surgery—that are highly esteemed for both patient care and research, as well as the Neuroscience Graduate Program, a cross-disciplinary alliance of nearly 100 UCSF faculty members from 15 basic-science departments, as well as the UCSF Institute for Neurodegenerative Diseases, a multidisciplinary research center focused on finding effective treatments for Alzheimer's disease, frontotemporal dementia, Parkinson's disease, and other neurodegenerative disorders.
About UCSF
The University of California, San Francisco (UCSF) is exclusively focused on the health sciences and is dedicated to promoting health worldwide through advanced biomedical research, graduate-level education in the life sciences and health professions, and excellence in patient care. UCSF Health, which serves as UCSF's primary academic medical center, includes top-ranked specialty hospitals and other clinical programs, and has affiliations throughout the Bay Area.