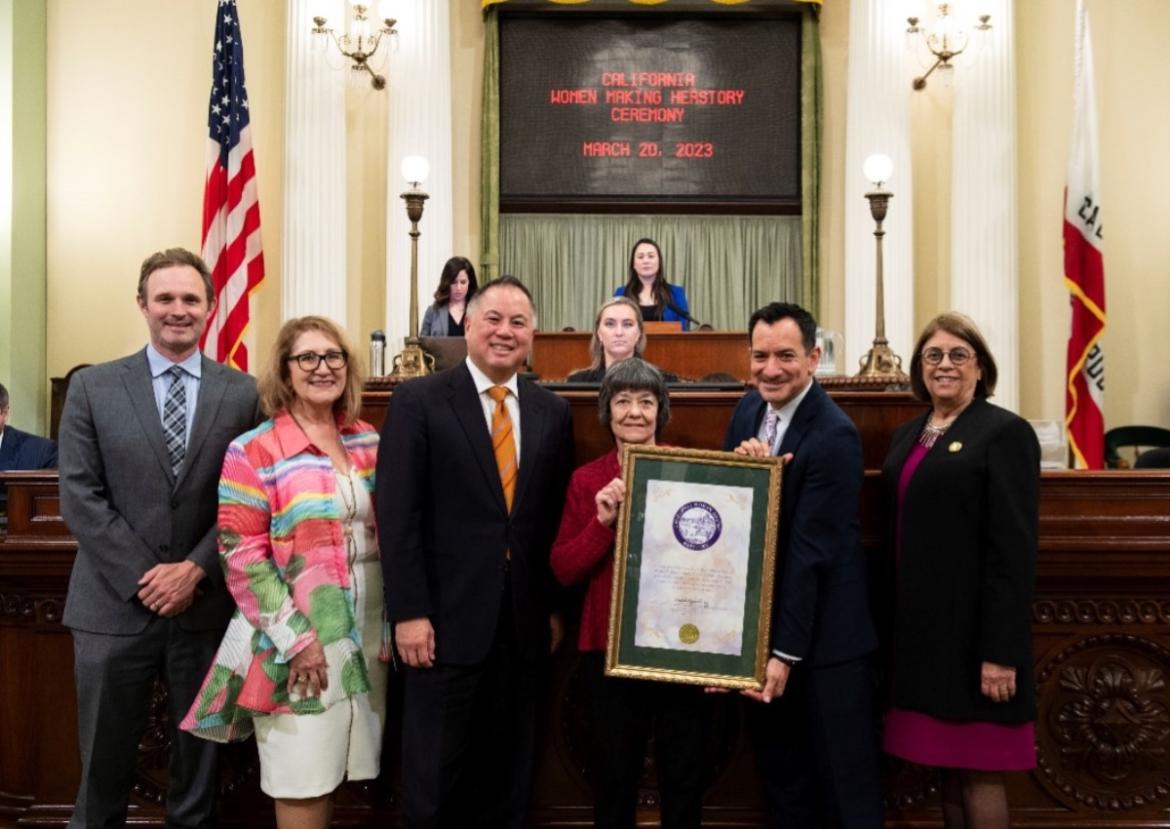 Longtime UC San Francisco clinician, educator, and researcher Alicia Boccellari, PhD, has been named California State Assembly District 19 Woman of the Year by Assemblymember Phil Ting. The honor was bestowed on Boccellari, a professor emeritus in the UCSF Department of Psychiatry and Behavioral Sciences and executive director of the National Alliance of Trauma Recovery Centers, in recognition of her decades of work to support trauma-impacted individuals and communities in the Bay Area and around the United States.
"It was my pleasure to name Dr. Alicia Boccellari as my 2023 Woman of the Year for her leadership in creating, implementing, and overseeing programs designed at removing barriers to care and improving clinical outcomes for underserved populations," said Ting.
Assemblymembers from across the state honor women on the California State Assembly floor every March as past of Women's History Month. Boccellari was presented a copy of the resolution honoring her at the State Capitol Building in Sacramento on March 20.
Boccellari joined UCSF as a faculty member in 1986 and held a number of critical leadership positions in the department and at Zuckerberg San Francisco General Hospital and Trauma Center throughout her career, including directorship of the Neuropsychology Service (1985–2014), Division of Psychosocial Medicine (1994–2014), and Division of Trauma Recovery Services (2015-2017), as well as serving as chief psychologist at Zuckerberg San Francisco General (2012–2017). Her work also included the creation of a 24-hour residential AIDS dementia unit, developing the hospital's Emergency Department Case Management Program, and working with state agencies to deliver support services for Californians impacted by the September 11, 2001 terrorist attacks. Boccellari retired from her full-time faculty appointment in 2017, but remains an active member of the department on a recall appointment as the director of special programs at the UCSF Trauma Recovery Center.
In 2009, Boccellari became director of San Francisco's Child and Adolescent Support Advocacy and Resource Center (CASARC). The center serves children and adolescents who have been sexually or physically abused, or who have witnessed severe violence. CASARC provides trauma-focused psychotherapy for individuals, groups and families, as well as forensic medicine and crisis management services. CASARC also provides educational training for community providers, including teachers, students, health care providers and mental health professionals.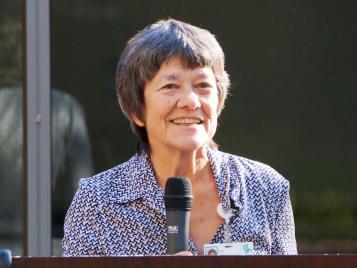 Perhaps her greatest legacy, though, is a program she founded in 2001 to help Bay Area victims of abuse, sexual assault, and other violent crimes: the Trauma Recovery Center (TRC). Boccellari served as the center's director for 16 years, taking TRC from a small, state grant-funded pilot program into a national model for providing compassionate, effective mental health services and support to adults whose needs extend beyond mending just physical injuries. The center provides support services for domestic violence and physical/sexual assault survivors, and family members of homicide victims. In 2012, it expanded its services to encompass Survivors International, which offers services for refugees and asylum-seeking survivors of torture, war-related, and gender-based violence. The TRC model pioneered by Boccellari has been expanded to a national alliance with 44 member programs in eight states — including 19 centers across California — and growing.
Throughout her career, her deep commitment to providing direct patient care has been matched by an intense research focus on investigating innovative clinical interventions in public sector that reduce barriers to care and improve clinical outcomes in patients with extensive and complex medical, psychiatric, substance abuse, and psychosocial problems. She has received numerous plaudits for her work, including recognition by the National Association of Public Hospitals, San Francisco District Attorney's Office, San Francisco Board of Supervisors, U.S. Department of Justice, U.S. Congress, and former California Governor Arnold Schwarzenegger.
 
---
About UCSF Psychiatry and Behavioral Sciences
The UCSF Department of Psychiatry and Behavioral Sciences and the Langley Porter Psychiatric Institute are among the nation's foremost resources in the fields of child, adolescent, adult, and geriatric mental health. Together they constitute one of the largest departments in the UCSF School of Medicine and the UCSF Weill Institute for Neurosciences, with a mission focused on research (basic, translational, clinical), teaching, patient care, and public service.
UCSF Psychiatry and Behavioral Sciences conducts its clinical, educational, and research efforts at a variety of locations in Northern California, including the UCSF Nancy Friend Pritzker Psychiatry Building; UCSF Langley Porter Psychiatric Hospital; UCSF Medical Centers at Parnassus Heights, Mission Bay, and Mount Zion; UCSF Benioff Children's Hospitals in San Francisco and Oakland; Zuckerberg San Francisco General Hospital and Trauma Center; the San Francisco VA Health Care System; UCSF Fresno; and numerous community-based sites around the San Francisco Bay Area.
About the UCSF Weill Institute for Neurosciences
The UCSF Weill Institute for Neurosciences, established by the extraordinary generosity of Joan and Sanford I. "Sandy" Weill, brings together world-class researchers with top-ranked physicians to solve some of the most complex challenges in the human brain.
The UCSF Weill Institute leverages UCSF's unrivaled bench-to-bedside excellence in the neurosciences. It unites three UCSF departments—Psychiatry and Behavioral Sciences, Neurology, and Neurological Surgery—that are highly esteemed for both patient care and research, as well as the Neuroscience Graduate Program, a cross-disciplinary alliance of nearly 100 UCSF faculty members from 15 basic-science departments, as well as the UCSF Institute for Neurodegenerative Diseases, a multidisciplinary research center focused on finding effective treatments for Alzheimer's disease, frontotemporal dementia, Parkinson's disease, and other neurodegenerative disorders.
About UCSF
The University of California, San Francisco (UCSF) is exclusively focused on the health sciences and is dedicated to promoting health worldwide through advanced biomedical research, graduate-level education in the life sciences and health professions, and excellence in patient care. UCSF Health, which serves as UCSF's primary academic medical center, includes top-ranked specialty hospitals and other clinical programs, and has affiliations throughout the Bay Area.