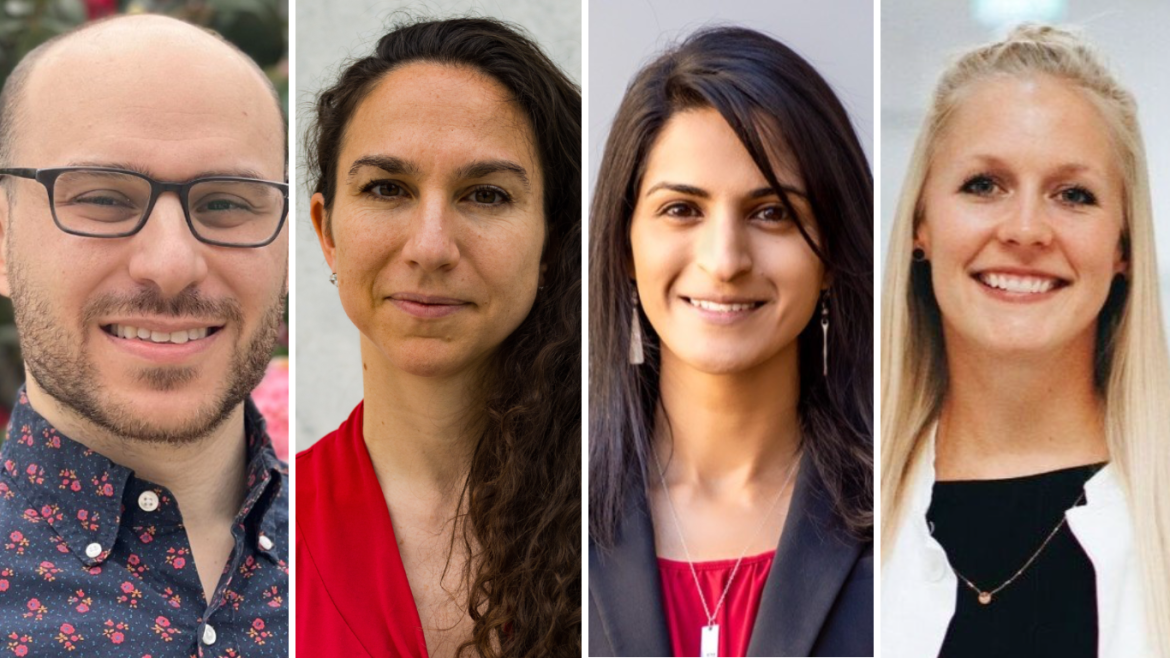 Four UCSF Department of Psychiatry and Behavioral Sciences researchers—Joshua L. Cohen, MD, PhD; Sasha Gorrell, PhD; Alexandra Klein, PhD; and Nicky Mehtani, MD, MPH—have been awarded 2023 Young Investigator Grants by the Brain & Behavior Research Foundation (BBRF) in recognition of their work as promising young scientists conducting innovative, cutting-edge neurobiological and psychiatric research. The group is among 150 from around the world selected to receive a combined $10.2 million in grants to further their research.
The two-year awards will provide them each with up to $70,000 for the purposes of extending their research fellowship training or fostering a career as an independent research faculty member. In addition, they will be eligible for consideration to present at the foundation's annual scientific symposium.
"BBRF Young Investigators represent a new generation of researchers who are pioneering breakthroughs in mental health research. They are at the cutting edge of progress in brain and psychiatric research," said BBRF President and CEO Jeffrey Borenstein, MD. "We are excited to support the work of these young scientists who are applying powerful new technologies and insights to better understand, treat, and provide cures for mental illness."
Funded projects to focus on anxiety, depression, eating disorders
Cohen, an adjunct instructor and graduate of the UCSF Psychiatry Research Resident Training Program, will continue his work utilizing intracranial neural recordings in patients with epilepsy showing that signal coherence between amygdala (AMY) and hippocampus (HPC) is correlated with mood. His team will leverage an ongoing clinical trial of deep brain stimulation for treatment-resistant major depression in which they implant intracranial electrodes within the putative corticolimbic mood network to systematically assess acute behavioral and neural responses to focal electrical stimulation. Preliminary data has shown, for the first time in patients with major depressive disorder, that AMY-HPC coherence correlates with symptoms of depression and anxiety. Cohen hypothesizes that AMY-HPC coherence is a generalizable marker of depressive symptomology, that therapeutic stimulation will be associated with a reduction in coherence, and AMY-HPC coherence is part of a wider corticolimbic mood circuit.
Gorrell, an assistant adjunct professor and alum of the UCSF Clifford Attkisson Clinical Services Research Training Program, has noted that the severe and enduring nature of anorexia nervosa is thought to derive from striatal dysregulation and related compulsivity, much the same way that behaviors become entrenched in obsessive-compulsive disorder (OCD). She has proposed adapting a treatment that has worked in OCD to patients with anorexia nervosa, using a study that leverages resting state functional magnetic resonance imaging and repetitive transcranial magnetic stimulation to build upon existing targets in OCD (right orbitofrontal cortex, OFC). Her team will use an accelerated theta burst neuromodulation protocol directed at the right frontopolar OFC (Broadman area 10), a cortical node in a brain network associated with compulsive behaviors.
Klein, a postdoctoral researcher in the Kheirbek Lab, seeks to build upon accumulating evidence supporting the idea that controlled breathing can have a positive influence on mental and physical well-being. The underlying neuronal circuits mediating this tight coupling between the control and sensation of respiration and anxiety-related behaviors remain unknown, and her project aims to determine how breathing influences anxiety-related behaviors and their underlying neuronal dynamics. Klein will first identify how distinct breathing rhythms are correlated with specific behavior motifs in tests of anxiety-related behaviors in mice. Then, using large-scale electrophysiology, she will determine how breathing impacts neuronal representations of averse experiences. Finally, she will ask how direct control of breathing rhythms impacts anxiety-related behavior and neuronal representations of anxiety states. These experiments will provide a mechanistic understanding of the influence of breathing on anxiety-related behaviors and their underlying neuronal dynamics in emotion-related brain regions.
Mehtani, a fellow in the UCSF Postdoctoral Traineeship in Substance Use Disorders Treatment and Services Research, is interested in the efficacy of psychedelic-assisted therapies in treating demoralization in palliative care populations—such as terminal cancer patients—as well as racemic ketamine, which is increasingly being used to treat mood and anxiety disorders in outpatient settings. Little is known regarding the feasibility, safety, or efficacy of ketamine therapy among medically complex patients. In a double-blind, randomized controlled pilot trial, her team will investigate whether a single administration of oral liquid ketamine in combination with four weekly sessions of existential psychotherapy can be used to rapidly treat moderate-to-severe demoralization and reduce opioid analgesia requirements among patients with pancreatic cancer. Participants will be followed for 35 days following ketamine administration.
Grant program aimed at furthering basic science research enters its 36th year
BBRF Young Investigator Grants are designed to help researchers launch their careers in neuroscience and psychiatric research and gather pilot data to apply for larger federal and university grants on research relevant to the understanding, treatment, and prevention of serious brain and behavior disorders such as schizophrenia, mood disorders, anxiety disorders, or child and adolescent mental illnesses. Since the program's founding in 1987, it has awarded 6,500 grants totaling over $450 million in funding.
This year's 713 grant applications were reviewed and the awardees selected by the BBRF's Scientific Council, comprised of 180 leading experts across disciplines in brain and behavior research, including one Nobel Prize winner, two directors of the National Institute of Mental Health, three recipients of the National Medal of Science, seven members of the National Academy of Sciences, 15 National Institute of Health chiefs and directors, 42 chairs of psychiatry and neuroscience departments at leading medical institutions, 48 members of the National Academy of Medicine, and seven UCSF Psychiatry and Behavioral Sciences faculty members. The 2023 Young Investigator Grant Selection Committee was co-chaired by the University of Rochester's Suzanne N. Haber, PhD, and UCSF's Judith M. Ford, PhD.
"BBRF Young Investigator grants have led to groundbreaking research that has improved the lives of people living with mental illness," added BBRF Scientific Council President Herbert Pardes, MD. "These early-career scientists are making significant strides in basic research, early intervention, and diagnostic tools, new technologies, and next-generation therapies that will offer the best hope for advances in treatments for psychiatric illness."
Also receiving a 2023 BBRF Young Investigator Grant was Wen Xin, PhD, from the UCSF Department of Neurology. In addition to the four named this year, 57 other members of the UCSF Department of Psychiatry and Behavioral Sciences—including 34 current faculty members—have been honored as Young Investigator grant recipients since 1987.
 
---
About UCSF Psychiatry and Behavioral Sciences
The UCSF Department of Psychiatry and Behavioral Sciences and the Langley Porter Psychiatric Institute are among the nation's foremost resources in the fields of child, adolescent, adult, and geriatric mental health. Together they constitute one of the largest departments in the UCSF School of Medicine and the UCSF Weill Institute for Neurosciences, with a mission focused on research (basic, translational, clinical), teaching, patient care, and public service.
UCSF Psychiatry and Behavioral Sciences conducts its clinical, educational, and research efforts at a variety of locations in Northern California, including the UCSF Nancy Friend Pritzker Psychiatry Building; UCSF Langley Porter Psychiatric Hospital; UCSF Medical Centers at Parnassus Heights, Mission Bay, and Mount Zion; UCSF Benioff Children's Hospitals in San Francisco and Oakland; Zuckerberg San Francisco General Hospital and Trauma Center; the San Francisco VA Health Care System; UCSF Fresno; and numerous community-based sites around the San Francisco Bay Area.
About the UCSF Weill Institute for Neurosciences
The UCSF Weill Institute for Neurosciences, established by the extraordinary generosity of Joan and Sanford I. "Sandy" Weill, brings together world-class researchers with top-ranked physicians to solve some of the most complex challenges in the human brain.
The UCSF Weill Institute leverages UCSF's unrivaled bench-to-bedside excellence in the neurosciences. It unites three UCSF departments—Psychiatry and Behavioral Sciences, Neurology, and Neurological Surgery—that are highly esteemed for both patient care and research, as well as the Neuroscience Graduate Program, a cross-disciplinary alliance of nearly 100 UCSF faculty members from 15 basic-science departments, as well as the UCSF Institute for Neurodegenerative Diseases, a multidisciplinary research center focused on finding effective treatments for Alzheimer's disease, frontotemporal dementia, Parkinson's disease, and other neurodegenerative disorders.
About UCSF
The University of California, San Francisco (UCSF) is exclusively focused on the health sciences and is dedicated to promoting health worldwide through advanced biomedical research, graduate-level education in the life sciences and health professions, and excellence in patient care. UCSF Health, which serves as UCSF's primary academic medical center, includes top-ranked specialty hospitals and other clinical programs, and has affiliations throughout the Bay Area.