The UCSF Department of Psychiatry hosted a special event to recognize and honor the contributions of its staff employees last week. Staff members from the department's numerous sites converged at the Aldea Center on Mount Sutro for an afternoon filled with awards, prizes, food, and fun.
The following employees were recognized as 2017 STAR Spot Award Recipients:
Marina Dicerbo
Beverly McGehee
Lucas Slavik
The department's 2017 STAR Achievement Award recipients were also honored:
In addition, the inaugural UCSF Psychiatry Employee Recognition Awards were handed out. Any university or health system employee could be nominated for this award designed to recognize outstanding service to the Department of Psychiatry:
CA Medical Monitoring Project - Albert Aparicio, Anna Flyn, Antonio Gonzalez, Edna Griffen, Frank Levels, Veronica Moore, Kelly Parrish, Lynn Walton-Haynes, Sophia Vourthis
Mercedes Campos
Campus HR Team - Shelley Kennedy, Diana Koeplin, An Phan
Citywide Probation Team - Damoun Bozorgzadarbab, Stacey Murphy, Ellen O'Donnell, Wes Rutter, Julie Schneider, Emmeline Sun, Rene Valdez, Alex Weil
LPPHC Custodians - Indeliza Beltran, Conny Lin, Emma Oropeza, Pui Tong, Jose Vivas
LPPHC Intake - Patrick Marsh, Tina Thompson, Josephine Tseng
LPPHC Rec Therapists - Thomas Benson, Jennifer Gordon
PABI Program - Andreea Seritan, MD; Paul Linde, MD;Susan Orgera
Vincent Smith
UCSF Decision Support Group - James Bennan, Marcie Guzman
UCSF Health Experience Team - Ken Fong, Tweedie Gaines, Diane Sliwka, MD
UCSF HR - Vivian Lam, Josh Naftel, Jessica Zhang
UCSF Labor and Employee Relations - Tahnee Baker, Heather Borlase, Connie Headley, Stephen Roundfield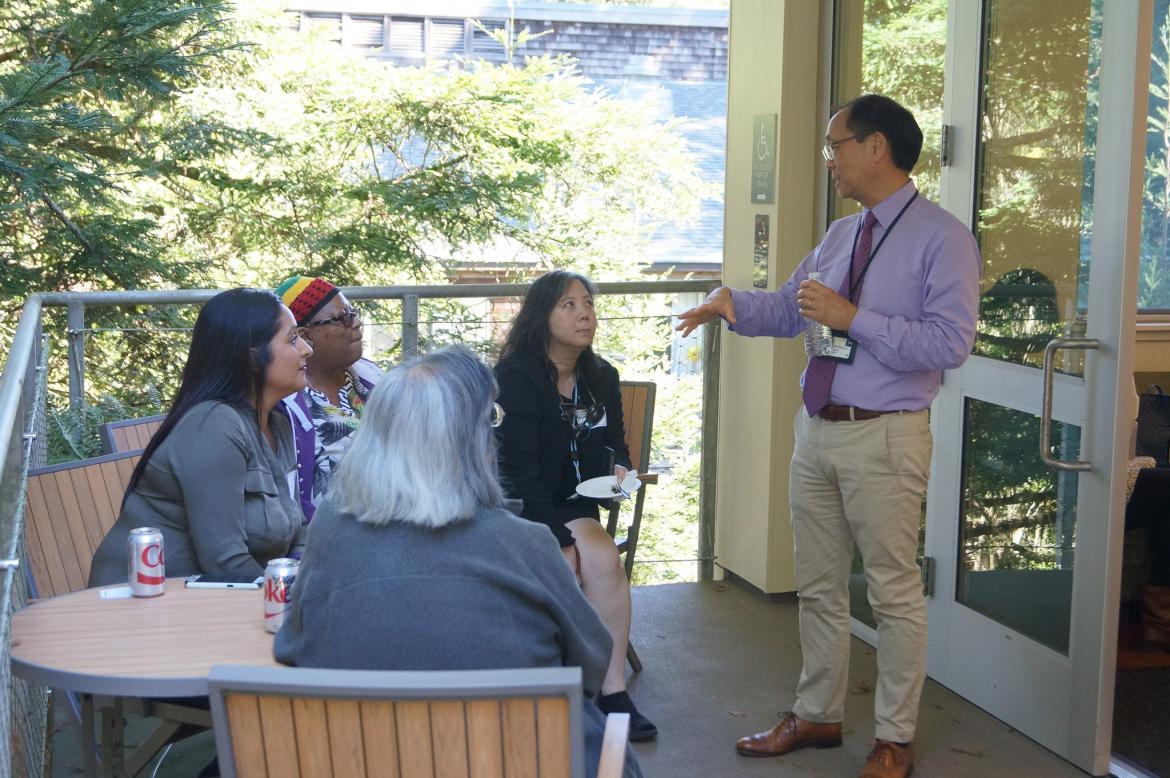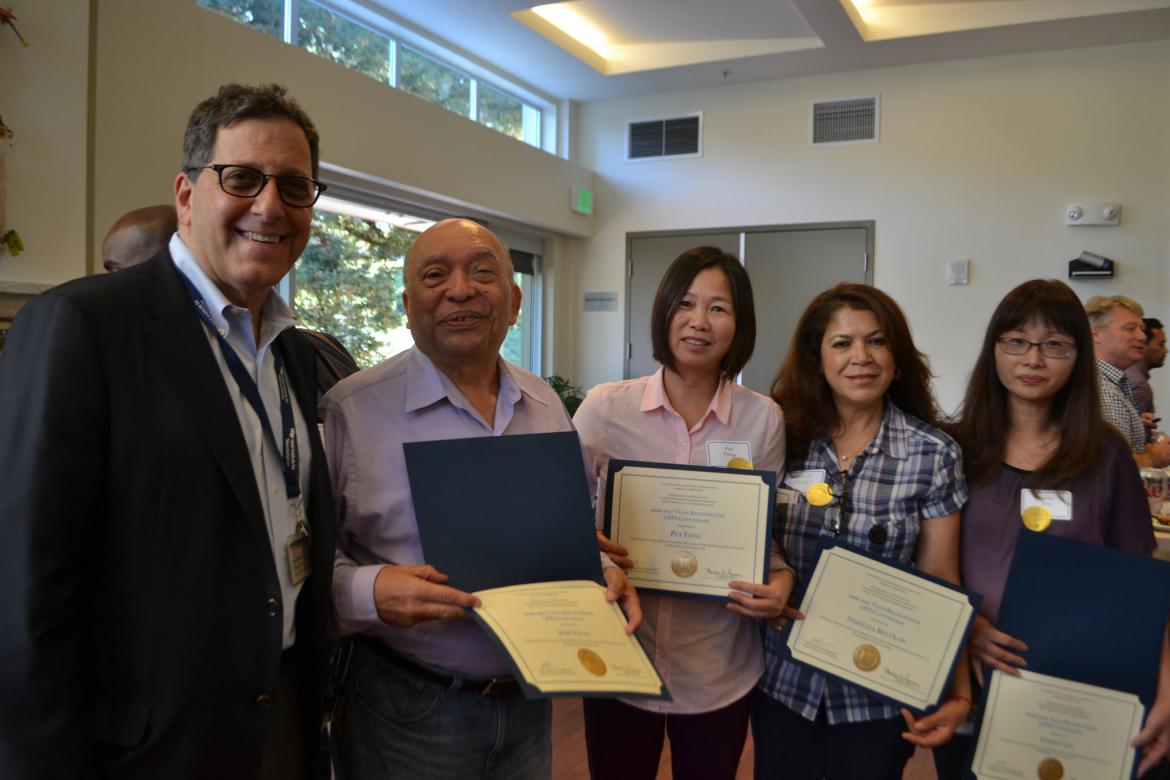 More photos from the event are available on the UCSF Psychiatry Flickr page.
---
About UCSF Psychiatry
The UCSF Department of Psychiatry and the Langley Porter Psychiatric Institute are among the nation's foremost resources in the fields of child, adolescent, adult, and geriatric mental health. Together they constitute one of the largest departments in the UCSF School of Medicine and the UCSF Weill Institute for Neurosciences, with a mission focused on research (basic, translational, clinical), teaching, patient care and public service.
UCSF Psychiatry conducts its clinical, educational and research efforts at a variety of locations in Northern California, including UCSF campuses at Parnassus Heights, Mission Bay and Laurel Heights, UCSF Medical Center, UCSF Benioff Children's Hospitals, Zuckerberg San Francisco General Hospital and Trauma Center, the San Francisco VA Health Care System and UCSF Fresno.
About the UCSF Weill Institute for Neurosciences
The UCSF Weill Institute for Neurosciences, established by the extraordinary generosity of Joan and Sanford I. "Sandy" Weill, brings together world-class researchers with top-ranked physicians to solve some of the most complex challenges in the human brain.
The UCSF Weill Institute leverages UCSF's unrivaled bench-to-bedside excellence in the neurosciences. It unites three UCSF departments—Neurology, Psychiatry, and Neurological Surgery—that are highly esteemed for both patient care and research, as well as the Neuroscience Graduate Program, a cross-disciplinary alliance of nearly 100 UCSF faculty members from 15 basic-science departments, as well as the UCSF Institute for Neurodegenerative Diseases, a multidisciplinary research center focused on finding effective treatments for Alzheimer's disease, frontotemporal dementia, Parkinson's disease, and other neurodegenerative disorders.
About UCSF
UC San Francisco (UCSF) is a leading university dedicated to promoting health worldwide through advanced biomedical research, graduate-level education in the life sciences and health professions, and excellence in patient care. It includes top-ranked graduate schools of dentistry, medicine, nursing and pharmacy; a graduate division with nationally renowned programs in basic, biomedical, translational and population sciences; and a preeminent biomedical research enterprise. It also includes UCSF Health, which comprises top-ranked hospitals – UCSF Medical Center and UCSF Benioff Children's Hospitals in San Francisco and Oakland – and other partner and affiliated hospitals and healthcare providers throughout the Bay Area.