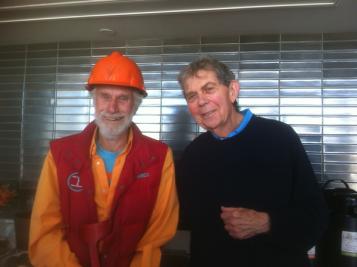 Thanks to the generosity of longtime UCSF supporters Jeanne and Sandy Robertston, and the efforts of the UCSF Mission Bay Art Committee chaired by
Samuel Barondes, MD
, a new artistic monument stands prominently on the Mission Bay campus.
Mark di Suvero's "Dreamcatcher" was installed in early January
on the eastern end of the Koret Quad, between Rock Hall and Genentech Hall. Recently featured in the San Francisco Museum of Modern Art's yearlong "Mark di Suvero at Crissy Field" exhibition, the 50-foot-tall steel sculpture joins Richard Serra's "Ballast" as part of the
J. Michael Bishop Art Collection at Mission Bay
.
"Sandy and I are very pleased to contribute this magnificent sculpture to UCSF," Jeanne Robertson said. "The name, 'Dreamcatcher,' aptly describes the spirit of the innovative work of the scientists at Mission Bay."