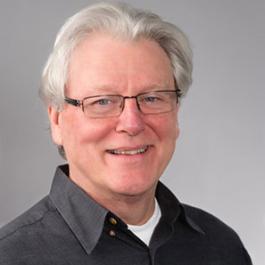 Professor and Vice Chair for Zuckerberg San Francisco General Hospital & Trauma Center 
James W. Dilley, MD
, has been named as the recipient of the American Psychiatric Association (APA)'s 2016
Adolf Meyer Award
.
The award lecture, established in 1957, is part of a series of lectures intended to advance psychiatric research by enabling psychiatrists to hear from leading scientists and to exchange new research information with outstanding colleagues. Dilley, an internationally recognized scientist in the area of psychiatric research, will deliver the Adolf Meyer Award lecture during the APA's 2016 Annual Meeting in Atlanta, Georgia, May 14-18.
Dilley is a board-certified psychiatrist who received his medical degree from the University of Missouri and completed his psychiatric residency at UCSF. He is the chief of the Department of Psychiatry at
Zuckerberg San Francisco General Hospital & Trauma Center
, a professor of clinical psychiatry and vice chair in the
UCSF Department of Psychiatry
, and executive director of the
UCSF Alliance Health Project (AHP)
. Dilley was the first psychiatrist involved with treating AIDS at Zuckerberg San Francisco General, one of the pioneering and leading hospitals for HIV-related care. He is the author or editor of several key articles and anthologies on HIV-related counseling and mental health issues, and has played a role in developing innovative HIV mental health interventions and has consulted internationally about HIV prevention.
Together with his AHP colleagues, Dilley developed
Personalized Cognitive Counseling (PCC)
, an HIV risk reduction counseling approach targeting gay and bisexual men. In 2010, the Centers for Disease Control and Prevention (CDC) designated PCC as an Effective Behavioral Intervention as part of its highly selective DEBI program. Today, staff at 98 community-based organizations and 28 health departments throughout the country have already been trained to do the intervention, and PCC remains one of the interventions for which the CDC receives the most requests for training.
Dilley was nominated to receive this year's award by APA President 
Renée Binder, MD
, and Scientific Program Committee Chair Steve Koh, MD, MPH, MBA. His nomination received unanimous approval of the APA's Board of Trustees at their meeting in December.  
About the American Psychiatric Association
The American Psychiatric Association (APA) is a national medical specialty society whose more than 36,000 physician members specialize in the diagnosis, treatment, prevention, and research of mental illnesses, including substance use disorders. Visit the APA at psychiatry.org.
About UCSF Psychiatry
The UCSF Department of Psychiatry and the Langley Porter Psychiatric Institute are among the nation's foremost resources in the fields of child, adolescent, adult and geriatric mental health. Together they constitute one of the largest departments in the UCSF School of Medicine, with a mission focused on research (basic, translational, clinical), teaching, patient care, and public service. UCSF Psychiatry has an organizational structure that crosses all major UCSF sites - Parnassus, Mission Bay, Laurel Heights, Mt. Zion, Zuckerberg San Francisco General Hospital and Trauma Center, the San Francisco VA Medical Center, and UCSF Fresno.
About UCSF
UC San Francisco (UCSF) is a leading university dedicated to promoting health worldwide through advanced biomedical research, graduate-level education in the life sciences and health professions, and excellence in patient care. It includes top-ranked graduate schools of dentistry, medicine, nursing and pharmacy, a graduate division with nationally renowned programs in basic, biomedical, translational and population sciences, as well as a preeminent biomedical research enterprise and two top-ranked hospitals, UCSF Medical Center and UCSF Benioff Children's Hospital San Francisco.