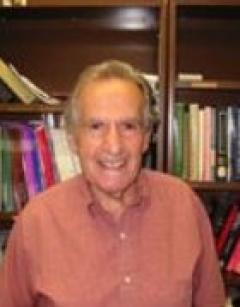 Leonard I. Pearlin, PhD, an internationally renowned sociologist whose theory and research fundamentally shaped the sociology of mental health, medical sociology, and the sociology of aging and the life course, passed away Wednesday, July 23, 2014, after a brief illness at the age of 89. He is survived by his wife, Gerrie; daughters, Susan and Gina; grandson, Derek; and sons-in-law, Rich Samsel and Kevin Maume.
Dr. Pearlin was born December 26, 1924 in Quincy, MA. He was a veteran of the second World War and a recipient of the Purple Heart. He received his doctorate from Columbia University in 1956 and was researcher at the National Institute of Mental Health, as well as a professor at UCSF, and later the University of Maryland.
During his time in San Francisco, Pearlin conducted seminal research on the social origins of mental illness. His theory about the stress process described how enduring problems encountered in ordinary daily life lead to the depletion of social support and self-esteem, characteristics that might otherwise offset the damaging emotional impact of these problems. He also conducted research on caregiving to family members with Alzheimer's disease and served on the Medical and Scientific Advisory Committee of the Alzheimer's Association and the National Board of the Alzheimer's Disease and Related Disorders Association. His research was funded by the National Institute of Mental Health and the National Institute on Aging, and continues to resonate today with sociologists concerned with the impact of society on the mental health of its members.
Dr. Pearlin was the recipient of numerous awards for his scholarly achievements from the American Sociological Association and the Gerontological Society of America, as well as an honorary doctorate from the University of Ghent in Belgium. Of primary importance to him was his role of mentor to aspiring young sociologists. He helped to launch the careers of a number of people who have gone on to make important contributions to the field of their own work. 
He will be sorely missed by his family and colleagues.