By Kate Vidinsky  |  Based on an article originally published on UCSF News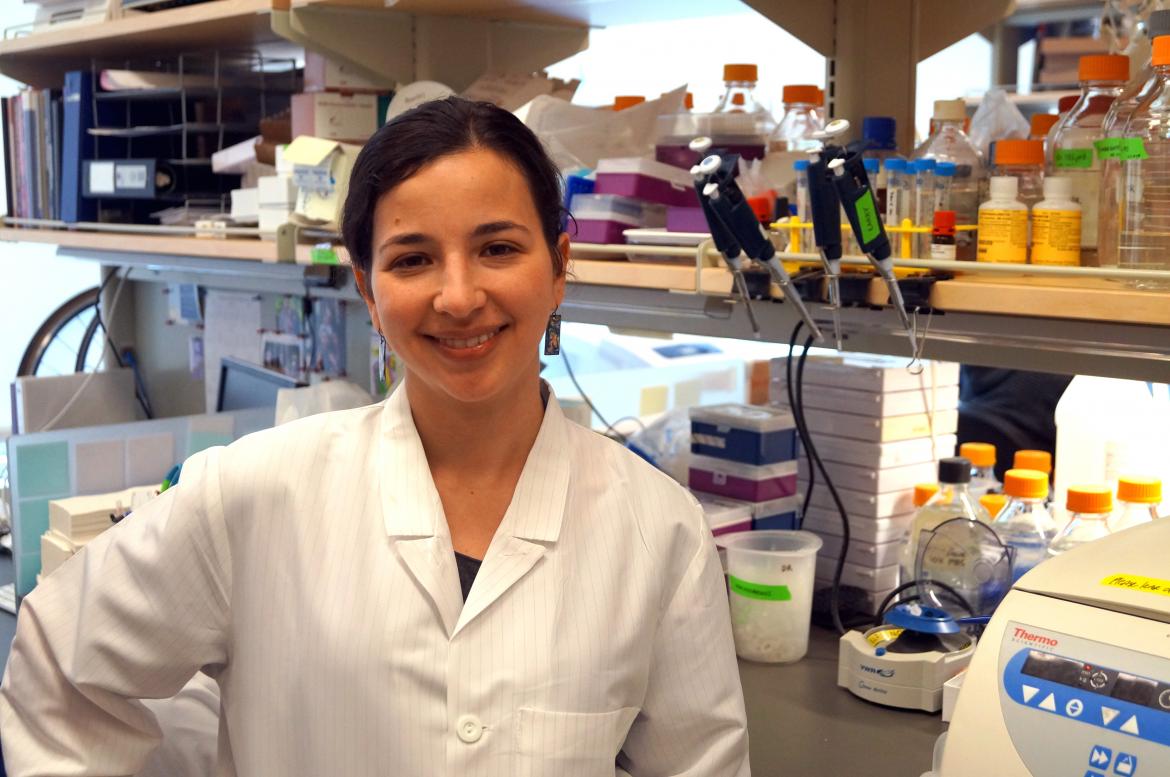 Department of Psychiatry researcher and faculty member Anna Victoria Molofsky, MD, PhD, is one of two UC San Francisco scientists who have been named Pew scholars in the biomedical sciences.
Molofsky, along with the Department of Microbiology and Immunology's Shaeri Mukherjee, PhD, was among the 22 early-career researchers in the 2017 class announced June 15 by The Pew Charitable Trusts.
The Pew Scholars Program in the Biomedical Sciences supports promising young investigators in science relevant to the advancement of human health. Each scholar receives four years of flexible funding to pursue foundational research.
"Pew is proud to support these investigators as they use novel approaches to illuminate the mechanisms of human biology and disease," said Rebecca W. Rimel, president and CEO of The Pew Charitable Trusts. "This impressive group has demonstrated the curiosity and courage that drive great scientific advances, and we are excited to help them fulfill their potential."
Molofsky is an assistant professor in the Department of Psychiatry, having completed both her residency and postdoctoral fellowship at UCSF. Her research focuses on brain development from the perspective of glia – specialized support cells that act as communication hubs between the immune system and the brain.
The brain generates thoughts and behaviors through connections between nerve cells. These connections, called synapses, are formed and removed in huge numbers during childhood and with learning. Previously, the Molofsky Lab discovered a key role for glia and the immune system in coordinating the important process of synapse remodeling.
Now, using molecular genetics, transcriptomics and imaging, Molofsky will set out to uncover how nerve cells communicate with two types of glia – astrocytes and microglia – to ensure the right number of synapses form during brain development. This work has the potential to uncover new treatments for diseases at the brain-immune interface, including autism spectrum disorder, schizophrenia and neurodegenerative diseases.
The 2017 scholars join a thriving community of more than 900 biomedical scientists who have received awards from Pew since 1985.
Read more about the 2017 Pew Biomedical Scholars at the Pew Charitable Trust's website.
---
About UCSF Psychiatry
The UCSF Department of Psychiatry and the Langley Porter Psychiatric Institute are among the nation's foremost resources in the fields of child, adolescent, adult, and geriatric mental health. Together they constitute one of the largest departments in the UCSF School of Medicine and the UCSF Weill Institute for Neurosciences, with a mission focused on research (basic, translational, clinical), teaching, patient care and public service.
UCSF Psychiatry conducts its clinical, educational and research efforts at a variety of locations in Northern California, including UCSF campuses at Parnassus Heights, Mission Bay and Laurel Heights, UCSF Medical Center, UCSF Benioff Children's Hospitals, Zuckerberg San Francisco General Hospital and Trauma Center, the San Francisco VA Health Care System and UCSF Fresno.
About the UCSF Weill Institute for Neurosciences
The UCSF Weill Institute for Neurosciences, established by the extraordinary generosity of Joan and Sanford I. "Sandy" Weill, brings together world-class researchers with top-ranked physicians to solve some of the most complex challenges in the human brain.
The UCSF Weill Institute leverages UCSF's unrivaled bench-to-bedside excellence in the neurosciences. It unites three UCSF departments—Neurology, Psychiatry, and Neurological Surgery—that are highly esteemed for both patient care and research, as well as the Neuroscience Graduate Program, a cross-disciplinary alliance of nearly 100 UCSF faculty members from 15 basic-science departments, as well as the UCSF Institute for Neurodegenerative Diseases, a multidisciplinary research center focused on finding effective treatments for Alzheimer's disease, frontotemporal dementia, Parkinson's disease, and other neurodegenerative disorders.
About UCSF
UC San Francisco (UCSF) is a leading university dedicated to promoting health worldwide through advanced biomedical research, graduate-level education in the life sciences and health professions, and excellence in patient care. It includes top-ranked graduate schools of dentistry, medicine, nursing and pharmacy; a graduate division with nationally renowned programs in basic, biomedical, translational and population sciences; and a preeminent biomedical research enterprise. It also includes UCSF Health, which comprises top-ranked hospitals – UCSF Medical Center and UCSF Benioff Children's Hospitals in San Francisco and Oakland – and other partner and affiliated hospitals and healthcare providers throughout the Bay Area.