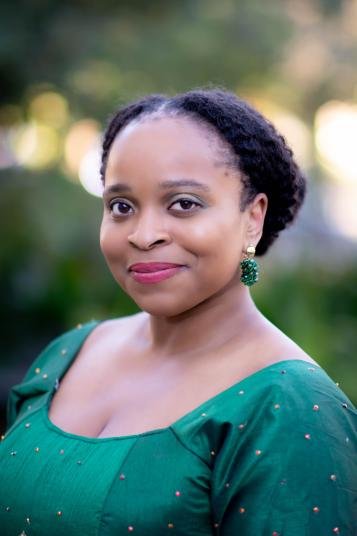 Lucy Ogbu-Nwobodo, MD, MS, MAS, an assistant professor of clinical psychiatry in the UC San Francisco Department of Psychiatry and Behavioral Sciences, has been named a 2023 John A. Watson Faculty Scholar and recipient of a UCSF School of Medicine Dean's Diversity Fund Award. Her selection for the honor, along with eight additional faculty members in other departments, was announced earlier today by School of Medicine Dean Talmadge E. King, Jr., MD.
Ogbu-Nwobodo, who joined the faculty at UCSF in 2022, is the associate program director for diversity, equity, inclusion (DEI), advising, and assessment in the Adult Psychiatry Residency Training Program, and the lead psychiatrist at the UCSF Alliance Health Project. She was born in Nigeria and moved to California at the age of 11. After graduating from the UC Davis School of Medicine, she completed her psychiatry residency in the Massachusetts General Hospital/McLean Harvard Psychiatry Program.
She serves as a co-editor of the "Racism and Mental Health Equity" column in Psychiatric Services Journal, a monthly peer-reviewed medical journal of the American Psychiatric Association. As a health professional, Ogbu-Nwobodo is committed to promoting equitable access to health care and her interests include public psychiatry, medical education, pre-health pipeline program development, mentorship, justice, equity, diversity, and inclusion, and health services delivery in disenfranchised communities.
The UCSF School of Medicine Dean's Diversity Fund was established in 2015 to support the recruitment and retention of faculty who share the university's commitment to diversity and its belief that we have the responsibility to care for underserved and vulnerable populations. The awards provide faculty with $75,000 per year support for three years to develop their academic interests, as well as pursue activities that contribute to the community. This fund was initiated by the dean and implemented by the Chairs and Directors Council on Diversity (CD2).
The awards are named after John A. Watson, PhD, a pioneer for diversity, an inspiring mentor, and a tenacious scientist whose service to the UCSF School of Medicine spanned 46 years. During his tenure as dean of admissions in the 1970s, he rapidly increased the number of women and minority students in the entering medical school classes.
Ogbu-Nwobodo is the seventh department member to be selected as a Watson Scholar, following in the footsteps of Chase Anderson, MD (2022); Christopher Bartley, MD, PhD (2019); Tara Collins, MD, MPH (2018); Maggie Del Cid, PhD, MS (2021); Christina Mangurian, MD, MAS (2015); and David L. Pennington, PhD (2019). In all, 77 Watson Scholars have been selected from 22 departments since the fund's inception.
 
---
About UCSF Psychiatry and Behavioral Sciences
The UCSF Department of Psychiatry and Behavioral Sciences and the Langley Porter Psychiatric Institute are among the nation's foremost resources in the fields of child, adolescent, adult, and geriatric mental health. Together they constitute one of the largest departments in the UCSF School of Medicine and the UCSF Weill Institute for Neurosciences, with a mission focused on research (basic, translational, clinical), teaching, patient care, and public service.
UCSF Psychiatry and Behavioral Sciences conducts its clinical, educational, and research efforts at a variety of locations in Northern California, including the UCSF Nancy Friend Pritzker Psychiatry Building; UCSF Langley Porter Psychiatric Hospital; UCSF Medical Centers at Parnassus Heights, Mission Bay, and Mount Zion; UCSF Benioff Children's Hospitals in San Francisco and Oakland; Zuckerberg San Francisco General Hospital and Trauma Center; the San Francisco VA Health Care System; UCSF Fresno; and numerous community-based sites around the San Francisco Bay Area.
About the UCSF Weill Institute for Neurosciences
The UCSF Weill Institute for Neurosciences, established by the extraordinary generosity of Joan and Sanford I. "Sandy" Weill, brings together world-class researchers with top-ranked physicians to solve some of the most complex challenges in the human brain.
The UCSF Weill Institute leverages UCSF's unrivaled bench-to-bedside excellence in the neurosciences. It unites three UCSF departments—Psychiatry and Behavioral Sciences, Neurology, and Neurological Surgery—that are highly esteemed for both patient care and research, as well as the Neuroscience Graduate Program, a cross-disciplinary alliance of nearly 100 UCSF faculty members from 15 basic-science departments, as well as the UCSF Institute for Neurodegenerative Diseases, a multidisciplinary research center focused on finding effective treatments for Alzheimer's disease, frontotemporal dementia, Parkinson's disease, and other neurodegenerative disorders.
About UCSF
The University of California, San Francisco (UCSF) is exclusively focused on the health sciences and is dedicated to promoting health worldwide through advanced biomedical research, graduate-level education in the life sciences and health professions, and excellence in patient care. UCSF Health, which serves as UCSF's primary academic medical center, includes top-ranked specialty hospitals and other clinical programs, and has affiliations throughout the Bay Area.