The University of California, San Francisco Department of Psychiatry and San Francisco Marin Medical Society are jointly sponsoring a reception for American Medical Association (AMA) President-Elect Patrice A. Harris, MD, MA. The free event is open to all medical professionals and trainees, and will be held from 5:00–7:00 p.m. on Wednesday, October 17 in the Genentech Hall atrium on the UCSF Mission Bay campus.
Harris was elected president–elect of the American Medical Association in June 2018. A psychiatrist from Atlanta, she has diverse experience as a private practicing physician, public health administrator, patient advocate, and medical society lobbyist.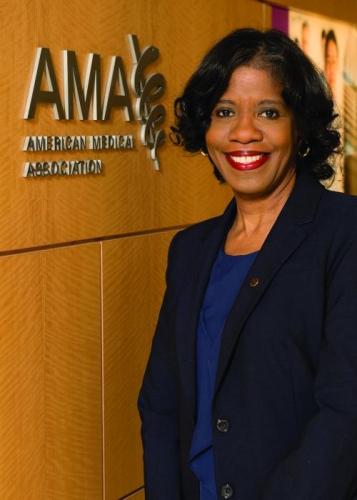 Active in organized medicine her entire career, Harris has served on the board of the American Psychiatric Association (APA) and was an APA delegate to the AMA. She has also been a member of the governing council of the AMA Women Physicians Congress, testified before and served on AMA reference committees, and has served on AMA work groups on health information technology, SGR and private contracting. The AMA Board of Trustees (BOT) appointed her to the AMA Council on Legislation in 2003, and she was elected by the council in 2010 to serve as its chair. She was first elected to the AMA-BOT in June 2011.
Harris has held many leadership positions at the state level as well, including serving on the board and as president of the Georgia Psychiatric Physicians Association and on the Medical Association of Georgia's Council on Legislation, its Committee on Constitution and Bylaws, and its Membership Task Force. She was also the founding president of the Georgia Psychiatry Political Action Committee. In 2001, she was selected Psychiatrist of the Year by the Georgia Psychiatric Physicians Association. In 2007, she was inducted into the West Virginia University Academy of Distinguished Alumni.
Governing themes in Harris' professional life are a passion to improve the lives of children and service to others. Starting with medical school at West Virginia University, followed by a psychiatry residency and child psychiatry and forensics fellowships at Emory, and then as the Barton senior policy fellow at the Emory University School of Law, she has worked for children both clinically and in the advocacy arena.
At Emory, she addressed public policy for abused and neglected children before the Georgia legislature and in public education programs. Harris has also given invited lectures and presentations on children's mental health, childhood trauma, integration of health services, health equity, and the intersection of athletics and health.
As former director of Health Services for Fulton County, Ga., which includes Atlanta, Harris was the county's chief health officer, overseeing all county health-related programs and functions, including a wide range of public safety, behavioral health, and primary care treatment and prevention services. She spearheaded the county's efforts to integrate public health, behavioral health and primary care services. She also served as medical director for the Fulton County Department of Behavioral Health and Developmental Disabilities.
Currently, Harris continues in private practice and consults with both public and private organizations on health service delivery and emerging trends in practice and health policy. She is an adjunct assistant professor in the Emory Department of Psychiatry and Behavioral Sciences.
 
---
About UCSF Psychiatry
The UCSF Department of Psychiatry, UCSF Langley Porter Psychiatric Hospital and Clinics, and the Langley Porter Psychiatric Institute are among the nation's foremost resources in the fields of child, adolescent, adult, and geriatric mental health. Together they constitute one of the largest departments in the UCSF School of Medicine and the UCSF Weill Institute for Neurosciences, with a mission focused on research (basic, translational, clinical), teaching, patient care, and public service.
UCSF Psychiatry conducts its clinical, educational and research efforts at a variety of locations in Northern California, including UCSF campuses at Parnassus Heights, Mission Bay and Laurel Heights, UCSF Medical Center, UCSF Benioff Children's Hospitals, Zuckerberg San Francisco General Hospital and Trauma Center, the San Francisco VA Health Care System, and UCSF Fresno.
About the UCSF Weill Institute for Neurosciences
The UCSF Weill Institute for Neurosciences, established by the extraordinary generosity of Joan and Sanford I. "Sandy" Weill, brings together world-class researchers with top-ranked physicians to solve some of the most complex challenges in the human brain.
The UCSF Weill Institute leverages UCSF's unrivaled bench-to-bedside excellence in the neurosciences. It unites three UCSF departments—Neurology, Psychiatry, and Neurological Surgery—that are highly esteemed for both patient care and research, as well as the Neuroscience Graduate Program, a cross-disciplinary alliance of nearly 100 UCSF faculty members from 15 basic-science departments, as well as the UCSF Institute for Neurodegenerative Diseases, a multidisciplinary research center focused on finding effective treatments for Alzheimer's disease, frontotemporal dementia, Parkinson's disease, and other neurodegenerative disorders.
About UCSF
UC San Francisco (UCSF) is a leading university dedicated to promoting health worldwide through advanced biomedical research, graduate-level education in the life sciences and health professions, and excellence in patient care. It includes top-ranked graduate schools of dentistry, medicine, nursing and pharmacy; a graduate division with nationally renowned programs in basic, biomedical, translational and population sciences; and a preeminent biomedical research enterprise.
It also includes UCSF Health, which comprises three top-ranked hospitals – UCSF Medical Center and UCSF Benioff Children's Hospitals in San Francisco and Oakland – as well as Langley Porter Psychiatric Hospital and Clinics, UCSF Benioff Children's Physicians, and the UCSF Faculty Practice. UCSF Health has affiliations with hospitals and health organizations throughout the Bay Area. UCSF faculty also provide all physician care at the public Zuckerberg San Francisco General Hospital and Trauma Center, and the San Francisco VA Medical Center. The UCSF Fresno Medical Education Program is a major branch of the University of California, San Francisco's School of Medicine.