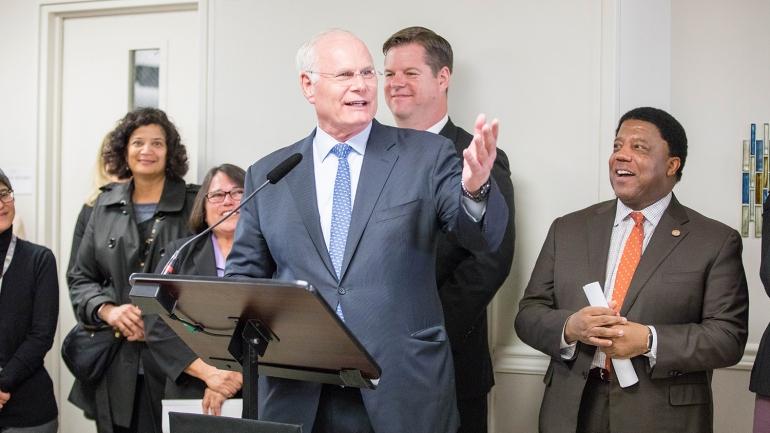 UC San Francisco has joined with the City of San Francisco and three other public and private partners to open a new center to help address the city's mental health inpatient needs.
The city on Monday announced the opening of the San Francisco Healing Center, a 54-bed facility located at St. Mary's Medical Center. The center will double the number of beds in the county that serve patients who do not need the acute care offered at UCSF, but are not able to care for themselves on their own.
The new center, which will begin serving clients March 12, is a public-private partnership that formed to address the intractable issue of rising incidents of mental illness in our society. The partnership includes the San Francisco Department of Public Health, nonprofit health provider Dignity Health, UCSF Health, and Crestwood Behavioral Health.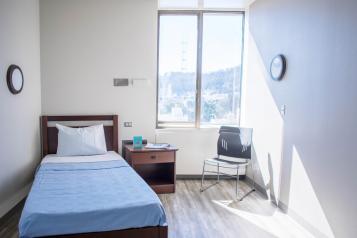 The center will be managed by Crestwood Behavioral Health, which offers a comprehensive program for recovery and wellness to help patients develop the skills they need to pursue an independent life. The San Francisco Department of Public Health will act as the lead agency and project coordinator. Dignity Health contributed to the cost of space and renovations at its St. Mary's Hospital, where the program is located. UCSF is contributing up to $1 million to the cost of renovation and programming for the center.
"This center will play a critical role in expanding the safety net of mental health care in San Francisco and enable patients to successfully transition between a hospital setting and their communities," said Mark Laret, president and chief executive officer of UCSF Health. "We're proud to support this center, as part of our ongoing partnership with Dignity Health, and look forward to the successes of the patients who will receive care in this facility. This collaboration is a model of health care working at its best to serve the people who need it most."
UCSF's collaboration in the new center builds on the mental health services it provides on both an inpatient and outpatient basis.
UCSF Health provides highly specialized care for people who are in mental health crisis at its Langley Porter Psychiatric Hospital and Clinics, located on the UCSF's Parnassus Heights campus. The facility provides an adult inpatient unit, an adult Partial Hospitalization Program, and adult/child outpatient services.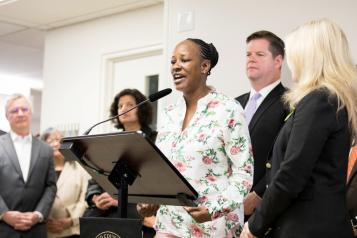 In addition, UCSF Health physicians work at the Zuckerberg San Francisco General Hospital and Trauma Center (ZSFG), which provides acute mental health care.
The new center will serve an important need for patients who are placed on conservatorship, which is determined by a judge for individuals who are gravely disabled due to mental illness and cannot take care of their basic needs for food, shelter, or clothing.
The 54 new beds for conserved mentally ill clients at the San Francisco Healing Center will add to the existing 47 such beds at the Mental Health Rehabilitation Center (MHRC) located in the Behavioral Health Center on the campus of ZSFG.
"As many know, there is a current crisis in mental health with regards to available beds for sub-acute care. Sub-acute care is the care for clients who are ready to move from emergency or urgent care settings but are not yet ready for outpatient status," said Maga Jackson-Triche, MD, MSHS, the vice president for Adult Behavioral Health Services at UCSF Health. "This is a major step toward creating a mental health ecosystem that has the ability to serve the needs of our population."
Further coverage
---
About UCSF Psychiatry
The UCSF Department of Psychiatry and the Langley Porter Psychiatric Institute are among the nation's foremost resources in the fields of child, adolescent, adult, and geriatric mental health. Together they constitute one of the largest departments in the UCSF School of Medicine and the UCSF Weill Institute for Neurosciences, with a mission focused on research (basic, translational, clinical), teaching, patient care and public service.
UCSF Psychiatry conducts its clinical, educational and research efforts at a variety of locations in Northern California, including UCSF campuses at Parnassus Heights, Mission Bay and Laurel Heights, UCSF Medical Center, UCSF Benioff Children's Hospitals, Zuckerberg San Francisco General Hospital and Trauma Center, the San Francisco VA Health Care System and UCSF Fresno.
About the UCSF Weill Institute for Neurosciences
The UCSF Weill Institute for Neurosciences, established by the extraordinary generosity of Joan and Sanford I. "Sandy" Weill, brings together world-class researchers with top-ranked physicians to solve some of the most complex challenges in the human brain.
The UCSF Weill Institute leverages UCSF's unrivaled bench-to-bedside excellence in the neurosciences. It unites three UCSF departments—Neurology, Psychiatry, and Neurological Surgery—that are highly esteemed for both patient care and research, as well as the Neuroscience Graduate Program, a cross-disciplinary alliance of nearly 100 UCSF faculty members from 15 basic-science departments, as well as the UCSF Institute for Neurodegenerative Diseases, a multidisciplinary research center focused on finding effective treatments for Alzheimer's disease, frontotemporal dementia, Parkinson's disease, and other neurodegenerative disorders.
About UCSF
UC San Francisco (UCSF) is a leading university dedicated to promoting health worldwide through advanced biomedical research, graduate-level education in the life sciences and health professions, and excellence in patient care. It includes top-ranked graduate schools of dentistry, medicine, nursing and pharmacy; a graduate division with nationally renowned programs in basic, biomedical, translational and population sciences; and a preeminent biomedical research enterprise. It also includes UCSF Health, which comprises top-ranked hospitals – UCSF Medical Center and UCSF Benioff Children's Hospitals in San Francisco and Oakland – and other partner and affiliated hospitals and healthcare providers throughout the Bay Area.