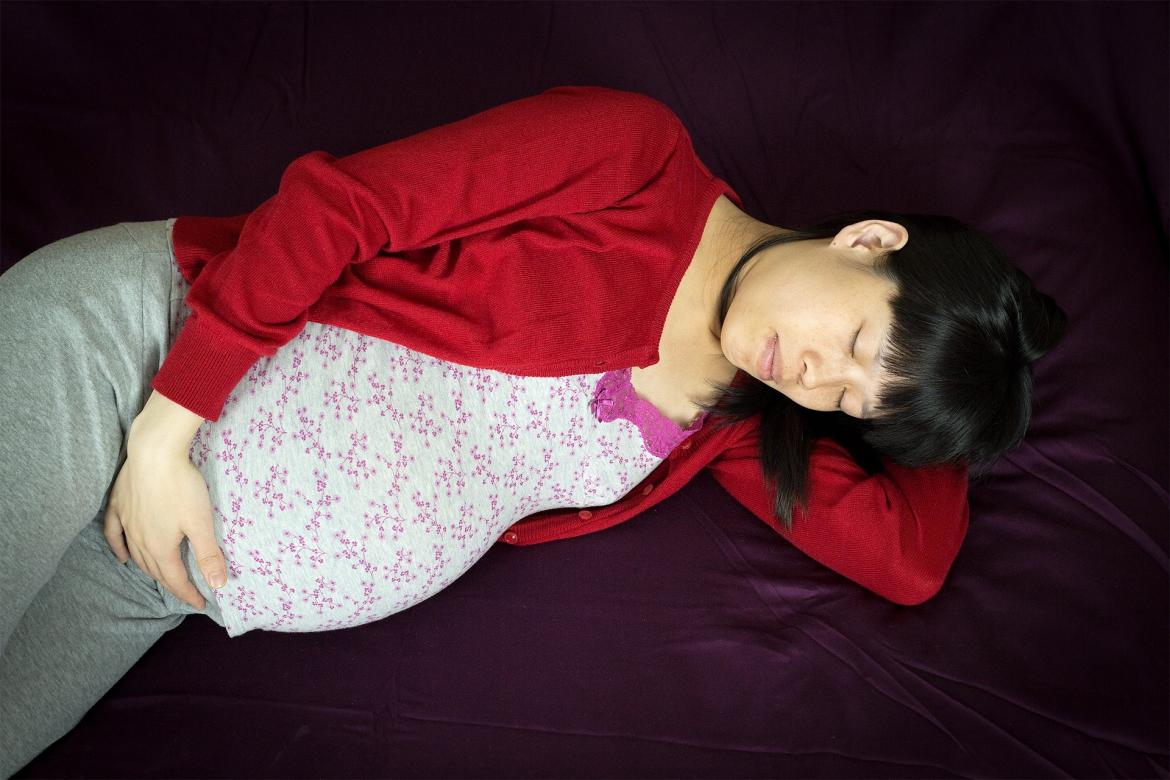 Pregnant women who are diagnosed with sleep disorders such as sleep apnea and insomnia appear to be at risk of delivering their babies before reaching full term, according to an analysis of California births by researchers at UC San Francisco.
The study found the prevalence of preterm birth – defined as delivery before 37 weeks' gestation – was 14.6 percent for women diagnosed with a sleep disorder during pregnancy, compared to 10.9 percent for women who were not. The odds of early preterm birth – before 34 weeks – was more than double for women with sleep apnea and nearly double for women with insomnia. Complications are more severe among early preterm births, which makes this latter finding particularly important, the authors said.
In contrast to the normal sleep changes that typically occur during pregnancy, the new study focused on major disruptions likely to result in impairment. The true prevalence of these disorders is unknown because pregnant women often go undiagnosed. Treating sleep disorders during pregnancy could be a way to reduce the preterm rate, which is about 10 percent in the United States, more than most other highly developed countries.
First to examine insomnia during pregnancy
The study, published Aug. 8 in Obstetrics & Gynecology, is the first to examine the effects of insomnia during pregnancy. Because of a large sample size, the authors were able to examine the relationship between different types of sleep disorders and subtypes of preterm birth (for example, early vs. late preterm birth, or spontaneous preterm labor vs. early deliveries that were initiated by providers due to mothers' health issues).
To separate the effects of poor sleep from other factors that also contribute to a risk of preterm birth, the researchers used a case-control design: 2,265 women with a sleep disorder diagnosis during pregnancy were matched to controls who did not have such a diagnosis, but had identical maternal risk factors for preterm birth, such as a previous preterm birth, smoking during pregnancy, or hypertension.
"This gave us more confidence that our finding of an earlier delivery among women with disordered sleep was truly attributable to the sleep disorder, and not to other differences between women with and without these disorders," said Jennifer Felder, PhD, a postdoctoral fellow in the UCSF Department of Psychiatry and the lead author of the study.
Few women diagnosed
The researchers were surprised by how few women in the dataset – well below 1 percent – had a sleep disorder diagnosis, and suspect that only the most serious cases were identified.
"The women who had a diagnosis of a sleep disorder recorded in their medical record most likely had more severe presentations," said Aric Prather, PhD, assistant professor of psychiatry at UCSF and senior author of the study. "It's likely that the prevalence would be much higher if more women were screened for sleep disorders during pregnancy."
Cognitive behavioral therapy has been shown to be effective in the general population and does not require taking medications that many pregnant women prefer to avoid. To find out if this therapy is effective among pregnant women with insomnia, and ultimately whether it may improve birth outcomes, Felder and colleagues are recruiting participants for the UCSF Research on Expecting Moms and Sleep Therapy (REST) Study.
"What's so exciting about this study is that a sleep disorder is a potentially modifiable risk factor," said Felder, who was trained in clinical psychology.
Other authors of the study include Rebecca Baer, MPH, of the Department of Pediatrics at UC San Diego; Larry Rand, MD, of the UCSF Department of Obstetrics, Gynecology and Reproductive Sciences; and Laura Jelliffe-Pawlowski, PhD, of the UCSF Department of Epidemiology and Biostatistics.
The study was supported by the California Preterm Birth Initiative (PTBi-CA) at UCSF and funded by Marc and Lynne Benioff.
Further coverage
---
About UCSF Psychiatry
The UCSF Department of Psychiatry and the Langley Porter Psychiatric Institute are among the nation's foremost resources in the fields of child, adolescent, adult, and geriatric mental health. Together they constitute one of the largest departments in the UCSF School of Medicine and the UCSF Weill Institute for Neurosciences, with a mission focused on research (basic, translational, clinical), teaching, patient care and public service.
UCSF Psychiatry conducts its clinical, educational and research efforts at a variety of locations in Northern California, including UCSF campuses at Parnassus Heights, Mission Bay and Laurel Heights, UCSF Medical Center, UCSF Benioff Children's Hospitals, Zuckerberg San Francisco General Hospital and Trauma Center, the San Francisco VA Health Care System and UCSF Fresno.
About the UCSF Weill Institute for Neurosciences
The UCSF Weill Institute for Neurosciences, established by the extraordinary generosity of Joan and Sanford I. "Sandy" Weill, brings together world-class researchers with top-ranked physicians to solve some of the most complex challenges in the human brain.
The UCSF Weill Institute leverages UCSF's unrivaled bench-to-bedside excellence in the neurosciences. It unites three UCSF departments—Neurology, Psychiatry, and Neurological Surgery—that are highly esteemed for both patient care and research, as well as the Neuroscience Graduate Program, a cross-disciplinary alliance of nearly 100 UCSF faculty members from 15 basic-science departments, as well as the UCSF Institute for Neurodegenerative Diseases, a multidisciplinary research center focused on finding effective treatments for Alzheimer's disease, frontotemporal dementia, Parkinson's disease, and other neurodegenerative disorders.
About UCSF
UC San Francisco (UCSF) is a leading university dedicated to promoting health worldwide through advanced biomedical research, graduate-level education in the life sciences and health professions, and excellence in patient care. It includes top-ranked graduate schools of dentistry, medicine, nursing and pharmacy; a graduate division with nationally renowned programs in basic, biomedical, translational and population sciences; and a preeminent biomedical research enterprise. It also includes UCSF Health, which comprises top-ranked hospitals – UCSF Medical Center and UCSF Benioff Children's Hospitals in San Francisco and Oakland – and other partner and affiliated hospitals and healthcare providers throughout the Bay Area.