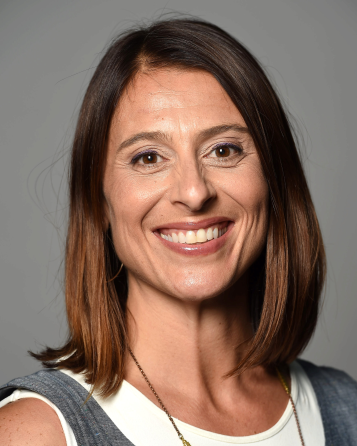 The UC San Francisco Academic Senate has announced that Kilroy Realty Endowed Professor in Psychiatry Marina Tolou-Shams, PhD, has been selected to receive its 2023 Distinction In Mentoring Award for faculty at the rank of full professor. The award has been bestowed annually since 2009 to recognize and celebrate excellence in faculty mentoring, an essential component to faculty success and institutional excellence.
Tolou-Shams joined the UCSF Department of Psychiatry and Behavioral Sciences in 2015 and is the director of the UCSF Juvenile Justice Behavioral Health program, as well as Community Health Advanced by Next Generation Efforts in San Francisco (CHANGE SF), a mental health workforce development program. She also serves as the department's Vice Chair for Community Engagement, Outreach, and Advocacy, and as a Deputy Vice Chair for Research.
She is also an active clinical researcher who focuses on developing evidence-based mental health, substance use, sexual, and reproductive health interventions for youth and families involved in the juvenile legal and child welfare systems. Tolou-Shams' long-standing NIH-funded research includes emphasis on gender and trauma-responsive substance use interventions for girls and identifying ways to leverage technology to improve access to behavioral health care for systems-impacted youth populations.
The Academic Senate Distinction in Faculty Mentoring Award recognizes exceptional mentoring by UCSF faculty, both to fellow faculty colleagues and postdoctoral fellows. All faculty in the Ladder Rank, In Residence, Clinical X, Health Sciences Clinical, and Adjunct series with appointments at 50% or more time (at UCSF or its affiliates) are eligible for nomination. To select each year's awards, the Academic Senate Committee on Academic Personnel designates selection committees comprised of faculty and student representatives from all four schools. UCSF faculty or fellows may nominate and write letters of support for UCSF faculty for the Academic Senate Distinction in Mentoring Awards.
Joining Tolou-Shams as 2023 Academic Senate award recipients will be:
Distinction In Mentoring Award for faculty at the rank of associate professor: Andrea V. Jackson, MD, MAS (Dept. Obstetrics, Gynecology, and Reproductive Sciences) and Jennifer C. Lai, MD, MBA (Dept. of Medicine)
Distinction in Teaching Award for faculty at UCSF five years or fewer: Barbie Klein, PhD (Depts. of Anatomy and Cell & Tissue Biology)
Distinction in Teaching Award for faculty at UCSF more than five years: Sara Whetstone, MD, MHS (Dept. of Obstetrics, Gynecology, and Reproductive Sciences)
 
Recipients of the award receive an award plaque, an honorarium, and are recognized by the Academic Senate at a campus-wide ceremony held each spring. This year's ceremony will be held on Monday, May 15, from 3:00 p.m. to 5:00 p.m. in School of Nursing Building room N-225 on the Parnassus Heights campus. The event will also be broadcast live online via Zoom.
Further information
---
About UCSF Psychiatry and Behavioral Sciences
The UCSF Department of Psychiatry and Behavioral Sciences and the Langley Porter Psychiatric Institute are among the nation's foremost resources in the fields of child, adolescent, adult, and geriatric mental health. Together they constitute one of the largest departments in the UCSF School of Medicine and the UCSF Weill Institute for Neurosciences, with a mission focused on research (basic, translational, clinical), teaching, patient care, and public service.
UCSF Psychiatry and Behavioral Sciences conducts its clinical, educational, and research efforts at a variety of locations in Northern California, including the UCSF Nancy Friend Pritzker Psychiatry Building; UCSF Langley Porter Psychiatric Hospital; UCSF Medical Centers at Parnassus Heights, Mission Bay, and Mount Zion; UCSF Benioff Children's Hospitals in San Francisco and Oakland; Zuckerberg San Francisco General Hospital and Trauma Center; the San Francisco VA Health Care System; UCSF Fresno; and numerous community-based sites around the San Francisco Bay Area.
About the UCSF Weill Institute for Neurosciences
The UCSF Weill Institute for Neurosciences, established by the extraordinary generosity of Joan and Sanford I. "Sandy" Weill, brings together world-class researchers with top-ranked physicians to solve some of the most complex challenges in the human brain.
The UCSF Weill Institute leverages UCSF's unrivaled bench-to-bedside excellence in the neurosciences. It unites three UCSF departments—Psychiatry and Behavioral Sciences, Neurology, and Neurological Surgery—that are highly esteemed for both patient care and research, as well as the Neuroscience Graduate Program, a cross-disciplinary alliance of nearly 100 UCSF faculty members from 15 basic-science departments, as well as the UCSF Institute for Neurodegenerative Diseases, a multidisciplinary research center focused on finding effective treatments for Alzheimer's disease, frontotemporal dementia, Parkinson's disease, and other neurodegenerative disorders.
About UCSF
The University of California, San Francisco (UCSF) is exclusively focused on the health sciences and is dedicated to promoting health worldwide through advanced biomedical research, graduate-level education in the life sciences and health professions, and excellence in patient care. UCSF Health, which serves as UCSF's primary academic medical center, includes top-ranked specialty hospitals and other clinical programs, and has affiliations throughout the Bay Area.