The UC San Francisco Department of Psychiatry and Behavioral Sciences will host its 16th annual Robert S. Wallerstein Lecture in Psychoanalysis and Psychotherapy on Wednesday, March 24, 2021, from 1:00-3:00 p.m. Due to limitations on public gatherings necessitated by the ongoing COVID-19 pandemic, this year's lecture will be held virtually using Zoom.
UCSF faculty member Alicia F. Lieberman, PhD, will deliver this year's keynote address, "Internalizing Reality: A Psychoanalytic Approach to Trauma Treatment Across Generations." She will be joined by fellow Bay Area psychiatrists and UCSF faculty members Marc Jacobs, MD, and William Wolfe, MD, for discussion and a post-talk question and answer session.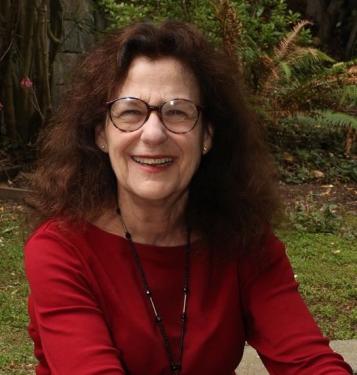 Each year, the UCSF Department of Psychiatry and Behavioral Sciences invites a distinguished scholar to speak on campus as part of the Robert S. Wallerstein, MD Visiting Lectureship in Psychoanalysis and Psychotherapy. This lecture series is held in honor of the late Robert S. Wallerstein, MD, and is focused on showcasing psychoanalytic knowledge and clinical expertise that influence psychiatry, psychotherapy, and psychoanalysis. Past speakers have included noted clinicians and researchers such as Otto Kernberg, MD; Beatrice Beebe, PhD; Mark Solms, PhD; and Bessel A. van der Kolk, MD.
A widely renowned expert on mental health and development in infancy and early childhood, Lieberman is the Irving B. Harris Endowed Chair in Infant Mental Health, professor, and vice chair for faculty development in the UCSF Department of Psychiatry and Behavioral Sciences. She also directs the Child Trauma Research Program at Zuckerberg San Francisco Hospital and Trauma Center, as well as the Early Trauma Treatment Network, a center of SAMHSA National Child Traumatic Stress Network. She serves as the current board chair of the Irving Harris Foundation and is a former board president of the early childhood development nonprofit ZERO TO THREE.
Lieberman is the senior developer of child-parent psychotherapy, an evidence-based treatment for traumatized children from birth to five-years-old, and has made major contributions to the field's understanding of attachment, toddler development, and cross-cultural perspectives on early development through her research, writing, training, and consultation. She is the author or senior author of several books for parents and clinicians, including The Emotional Life of the Toddler; Losing a Parent to Death in the Early Years: Treating Traumatic Bereavement in Infancy and Early Childhood; Don't Hit My Mommy: A Manual for Child-Parent Psychotherapy With Young Witnesses of Domestic Violence, and Psychotherapy With Infants and Young Children: Repairing the Effect of Stress and Trauma on Early Attachment. Lieberman is the senior editor of DC: 0-3 Casebook: A Guide to the Use of Zero to Three's Diagnostic Classification of Mental Health and Developmental Disorders of Infancy and Early Childhood. She also served on the National Research Council and Institute of Medicine Committee on Integrating the Science of Early Childhood Development, whose work resulted in the publication of the influential From Neurons to Neighborhoods: The Science of Early Childhood
Born in Paraguay, Lieberman received her professional training in Israel and the United States and uses her experience as a trilingual, tricultural Jewish Latina to inform her work on behalf of children and families from diverse ethnic and cultural origins, with primary emphasis on the experiences of Latinos in the United States. Her major interests include infant mental health, disorders of attachment, early trauma treatment outcome research, and mental health service disparities for underserved and minority children and families. She also holds a special interest in cultural issues involving child development, child rearing, and child mental health, and has lectured extensively on these topics both nationally and internationally.
Lieberman has received numerous honors in recognition of her groundbreaking work, including most recently the 2016 Rene Spitz Award for Lifetime Achievement from the World Association of Infant Mental Health (WAIMH), a 2016 Public Health Hero Award from the San Francisco Department of Public Health, the 2017 Whole Child Award from the Simms-Mann Institute, the 2018 Blanche Ittleson Award from the Global Alliance for Behavioral Health and Social Justice, the 2019 Paulina Kernberg Award from the Weill Cornell Institute, and the 2020 Lifetime Achievement Award from ZERO TO THREE.
Free tickets now available online
The event is free and open to the public, but advance registration is requested. For further information, visit psychiatry.ucsf.edu/wallerstein or email [email protected].
---
About UCSF Psychiatry and Behavioral Sciences
The UCSF Department of Psychiatry and Behavioral Sciences and the Langley Porter Psychiatric Institute are among the nation's foremost resources in the fields of child, adolescent, adult, and geriatric mental health. Together they constitute one of the largest departments in the UCSF School of Medicine and the UCSF Weill Institute for Neurosciences, with a mission focused on research (basic, translational, clinical), teaching, patient care, and public service.
UCSF Psychiatry and Behavioral Sciences conducts its clinical, educational, and research efforts at a variety of locations in Northern California, including Langley Porter Psychiatric Hospital; UCSF Medical Centers at Parnassus Heights, Mission Bay, and Mount Zion; UCSF Benioff Children's Hospitals in San Francisco and Oakland; Zuckerberg San Francisco General Hospital and Trauma Center; the San Francisco VA Health Care System; UCSF Fresno; and numerous community-based sites around the San Francisco Bay Area.
About the UCSF Weill Institute for Neurosciences
The UCSF Weill Institute for Neurosciences, established by the extraordinary generosity of Joan and Sanford I. "Sandy" Weill, brings together world-class researchers with top-ranked physicians to solve some of the most complex challenges in the human brain.
The UCSF Weill Institute leverages UCSF's unrivaled bench-to-bedside excellence in the neurosciences. It unites three UCSF departments—Neurology, Psychiatry, and Neurological Surgery—that are highly esteemed for both patient care and research, as well as the Neuroscience Graduate Program, a cross-disciplinary alliance of nearly 100 UCSF faculty members from 15 basic-science departments, as well as the UCSF Institute for Neurodegenerative Diseases, a multidisciplinary research center focused on finding effective treatments for Alzheimer's disease, frontotemporal dementia, Parkinson's disease, and other neurodegenerative disorders.
About UCSF
The University of California, San Francisco (UCSF) is exclusively focused on the health sciences and is dedicated to promoting health worldwide through advanced biomedical research, graduate-level education in the life sciences and health professions, and excellence in patient care. UCSF Health, which serves as UCSF's primary academic medical center, includes top-ranked specialty hospitals and other clinical programs, and has affiliations throughout the Bay Area.