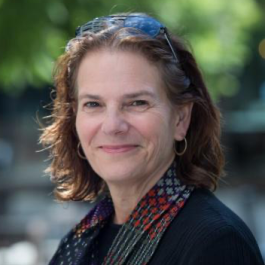 UC San Francisco researcher Kristine Yaffe, MD, has been selected by the National Institute on Aging (NIA) to receive a Leadership Award for Alzheimer's Disease and Related Dementias (ADRD) Research. The award will help Yaffe further groundbreaking research related to the exposome for ADRD, its effects over the life course, and how these different exposures may influence health disparities in ADRD risk to offer new avenues for prevention.
She will use the award funding to create the UCSF Population-Based Research for Alzheimer's Innovation (Pop-BRAIN) Program, an exciting multidisciplinary program that will highlight new strategies for prevention, underscore the underpinnings for health disparities in risk of ADRD and offer new insights to the life course etiology of ADRD. In an equally important mission, the Pop-BRAIN program will also foster the careers of junior investigators from a variety of disciplines focused on population health for ADRD by providing mentoring, didactics, research design and biostatistics guidance, pilot funding and career development activities across several departments at UCSF in a unified hub dedicated to population health.
Yaffe is the Roy and Marie Scola Endowed Chair and a professor of psychiatry, neurology, and epidemiology at UCSF, as well the Department of Psychiatry and Behavioral Sciences' vice chair for the Weill Institute for Neurosciences. She is also the chief of neuropsychiatry and director of the Memory Evaluation Clinic at the San Francisco VA Medical Center and director of the UCSF Center for Population Brain Health.
As an internationally recognized expert in the epidemiology of dementia and cognitive aging, Yaffe has served as the principal investigator on multiple grants from NIH, the U.S. Department of Defense, and several foundations, and delivered testimony as a subject expert to the U.S. Senate Special Committee on Aging. Her work focuses on the identification of modifiable risk factors—including cardiovascular and metabolic risk factors, sleep disturbances, and traumatic brain injury—and the critical role they play not just in late life, but across the entire lifespan. Her work has also provided important insight into the pathways that increase dementia risk.
Yaffe served as co-chair of the National Academy of Medicine's Committee on Cognitive Aging, which assessed the public health dimensions of cognitive aging and released a report, "Cognitive Aging: Progress in Understanding and Opportunities for Action," in 2015, and was appointed to the Governor's Task Force on Alzheimer's Prevention and Preparedness by California Governor Gavin Newsom in 2019. She was elected to the National Academy of Medicine in 2019 and has received numerous awards in recognition of her work, including the American Association for Geriatric Psychiatry's Distinguished Scientist Award, the American College of Psychiatrists' Research Award in Geriatric Psychiatry, and the American Academy of Neurology's Potamkin Prize for Alzheimer's Research. Earlier this year, Yaffe was selected as the recipient of the National Institutes of Health's Robert S. Gordon, Jr. Lectureship Award.
---
About UCSF Psychiatry and Behavioral Sciences
The UCSF Department of Psychiatry and Behavioral Sciences and the Langley Porter Psychiatric Institute are among the nation's foremost resources in the fields of child, adolescent, adult, and geriatric mental health. Together they constitute one of the largest departments in the UCSF School of Medicine and the UCSF Weill Institute for Neurosciences, with a mission focused on research (basic, translational, clinical), teaching, patient care, and public service.
UCSF Psychiatry and Behavioral Sciences conducts its clinical, educational, and research efforts at a variety of locations in Northern California, including Langley Porter Psychiatric Hospital; UCSF Medical Centers at Parnassus Heights, Mission Bay, and Mount Zion; UCSF Benioff Children's Hospitals in San Francisco and Oakland; Zuckerberg San Francisco General Hospital and Trauma Center; the San Francisco VA Health Care System; UCSF Fresno; and numerous community-based sites around the San Francisco Bay Area.
About the UCSF Weill Institute for Neurosciences
The UCSF Weill Institute for Neurosciences, established by the extraordinary generosity of Joan and Sanford I. "Sandy" Weill, brings together world-class researchers with top-ranked physicians to solve some of the most complex challenges in the human brain.
The UCSF Weill Institute leverages UCSF's unrivaled bench-to-bedside excellence in the neurosciences. It unites three UCSF departments—Psychiatry and Behavioral Sciences, Neurology, and Neurological Surgery—that are highly esteemed for both patient care and research, as well as the Neuroscience Graduate Program, a cross-disciplinary alliance of nearly 100 UCSF faculty members from 15 basic-science departments, as well as the UCSF Institute for Neurodegenerative Diseases, a multidisciplinary research center focused on finding effective treatments for Alzheimer's disease, frontotemporal dementia, Parkinson's disease, and other neurodegenerative disorders.
About UCSF
The University of California, San Francisco (UCSF) is exclusively focused on the health sciences and is dedicated to promoting health worldwide through advanced biomedical research, graduate-level education in the life sciences and health professions, and excellence in patient care. UCSF Health, which serves as UCSF's primary academic medical center, includes top-ranked specialty hospitals and other clinical programs, and has affiliations throughout the Bay Area.