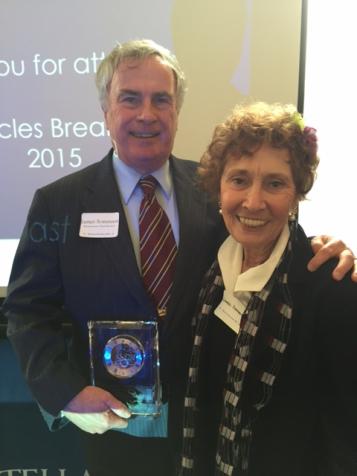 James L. Sorensen, PhD
, received the 2015 Miracles Tribute award, honoring a professional for lifetime achievement and outstanding service in the treatment of addiction and co-occurring disorders, from Constellation Behavioral Health's Alta Mira Recovery Programs in Sausalito, California. The award was presented on Friday, November 6, 2015 at the
third annual Miracles Breakfast
, held at the Olympic Club in San Francisco.
Over the past 30 years, Sorensen has made a number of significant contributions to the treatment of addiction and co-occurring disorders, and
 has published more than 200 articles, chapters, and books on the subject. He has served as the Chief of Substance Abuse Services at Zuckerberg San Francisco General Hospital and Trauma Center (1982-1995), led numerous National Institutes of Health (NIH) R01 research grants, was director of the National Institute on Drug Abuse (NIDA)-funded San Francisco Treatment Research Unit (1989-1994), and participates in numerous other NIH and privately supported research and training programs. Sorensen was a member of the Institute of Medicine Committee on Community-Based Drug Treatment, which was instrumental in the development of the NIDA Clinical Trials Network. Sorensen is currently co-director 
of the
California-Arizona Node of the National Drug Abuse Treatment Clinical Trials Network
, where he has overall responsibility for the scientific, administrative, and clinical performance of the node and the participating programs.
He continues to serve as professor in residence in the UCSF Department of Psychiatry, as well as a clinical psychologist on the medical staff at Zuckerberg San Francisco General, where he is the leader of the Public Service and Minority Cluster of the
Clinical Psychology Training Program
. He is a faculty mentor in the
UCSF Center for AIDS Prevention Studies (CAPS) Visiting Professor program
and leads the NIDA-funded
Drug Abuse Treatment and Services Research Postdoctoral Training Program
. 
Dedicated to training future researchers, Sorensen has a long record of mentoring and leading research training programs with a focus on development of minority investigators. He is the program director of the
Learning for Early Careers in Addiction & Diversity (LEAD) Program
at UCSF, and throughout his career he has served as primary mentor to 17 predoctoral and 22 postdoctoral fellows. His leadership facilitates not only outstanding research mentorship, but also crucial collaboration across research training programs at UCSF.  
About UCSF Psychiatry
The UCSF Department of Psychiatry and the Langley Porter Psychiatric Institute are among the nation's foremost resources in the fields of child, adolescent, adult and geriatric mental health. Together they constitute one of the largest departments in the UCSF School of Medicine, with a mission focused on research (basic, translational, clinical), teaching, patient care, and public service. UCSF Psychiatry has an organizational structure that crosses all major UCSF sites - Parnassus, Mission Bay, Laurel Heights, Mt. Zion, Zuckerberg San Francisco General Hospital and Trauma Center, the San Francisco VA Medical Center, and UCSF Fresno.
About UCSF
UC San Francisco (UCSF) is a leading university dedicated to promoting health worldwide through advanced biomedical research, graduate-level education in the life sciences and health professions, and excellence in patient care. It includes top-ranked graduate schools of dentistry, medicine, nursing and pharmacy, a graduate division with nationally renowned programs in basic, biomedical, translational and population sciences, as well as a preeminent biomedical research enterprise and two top-ranked hospitals, UCSF Medical Center and UCSF Benioff Children's Hospital San Francisco.