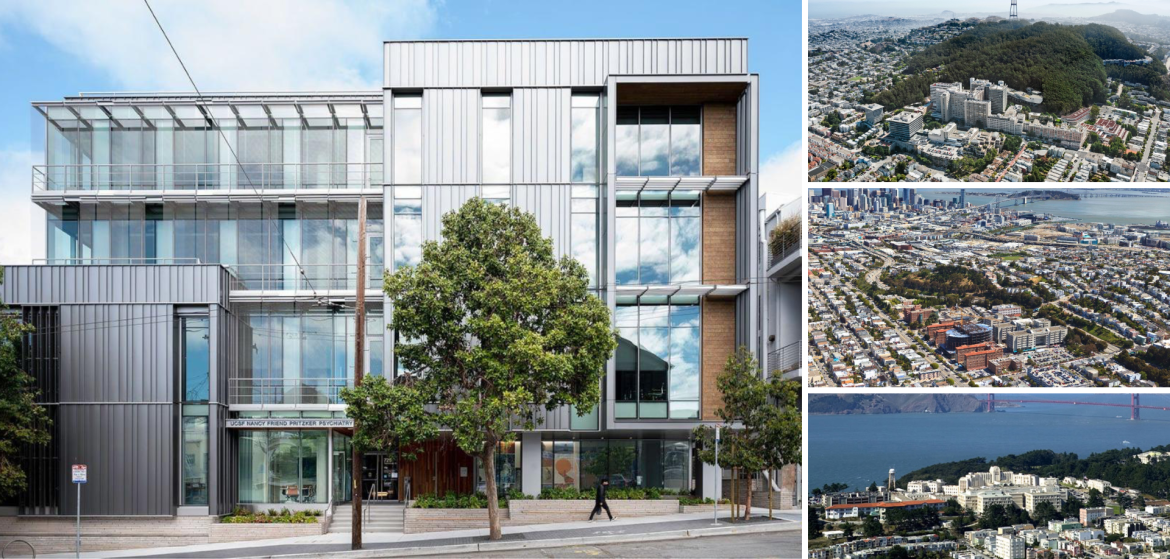 The UCSF Adult Psychiatry Residency Training Program (RTP) has once again been noted as one of the top psychiatry residency programs in the nation, according to new data released on July 25, 2022, by physician social networking site Doximity.
For the second year in a row, UCSF's program was ranked fifth among all U.S. psychiatric residency programs in Doximity's 2022-2023 Residency Navigator. It is one of two University of California system schools in the top five and first among psychiatric residency programs in northern California.
In addition, the training program placed in the top five among those planning to go onto fellowships in six separate subspecialty fields (addiction psychiatry, brain injury medicine, child and adolescent psychiatry, forensic psychiatry, geriatric psychiatry, and psychosomatic medicine), as well as eighth nationally for alumni research output.
Earlier this year, UCSF's psychiatry program was ranked fourth in the nation (and first among public universities) by U.S. News & World Report in their annual listing of the best graduate and professional schools.

First launched in 2014, the Doximity Residency Navigator is an interactive tool designed to help the next generation of doctors research and compare residency training programs nationwide. This year, the site collected over 300,000 reviews and ratings from more than 125,000 verified current residents and recent alumni for programs offering the best clinical training in 28 medical specialties.
Nominations for psychiatry residency programs were accepted from physicians certified by the American Board of Psychiatry and Neurology. To compile their rankings, Doximity used a combination of current resident and recent alumni satisfaction data, reputation among board-certified physicians, research output metrics, and other objective data points. The results of the past three years of nomination surveys were pooled in order to calculate reputation.

As a whole, UCSF maintained its standing as one of the national leaders in medical education, with 15 specialty residencies earning top 10 rankings and three (neurological surgery, obstetrics and gynecology, and radiology) being selected as the best in their respective fields. The full results of the study are available for any U.S. physician or medical student to access at doximity.com/residency.
 
---
About UCSF Psychiatry and Behavioral Sciences
The UCSF Department of Psychiatry and Behavioral Sciences and the Langley Porter Psychiatric Institute are among the nation's foremost resources in the fields of child, adolescent, adult, and geriatric mental health. Together they constitute one of the largest departments in the UCSF School of Medicine and the UCSF Weill Institute for Neurosciences, with a mission focused on research (basic, translational, clinical), teaching, patient care, and public service.
UCSF Psychiatry and Behavioral Sciences conducts its clinical, educational, and research efforts at a variety of locations in Northern California, including the UCSF Nancy Friend Pritzker Psychiatry Building; UCSF Langley Porter Psychiatric Hospital; UCSF Medical Centers at Parnassus Heights, Mission Bay, and Mount Zion; UCSF Benioff Children's Hospitals in San Francisco and Oakland; Zuckerberg San Francisco General Hospital and Trauma Center; the San Francisco VA Health Care System; UCSF Fresno; and numerous community-based sites around the San Francisco Bay Area.
About the UCSF Weill Institute for Neurosciences
The UCSF Weill Institute for Neurosciences, established by the extraordinary generosity of Joan and Sanford I. "Sandy" Weill, brings together world-class researchers with top-ranked physicians to solve some of the most complex challenges in the human brain.
The UCSF Weill Institute leverages UCSF's unrivaled bench-to-bedside excellence in the neurosciences. It unites three UCSF departments—Psychiatry and Behavioral Sciences, Neurology, and Neurological Surgery—that are highly esteemed for both patient care and research, as well as the Neuroscience Graduate Program, a cross-disciplinary alliance of nearly 100 UCSF faculty members from 15 basic-science departments, as well as the UCSF Institute for Neurodegenerative Diseases, a multidisciplinary research center focused on finding effective treatments for Alzheimer's disease, frontotemporal dementia, Parkinson's disease, and other neurodegenerative disorders.
About UCSF
The University of California, San Francisco (UCSF) is exclusively focused on the health sciences and is dedicated to promoting health worldwide through advanced biomedical research, graduate-level education in the life sciences and health professions, and excellence in patient care. UCSF Health, which serves as UCSF's primary academic medical center, includes top-ranked specialty hospitals and other clinical programs, and has affiliations throughout the Bay Area.