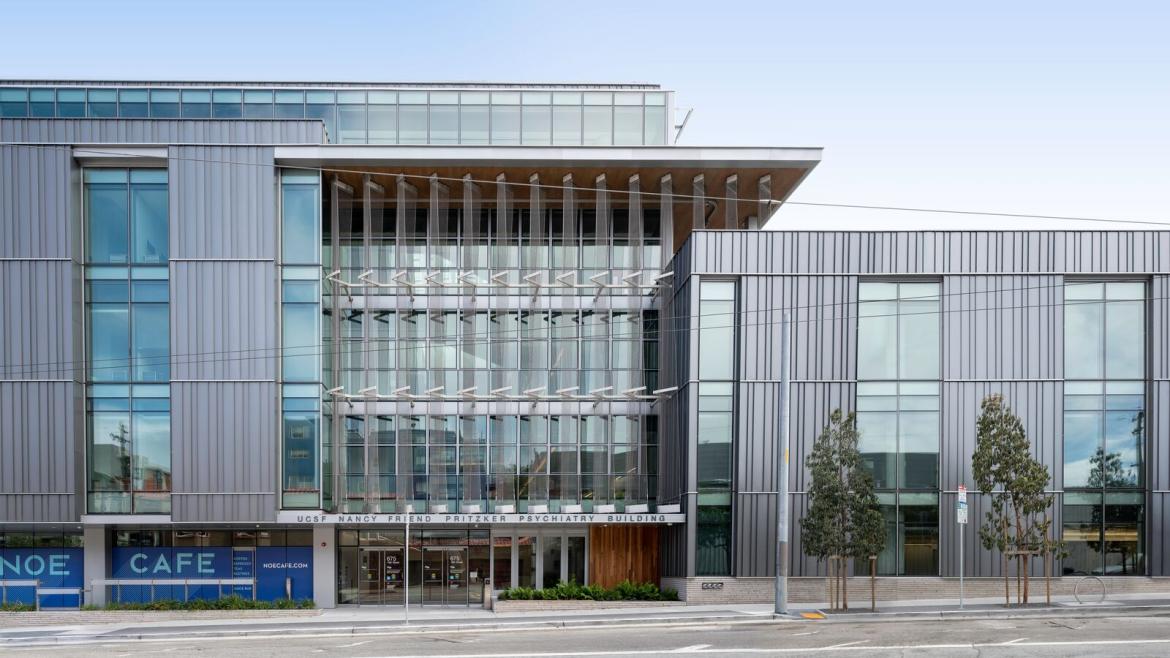 UCSF's adult behavioral health clinics provide a broad range of outpatient psychiatric consultation, evaluation, and treatment interventions for emotional, psychological, or cognitive problems. Each person is provided with an initial assessment and an individualized treatment plan. We provide a range of brief and long-term individual psychotherapy, as well as group psychotherapy (including cognitive behavior therapy groups) and ongoing medication management as part of an individual's treatment plan.
Our clinical programs are located in the UCSF Nancy Friend Pritzker Psychiatry Building in San Francisco's Dogpatch neighborhood. Situated adjacent to UCSF's Mission Bay campus, the building is one of the few in the nation that combines outpatient mental health care for people of all ages with top-ranking programs in psychiatry and psychology training and research. By integrating behavioral health clinical, training, and research facilities under one roof—along with services from neurology, neurosurgery, radiology, anesthesiology, obstetrics/gynecology, and other specialties at UCSF—our center allows patients to receive world-class clinical care and participate in cutting-edge clinical research at a single location.
---
Clinical services
Our adult psychiatry clinics include:
Within these different components, patients are evaluated and treated by faculty, staff, resident physicians and psychology fellows.
Specialty clinics
Each specialty clinic focuses on a particular patient population and has faculty clinicians who are experts in that specific area of psychiatry. In addition to their specialty focus, each clinic also evaluates and treats a range of adults presenting with diverse psychiatric issues. These clinics each meet for one or two half-days each week and include a mixture of new patient evaluations or consultations and ongoing medication management follow-up appointments. The clinics are staffed by a team of professionals including faculty, psychiatric residents, and, sometimes, medical students. Some of the clinics also have social workers as members of the team.
The different specialty clinics include:
​Depression
Path Program (formerly the Early Psychosis Clinic)
Geriatrics
LGBT Psychiatry
Psychosis
Women's Mental Health
 
Continuity clinics
The continuity clinics are half-day clinics scattered throughout each week during which patients are treated by psychiatric residents with very close supervision by faculty psychiatrists. Each resident clinician does individual psychotherapy treatments, including cognitive behavioral, supportive, and psychodynamic therapy, and medication management within their continuity clinics. Every patient is seen by both a faculty member and their resident physician at every appointment.
Group services
We offer several types of different therapy groups, including:
Open-ended group for people coping with chronic medical illnesses
Cognitive behavioral therapy group
Bipolar education group
Groups that are specific to the Path Program (formerly known as Early Psychosis Clinic)
 
TMS and Neuromodulation Program
Transcranial magnetic stimulation (TMS) is a non-invasive brain stimulation technique that has been approved to treat major depression. It is a treatment consideration for anyone whose depression has not responded to prior antidepressant medication. TMS has also been used successfully in obsessive-compulsive disorder and is being explored as a treatment for other disorders including chronic pain, anxiety disorders, and addiction. TMS is delivered in an outpatient setting at Langley Porter Psychiatric Hospital on the UCSF Parnassus Heights campus.
Making an appointment
If you are interested in obtaining treatment for yourself or a loved one, please call (415) 476-7000 to request an appointment.
IF YOU ARE EXPERIENCING A LIFE-THREATENING MENTAL HEALTH EMERGENCY, PLEASE CALL 988 OR GO TO THE NEAREST EMERGENCY ROOM.
---
Location
UCSF Nancy Friend Pritzker Psychiatry Building
675 18th Street
San Francisco, CA 94107
(map and directions)
Public transportation
The Pritzker Building is served directly by the SF Muni T-Third Street light rail line, as well as nearby stops for the 15-Bayview Hunters Point Express, 22-Fillmore, 48-Quintara/24th Street, and 55-Dogpatch bus lines.
If you are visiting from outside San Francisco, you can use Caltrain, BART, AC Transit, Golden Gate Transit, or San Francisco Bay Ferry for quick and convenient connections to the SF Muni system. For schedules and a trip planner, visit www.sfmta.com/muni.
Parking
Valet parking is available in the Pritzker Building garage for patients and visitors at the rate of $5 per hour (or $35 maximum per day). Visitors can enter the garage on 3rd Street between 18th and 19th Streets on weekdays between 7:30 a.m.–4:00 p.m. To exit the garage after hours, visitors can retreive keys/vehicles from the security desk on the first floor.
Patients and visitors can also park in the UCSF Illinois Street Garage, located just one block from the Pritzker Building. 
Metered street parking is available on a limited basis in the surrounding neighborhood. Please be sure to observe and obey all posted time limits.