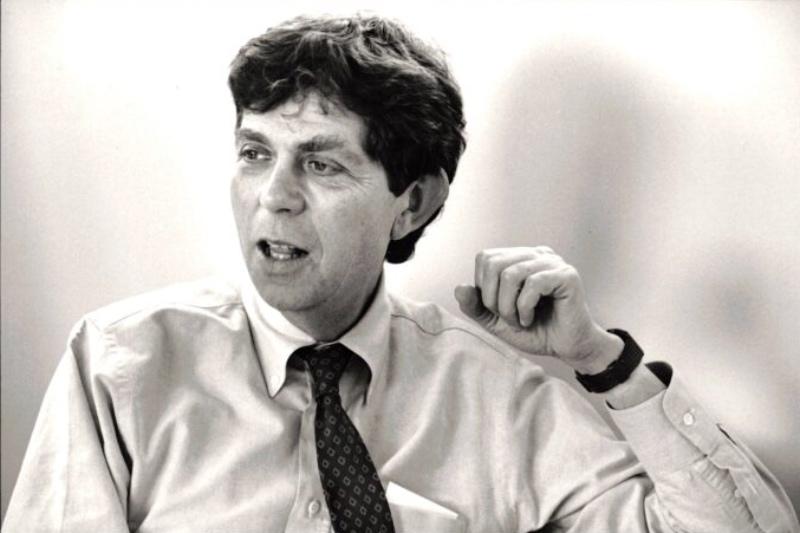 The UC Berkeley Bancroft Library's Oral History Center has released a new comprehensive oral history chronicling the life and career of Jeanne and Sanford Robertson Endowed Chair and Chair Emeritus Samuel Barondes, MD. The history, Samuel Barondes: Integrating Molecular Neuroscience with Psychiatry, was recorded in 2019 by the Oral History Center's Roger Eardley-Prior, PhD, resulting in a rich 390-page transcript which includes an appendix with photographs of Barondes' family, friends, and fellow researchers.
Barondes is a psychiatrist and neuroscientist at the University of California San Francisco (UCSF) who, over the course of his exceptional career, helped bridge those two fields as a researcher, author, and builder of interdisciplinary programs. Parts of the oral history explore meta-themes in his life—from his memories about researching the molecular biology of memory formation in our brains to the human connections and collaborations he nurtured while investigating the ways neural synapses make new connections. Throughout, Barondes' oral history reflects his abiding fascination with what makes people tick—at the molecular level in cells and synapses, and metaphorically in people's hearts and souls.
Born in a time of limitless opportunity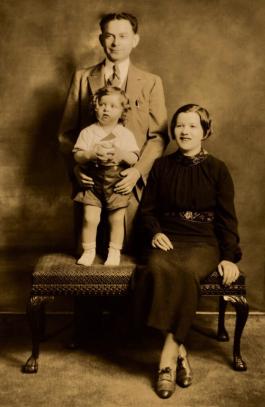 "In many ways, Barondes's life reflects a kind of American utopia," says Eardley-Prior, who conducted over 18 hours of interviews with Barondes for the project.
"Sam was born during the Great Depression in New York City. As the only child to Jewish immigrants who received little formal schooling, Sam was the first in his family to attend college. In the 1950s, he earned an Ivy League education and became a medical doctor before launching his career as a research scientist at some of the world's most acclaimed institutions."
Along his life journey, Barondes found love, experienced tragedy, and found love again, all while fostering deep, life-long friendships with other exceptional researchers, including Sydney Brenner, Francis Crick, Eric Kandel, and other luminaries whom he discusses in his oral history.
"I lived in this time of limitless opportunity," he explained to Eardley-Prior during their interviews. "It's all connected."
"I was so lucky to come of age in the American renaissance that began after the Second World War, and to grow to scientific maturity during the golden years that followed," Barondes says in the oral history's preface. "I was so lucky to have enjoyed inspiring collaborations and personal relationships with a wide range of talented scholars and scientists, and to help disseminate the discoveries and insights that emerged."
A lifetime of furthering our understanding of how the human brain works
Barondes was educated at Columbia and Harvard and learned to do research at the National Institutes of Health as a postdoc with Gordon Tomkins and with Marshall Nirenberg, in whose laboratory he contributed to the Nobel Prize-winning studies that deciphered the genetic code. Thereafter, Barondes devoted himself to integrating psychiatry with molecular biology and neuroscience.
He has been a professor at the University of California since 1969, first at UC San Diego, where he was a founding member of the Department of Psychiatry and the Neuroscience Program and, since 1986 at UC San Francisco, where he initially served as chair of the Department of Psychiatry and director of the Langley Porter Psychiatric Institute. Since 1994, he has served as the Jeanne and Sanford Robertson Endowed Chair and director of the Center for Neurobiology and Psychiatry. Throughout his time at UCSF, Barondes chaired the Chancellor's Art Committee, overseeing the acquisition and commissioning of hundreds of works, with special emphasis on the J. Michael Bishop Collection at Mission Bay.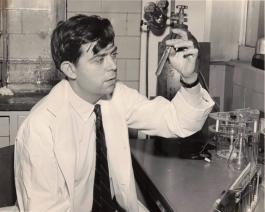 Over the course of his interdisciplinary career in science, Barondes authored over 200 original research articles in leading journals including Science, Nature, Proceedings of the National Academy of Sciences of the United States of America (PNAS), Cell, Journal of Biological Chemistry, Journal of Neuroscience, Journal of Neurochemistry, and Journal of Cell Biology. Among his many publications discussed in the oral history are his two back-to-back 1962 publications in Science with Marshall Nirenberg, which were associated with Nirenberg's Nobel Prize-winning research with poly-U to decipher the genetic code. 
He is a member of the National Academy of Medicine, and a fellow of the American Academy of Arts and Sciences and the American Association for the Advancement of Science. In 1976, Barondes was a founder of the McKnight Neuroscience Program, and served as its president for 10 years. His books include Cellular Dynamics of the Neuron (1969); Neuronal Recognition (1976); Molecules and Mental Illness (1993); Mood Genes (1998); Better Than Prozac (2003); Making Sense of People (2011, 2016); and Before I Sleep: Poems For Children Who Think (2014).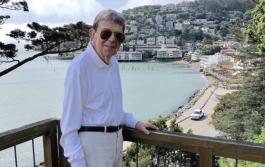 He was named a Fogarty International Scholar by the National Institutes of Health in 1979 and delivered the J. Robert Oppenheimer Memorial Lecture in 2000. He is a recipient of the UCSF Holly Smith Award (2013) and the J. Elliot Royer Award in Psychiatry (1990). In 1988, Barondes was awarded the Herman Stillmark Lectin Centennial Medal by the University of Dorpat (Estonia) in recognition of his discovery of discoidins and galectins. In his honor, the UCSF Department of Psychiatry and Behavioral Sciences launched the Samuel Barondes Lectureship in Biological Psychiatry in 2017, which invites a distinguished scholar to speak on campus about the integration of biological sciences and psychiatry.
Barondes lives in Sausalito with his wife, UCSF neuropsychiatrist and author Louann Brizendine, MD, and plays an active role both at UCSF and in the international psychiatric and neuroscience communities. He continues to write books for the general public about psychiatric genetics, psychopharmacology, personality differences, and the psychiatric implications of biological research, and speaking with with students, postdocs, and faculty about the relationship between laboratory research and clinical psychiatric problems.
Read the entire oral history
Watch videos of interview excerpts
---
About the Oral History Center
The Oral History Center (OHC), a division of the Bancroft Library at UC Berkeley, documents the history of California, the nation, and the interconnected global arena. OHC produces carefully researched, audio/video-recorded and transcribed oral histories and interpretative historical materials for the widest possible use. OHC was formerly known as the Regional Oral History Office.
About UCSF Psychiatry and Behavioral Sciences
The UCSF Department of Psychiatry and Behavioral Sciences and the Langley Porter Psychiatric Institute are among the nation's foremost resources in the fields of child, adolescent, adult, and geriatric mental health. Together they constitute one of the largest departments in the UCSF School of Medicine and the UCSF Weill Institute for Neurosciences, with a mission focused on research (basic, translational, clinical), teaching, patient care, and public service.
UCSF Psychiatry and Behavioral Sciences conducts its clinical, educational, and research efforts at a variety of locations in Northern California, including Langley Porter Psychiatric Hospital; UCSF Medical Centers at Parnassus Heights, Mission Bay, and Mount Zion; UCSF Benioff Children's Hospitals in San Francisco and Oakland; Zuckerberg San Francisco General Hospital and Trauma Center; the San Francisco VA Health Care System; UCSF Fresno; and numerous community-based sites around the San Francisco Bay Area.
About the UCSF Weill Institute for Neurosciences
The UCSF Weill Institute for Neurosciences, established by the extraordinary generosity of Joan and Sanford I. "Sandy" Weill, brings together world-class researchers with top-ranked physicians to solve some of the most complex challenges in the human brain.
The UCSF Weill Institute leverages UCSF's unrivaled bench-to-bedside excellence in the neurosciences. It unites three UCSF departments—Psychiatry and Behavioral Sciences, Neurology, and Neurological Surgery—that are highly esteemed for both patient care and research, as well as the Neuroscience Graduate Program, a cross-disciplinary alliance of nearly 100 UCSF faculty members from 15 basic-science departments, as well as the UCSF Institute for Neurodegenerative Diseases, a multidisciplinary research center focused on finding effective treatments for Alzheimer's disease, frontotemporal dementia, Parkinson's disease, and other neurodegenerative disorders.
About UCSF
The University of California, San Francisco (UCSF) is exclusively focused on the health sciences and is dedicated to promoting health worldwide through advanced biomedical research, graduate-level education in the life sciences and health professions, and excellence in patient care. UCSF Health, which serves as UCSF's primary academic medical center, includes top-ranked specialty hospitals and other clinical programs, and has affiliations throughout the Bay Area.