This National Institute on Drug Abuse (NIDA)-funded postdoctoral program is offered by the UCSF Weill Institute for Neuroscience's Department of Psychiatry and Behavioral Sciences. Our program is one of the few that trains scientists in treatment and service research. Scholars work with a preceptor to design and implement studies on treatment of substance use disorders (SUD), including nicotine, cannabis, opioids, and other substances. Scholars also select a specific area of focus for independent research. Current research interests of faculty include trials of efficacy and effectiveness of psychosocial and pharmacologic treatment of substance use disorders, including:
Treatment for including cannabis, tobacco, alcohol, and opioids
Innovative methodology, including internet-based studies
Treatment of complex patients in health care settings
SUD screening and treatment for people living with HIV, other medical conditions, and psychiatric disorders
Research on provision of health services to substance-using populations
Emerging therapeutics, including psychedelics and digital health interventions
Instrument development in SUD treatment
 
A variety of university-affiliated and community SUD treatment programs are available as research sites. The UCSF Department of Psychiatry and Behavioral Sciences is headquartered at the Nancy Friend Pritzker Psychiatry Building, and our program has strong representation at Zuckerberg San Francisco General Hospital and Trauma Center, the San Francisco VA Health Care System, Kaiser Permanente Division of Research, and a range of complimentary UCSF sites and departments. These include inpatient- and outpatient-setting programs that treat a range of problems related to SUD treatment, including dependence on stimulants, cannabis, nicotine, alcohol, and opiates.
Our program encourages close research involvement with a preceptor, and involvement in selected classes, seminars, and grant preparation. Resources from other significant extramural funding and R01-level grants are also routinely available to scholars.
Our philosophy
Our unifying philosophy is:
SUD treatment and services research must be methodologically excellent and clinically relevant.
Problems related to substance use are best attacked from a multidisciplinary perspective.
Integration of knowledge of various intellectual domains is essential to the development of effective treatment.
 
Because our philosophy implies that the quality of the postdoctoral program depends on the quality of the scholars, faculty, and environment—rather than on any particular class or activity—we energetically recruit to obtain high-quality applicants into a research environment where they will work under the guidance of research-sophisticated investigators.
Program faculty
Our postdoctoral program is directed by an executive committee. and core faculty, representing psychiatry, public health and policy, behavioral sciences, medicine, and biostatistics. These faculty and leaders have a diverse, but overlapping, range of research interests.
Program faculty are:
Program Director (also Executive Committee member and Faculty Mentor)

Derek Satre, PhD (UCSF Department of Psychiatry and Behavioral Sciences – Pritzker Building; Kaiser Permanente Division of Research)
 
Associate Director (also Executive Committee member and Faculty Mentor)

Janice Y. Tsoh, PhD (UCSF Department of Psychiatry and Behavioral Sciences – Pritzker Building)
 
Postdoctoral training program
Each year, scholars participate in a core Postdoctoral Research Seminar and the Writers' Task Force—a group that facilitates, supports, and encourages the publication of manuscripts.
As part of their research training, scholars interact daily with investigators who guide them in responsible conduct of research and in solving the special ethical dilemmas of SUD treatment and clinical research. Most scholars also take one of the several advanced statistics courses offered by the UCSF Department of Epidemiology and Biostatistics. Scholars' research projects and those of their mentors are closely tied. As scholars move from Year 1 to Year 2, they progress from a project designed by their mentor to a more independently conceived project, which they lead.
Goals for postdoctoral scholars
At the end of our postdoctoral program, scholars are expected to have acquired the following competencies and completed the following tasks:
Gained knowledge of substance use and its treatment
Advanced their knowledge of statistical and methodological techniques needed for clinical and services research
Understand SUD treatment systems and substance research projects
Conducted at least two research projects in a clinical setting (one designed by their preceptor; and one of their own design, for which they have primary responsibility)
Made multiple internal presentations
Made at least two presentations of their work at national meetings
Published one to three journal articles
Submitted a small grant application to local funding sources
Published additional manuscripts from the work completed as a scholar during the two years following enrollment in our program
 
Support for postdoctoral scholars
Scholars are funded by multiple sources. Stipend levels are set by the National Institutes of Health (NIH), based on years of related experience. Scholars are provided with other research support, including travel to at least one annual professional meeting and other support required for a useful training experience, including statistical consulting, some administrative and clerical support, and access to computers for writing and data analyses.
Background of former postdoctoral scholars
Our postdoctoral scholars have come from a variety of fields, including clinical psychology, counseling psychology, developmental psychology, neuroscience, nursing, political science, psychiatry, pharmacology, public health, social work, and social psychology. Recent trainee research projects include:
Studies of social media-based interventions
Studies of how substance use affects HIV pre-exposure prophylaxis adherence
Treatment challenges for justice-involved youth
Cannabis use among pregnant women and adolescents
Research on substance use among sexual and gender minority people
Development of computerized substance use screening in health care settings
Vocational issues among methadone outpatients
Social identities and treatment outcomes among alcohol and cocaine users in private treatment
Effects of acute nicotine use on cue-induced cocaine craving
Mood management intervention for injection drug use patients
Childhood trauma and PTSD in inpatient substance use treatment
Studies of the relationship of readiness to change and depression to nicotine dependence
Studies of service utilization and outcome among older adult substance users
Studies of drug and alcohol treatment within integrated health care systems
 
Success of our postdoctoral graduates
We admit two to four scholars each year. Graduates of our postdoctoral program have been placed at numerous high-caliber institutions where research is valued.
Application process
Please direct information requests, application packets, and letters of recommendation submissions to Derek Satre, PhD, at [email protected], or to Janice Tsoh, PhD, at [email protected].
For consideration into the postdoctoral program, please send an application packet consisting of your:
Cover letter
Curriculum vitae
Statement of research interests, which should include the following items:

History of research projects
Current interests
What you would like to learn and accomplish during your postdoctoral traineeship at UCSF
A list of program faculty with whom you would like to work

Representative work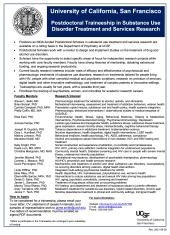 Two letters of reference should be sent directly from the recommenders.
Representative work can include dissertation chapters if no publications are available. Electronic submission of materials (except reference letters) is strongly encouraged. The application period is open until filled.
All applicants must have completed their doctorate at the time of entry into the program and be a U.S. citizen or have Lawful Permanent Residency (Green Card) status at the time of appointment.
Useful resources and links
Current postdoctoral scholars
| | |
| --- | --- |
|   | J.C. Gonzalez earned his PhD from the Department of Counseling, Clinical, and School Psychology at UC Santa Barbara, with an emphasis in clinical psychology. His research utilizes implementation science and partnerships with lay health worker communities to address disparities in access to effective mental health services for children and families. He is also interested in increasing father engagement in children's mental health services to benefit child and family outcomes. His clinical experiences include parent-child interaction therapy (PCIT) community mental health, and inpatient severe mental illness. He completed his clinical internship at the UCSF Clinical Psychology Training Program. He was appointed to the T32 program in 2023 and is working with Drs. Marina Tolou-Shams and Lisa Fortuna. |
| | Nicky Mehtani completed a clinical fellowship in addiction medicine at UCSF in 2020. She is interested in connecting the work she has done with marginalized populations to the emerging field of psychedelic-assisted therapies for SUDs and trauma, which has come from her extensive experiences with people with HIV. Much of her previous work focused on researching and treating HIV and associated morbidity at the clinical level and engaging with the impact of structural determinants and systemic racism on SUDs in the United States. She has received certification in psychedelic-assisted therapies and research from the California Institute of Integral Studies. She hopes to expand research on how psychedelic therapies fit into the diverse lifestyles of patients with SUDs, understand how they fit with interdisciplinary addiction care, and create evidence-based drug policies. She was appointed to the Postdoctoral Traineeship in Substance Use Disorders Treatment and Services Research in 2022, working with Drs. Jennifer Mitchell and Brian Anderson. |
| | Maha Mian received her doctorate in clinical psychology at the University at Albany, State University of New York in May 2022. She is interested in developing substance use research focused on enhancing novel and accessible harm reduction strategies. Much of her previous clinical and research focused on cannabis, alcohol, and psychedelic harm reduction strategies, including protective behavioral strategies and the differential impact of cannabis research recruitment and policy. Her work has two aims: (1) developing harm reduction and protective behavioral strategies for substance use, particularly cannabis, alcohol, and psychedelics, and (2) investigating outcomes related to drug policy and decriminalization. She was appointed to the Postdoctoral Traineeship in Substance Use Disorders Treatment and Services Research in 2022, working with Drs. Kelly Young-Wolff and Derek Satre. |
| | Juan M. Peña received his PhD in clinical psychology with a diversity/multicultural emphasis from the University of New Mexico in the summer of 2023 and completed his clinical internship at the UCSF Clinical Psychology Training Program. Juan's research interests are on understanding and addressing physical and mental health disparities among racial and ethnic minority groups, with a focus on the Latino/x/Hispanic community. He is also interested in community engaged research (CEnR) approaches to increase access and utilization of mental health services and address health and social equity among communities that are underrepresented. Juan was appointed to the T32 program in 2023, where he works under the mentorship of Dr. Annesa Flentje. |
| | Natalia Van Doren received her PhD in clinical psychology from Pennsylvania State University in August 2023. She is interested in using digital therapeutics for substance use disorders, and in particular, the reduction of racial/ethnic health disparities, as well as the relationship of emotional states to substance use patterns. She completed her clinical psychology internship at the Veterans Affairs Palo Alto Health Care System and studied virtual reality applications to enhance mindfulness training for veterans with substance use disorders. She was appointed to the T32 Program in 2023, working with Drs. Derek Satre, Stacy Sterling, and Janice Tsoh. |
Recent graduates
| | |
| --- | --- |
| | Gabby Agin-Liebes received her PhD in clinical psychology from Palo Alto University in 2020. Her doctoral research focused on the clinical applications of psilocybin-assisted therapy and mindful self-compassion-based interventions to treat mood, substance use, and trauma-based disorders. Gabby's work draws on quantitative and qualitative methodologies to explore underlying psychological and neurobiological mechanisms responsible for catalyzing behavioral changes, including emotion regulation, meta-awareness, and prosociality. During her T32 fellowship at UCSF, Gabby's research is focused on the use of opioid replacement therapies to treat opioid use disorder and chronic pain. She is also exploring the use of behavioral paradigms (delay discounting) and other therapeutic interventions to help prevent relapse and restructure dysregulated motivational reward systems involved in addiction. She was appointed to the T32 program in September 2020. |
| | Monique T. Cano received her PhD in clinical psychology from Palo Alto University in 2020. She is now a research postdoctoral fellow in the Department of Psychiatry and Weil Institute for Neurosciences working with Dr. David Pennington and Dr. Steven Batki at the San Francisco VA Health Care System (SFVAHCS). Monique's primary research interests include adapting and implementing culturally appropriate health-related interventions for underserved populations who suffer from co-occuring disorders. Her work at the SFVAHCS is focused on testing and implementing health-related interventions utilizing technological platforms that are culturally appropriate to address the needs of patients with co-occuring disorders. Her work with Dr. Pennington was on outreach efforts to rural communities with a focus on indigenous populations. She completed our program in 2022 and is on the faculty of the University of Texas, Rio Grande Valley. |
| | Alexis Cooke received her PhD in public health from UCLA in 2017 and is now a postdoctoral fellow in substance use disorders treatment and services research in the Department of Psychiatry working with Kelly Knight, PhD. Alexis' research interests are related to understanding the social ecology of urban life through substance use. Her research and professional interests revolve around examining the behaviors, activities, and relationships that communities engage in to deal with the impacts of poverty and inequitable social structures. Alexis' work is focused on examining the implementation of programs, interventions and policies developed to address these issues and identifying leverage points that are the most impactful to health. She is a research scientist at the California Department of Public Health. |
| | Thibaut Davy-Mendez received his PhD in epidemiology from the University of North Carolina at Chapel Hill in 2020. He previously obtained an MS in public health at UNC Chapel Hill and a BA in political science at McGill University. Thibaut's research focuses on leveraging electronic health databases and clinical cohorts to inform the clinical care of persons living with HIV. His work has included studies on antiretroviral regimens, drug resistance, opioid misuse, and hospitalizations. He is a faculty member in the Division of Infectious Diseases at the  UNC Chapel Hill School of Medicine. |
| | J. Konadu Fokuo (pronounced: Koonaydoo Foecuoh) was a postdoctoral fellow at UCSF in the substance use and minority health cluster at Zuckerberg San Francisco General. She completed her doctoral education in clinical and rehabilitation psychology at the Illinois Institute of Technology. Konadu's research interest is primarily in reducing stigma (structural, public, and self) as a barrier to health service utilization for stigmatized populations such as patients with severe mental illness and patients with substance use disorders. Her research explores ethics, educational curricula, and health equity to develop and assess culturally sensitive anti-stigma programs. She is a faculty member in the Department of Psychiatry at the University of Illinois College of Medicine in Chicago. |
| | Anna Harrison received her PhD in clinical psychology from Northwestern University in 2016, where she studied the effects of incarceration on mental health and substance use. She completed her predoctoral clinical internship at the VA Palo Alto Health Care System. During her time in the postdoctoral fellowship program, Dr. Harrison worked to disseminate substance use treatments to youth involved in the justice system. Her current research interests include developing digital health interventions to improve substance use treatment for justice-involved populations. Dr. Harrison will be working as a suicide prevention psychologist in the San Francisco VA Health Care System. |
| | Carlo Hojilla received his doctoral degree in nursing at UCSF in May 2017. Carlo's primary research focus is on biomedical HIV prevention strategies that reach marginalized subgroups most at risk for HIV. In particular, he is interested in examining the psychosocial determinants of sub-optimal PrEP use, stimulant and alcohol use, and behavioral changes in the context of PrEP use. Carlo is the principal investigator on an NIDA R36 Drug Abuse Dissertation Grant, investigating and identifying risk factors for suboptimal PrEP use in the iPrEx Open Label Extension using biomarker-confirmed drug and alcohol use and medication adherence. He is an associate director at Gilead Sciences, where he continues to lead research on substance use and HIV prevention. |
| | Evan D. Holloway received his PhD in clinical psychology (forensic psychology major area of study) from Fordham University in 2020. Evan joined the Juvenile Justice Behavioral Health lab in 2019 and completed the Clinical Psychology Training Program in 2021 under the direction of Dr. Marina Tolou-Shams in the UCSF Weill Institute for Neurosciences Department of Psychiatry and Behavioral Sciences. Since 2009, he has conducted applied research on the juvenile justice system in four states across the U.S., with a focus on juvenile probation officer decision-making, service delivery systems, trauma screening, and violence risk assessment. At UCSF, Evan's research has continued to focus on system-involved youth, including using technology and implementation science to improve service access; peer deviancy, substance use consequences, and co-occurring mental health problems as predictors of recidivism; individual characteristics associated with perpetration of stalking, bullying, and romantic partner violence; and co-occurring trajectories of substance use and interpersonal aggression perpetration. He is currently developing research to using Ecological Momentary Assessment/Intervention to develop a secondary prevention brief intervention for youth who are diverted from the juvenile justice system after their first arrest. Evan is now a faculty member in the UCSF Department of Psychiatry and Behavioral Sciences. |
| | Jennifer Jain, PhD, MPH, is an early stage investigator and substance use researcher with training in epidemiological methods. She completed her doctoral training at UC San Diego, where she examined the behavioral and contextual factors that shape HIV risk environments among people who inject drugs in Mexico. She has experience testing integrative interventions for substance users who are HIV-positive or at high-risk of acquiring HIV, other sexually transmitted infections (STIs) and or hepatitis C. Additionally, she has experience measuring behavioral, structural and environmental factors (e.g. limited access to HIV/STI testing and treatment, homelessness, gender-based violence) that exacerbate HIV/STIs and hepatitis C transmission among people who use drugs. Dr. Jain's current research focuses on the intersection of substance use, HIV, and related interventions in marginalized populations including people who inject drugs, female sex workers and men who have sex with men, with support from a K01 award from NIDA. She is on the faculty of the UCSF School of Nursing. |
| | Caravella McCuistian received her doctoral degree in psychology from the University of Cincinnati in August 2019. Her research interests include addressing health disparities among underserved populations including racial/ethnic minorities, women, individuals living with HIV, and substance-using populations. She has conducted research that utilizes community-engaged methodology, including community-based participatory research, to develop behavioral interventions to improve sexual health. These interventions target HIV prevention and sexual risk reduction in a culturally informed way for women who use substances as well as women engaged in transactional sex. Dr. McCuistian is also interested in addressing health disparities in novel ways and has contributed to research aimed at developing interventions for individuals within substance use treatment facilities as well as leveraging technology to provide interventions to underserved communities. She is a faculty member in the UCSF Department of Psychiatry and Behavioral Sciences. |
| | Meredith Meacham, PhD, MPH, is an epidemiologist who uses multidisciplinary analytic methods to understand patterns of polysubstance use and related health conditions (e.g., substance use disorders, overdose, mental illness, HIV). As a postdoctoral fellow, she contributes to development and analysis of tailored smoking cessation interventions delivered through social media with Danielle Ramo, PhD; works on cohort studies examining the health of unstably housed women with Elise Riley, PhD; and designs text analysis projects to explore how people who use cannabis use social media and online communities to seek and share health information. She earned her PhD in public health (global health) from the University of California San Diego/San Diego State University Joint Doctoral Program, with a dissertation on polydrug use and risk of HIV and overdose in the U.S.-Mexico border region. Meredith also has an MPH from the University of Washington and an AB from the University of Chicago. She received a K01 from NIDA and is a faculty member in the UCSF Department of Psychiatry and Behavioral Sciences. |
| | Sara Rubin, PhD received her doctorate in medical sociology from UCSF in 2018. Her doctoral research included a multi-site field study on clinical changes in pain management. While a postdoctoral fellow, she led a qualitative component of an existing study to identify the characteristics of women who were homeless and smoked or did not smoke cigarettes. She works as a user experience researcher at Academic.edu. |
| | Stal Shrestha received his PhD from the NIH-Karolinska Clinical Neuroscience program and his MD at University of Miami. He has extensive previous research experience studying mood disorders with in vitro and in vivo diagnostics, pharmacology, and brain imaging at Harvard, Karolinska, NIH, and the University of Miami. He is interested clinical and translational research, investigating the efficacy and mechanisms of psychedelic treatments for methamphetamine use disorder, and working on novel diagnostics and experimental therapeutics in addiction and mood disorders. As a postdoctoral fellow he worked with mentors Drs. Robin Carhart-Harris and Josh Woolley. He is completing his residency in psychiatry at the University of Texas at Austin. |
| | Erin Vogel completed her PhD in experimental social psychology at the University of Toledo in May 2017. Her research interests involve adolescent e-cigarette use, social media and digital health, and tobacco use disparities in the LGBTQ+ community. During her time as a postdoctoral fellow at UCSF, she was funded by an individual fellowship award through the Tobacco-Related Diseases Research Program and a member of the Research on Addictions and Digital Interventions Lab (principal investigator: Danielle Ramo, PhD). In 2023, Dr. Vogel received a K01 award from NIDA, and she is on the faculty of the Department of Pediatrics at the University of Oklahoma Health Sciences Center. |
| | Juliet Yonek received her PhD in health services and outcomes research from Northwestern University Feinberg School of Medicine in September 2016. She also holds an MPH in epidemiology and biostatistics from San Diego State University. She was appointed to the fellowship in October 2018, under the mentorship of Marina Tolou-Shams, PhD. Juliet's primary research focuses on the integration of substance use and mental health services in pediatric primary care settings that serve vulnerable youth. In particular, she is interested in how digital health technologies can facilitate implementation of integrated services in these settings. She also contributes to research focused on improving substance use and mental health treatment initiation. She is currently a research staff member of the UCSF Department of Psychiatry and Behavioral Sciences |